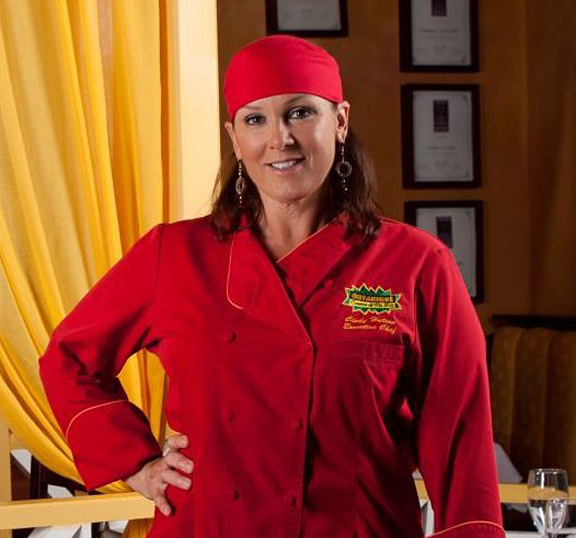 If Cindy Hutson was a musician, she would be the one who spent years playing gigs in small bars and pool halls, honing her craft before she hit the big time. She wouldn't be the one-hit wonder who struck it big on some reality television show type.
You may have seen Hutson on TV or in food-focused print magazines sporting her distinctive bandana as she spreads the unique flavors of South Florida cuisine to a national audience. But long before she was consulting with Bon Appétit or chit-chatting with anchors from The Today Show, Hutson — a self-taught chef and New Jersey native, was wowing the palettes of guests at her award-winning restaurants.
Hutson's Miami-based Norma's on the Beach and Ortanique on the Mile have both received the prestigious 5-Star Diamond Award for fine dining multiple times, and her newest endeavor, Ortanique Camana Bay, has received glowing reviews.
One of the pioneers of Floridian cuisine, Hutson is a regular at the South Beach Wine & Food Festival, Eric Ripert's Cayman Cookout and other notable events.
This Thursday, Hutson will join Chef Darryl Harmon from Philadelphia's Water Works Restaurant & Lounge, Chef Mark Stark from Stark's Steakhouse in Sonoma County and Chef Scott Popovic from Certified Angus Beef LLC for Carnivores' Delight, a dinner celebrating the brilliance of beef at the renowned James Beard House in New York City.
Her dish will feature truffle-braised Certified Angus Beef ® brand short ribs and Maine lobster ravioli in a brandied creamed corn and chanterelle nage.
A little taste of South Florida in the middle of winter?
Yes, please.
There's one more chef cooking at the event — someone you haven't read about on www.GoRare.com. Stop BY sheby later this week for the final reveal. And here's a hint: bacon.