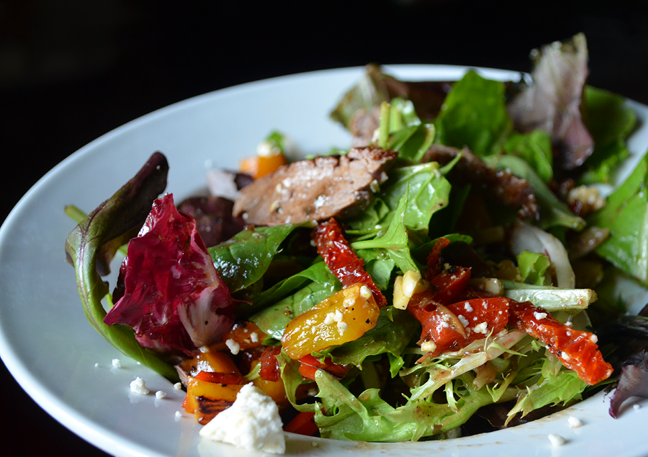 I enjoy cooking — hearty soups, Sunday roasts with sides like risotto, healthy weeknight casseroles (I add chopped spinach to everything!), and classic comfort food on weekends. Quite often, though, the best things I bring to the table aren't real recipes. I like to think of them as experiments in flavor. I open the refrigerator, peruse the contents, and create something colorful and [usually] tasty.
I call it state-of-mind cooking: what am I in the mood for and what colors appeal to my taste buds today? It's like a personal version of the Food Network show Chopped. Lucky for me my basket refrigerator doesn't often contain weird, wacky or difficult ingredients (except for those confounding spring roll wrappers). This fly-by-the-seat-of-my-pants cooking philosophy works for me. Why? Because colorful food is the first key to appeal.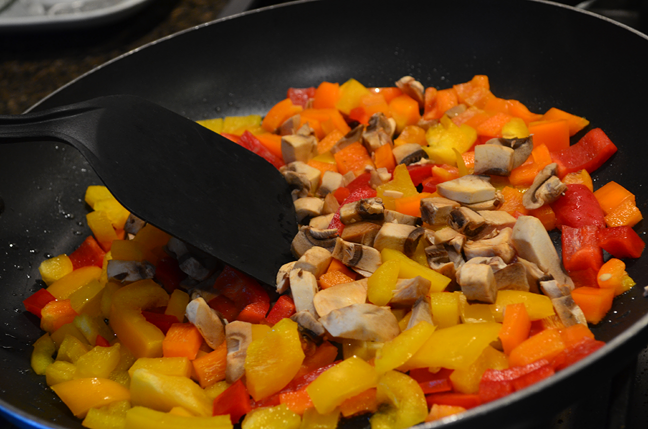 Think back to your elementary school lunch menu: mac and cheese with a side of corn and a dinner roll. The food was a consistent boring beige, and if you attended my elementary school that meal would have been served on an equally boring, beige, styrofoam tray [shudder]. If there's one thing we all need to remember when making a meal with or without a recipe, it's this:
Color counts and variety matters.
Remove boring from the repertoire. Find ways to add color to everything and the folks you feed will thank you. Also worth mentioning: colorful food is typically the healthiest food.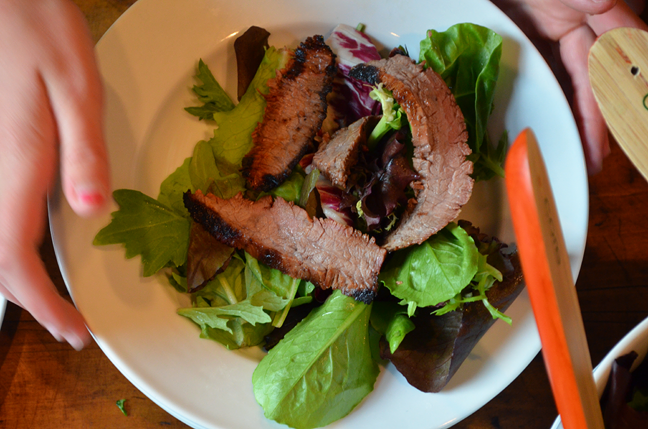 Build layers of flavor in every dish. 
Steak salad is a great example of color, texture and layers of mouthwatering flavor. It's also very healthy — unless you top your steak salad with a handful of greasy fries — a phenomenon I neither understand, nor recommend. Beef is packed with protein, iron and zinc. Added to leafy greens and colorful veggies, this dish could earn you 'health food fanatic' status. I won't tell if you don't.
I like to use flank steak in my salads. It's a lean cut of beef with loads of flavor. It's best to marinate it before roasting or grilling. And don't forget: always slice it thin and against the grain. Here's a list of ingredients for my steak salad, but don't be afraid to experiment! This is 'state-of-mind' cooking, so the ingredients are up to you!
One Certified Angus Beef ® brand flank steak
1 cup Italian dressing
lettuce (I used Romaine, spinach and spring mix)
1 each red, yellow and orange pepper bell pepper
1/2 cup fresh, chopped mushrooms
1/4 cup sun-dried tomatoes
Feta, Parmesan or your favorite cheese
Balsamic vinaigrette
Handful of chopped walnuts or slivered almonds
1. An hour or so before dinner, put flank steak in a zipper-locking bag and add Italian dressing. Press to remove excess air before sealing. Marinate in the refrigerator until ready for grilling.
2. Grill the flank steak until it reaches your desired doneness. Allow to rest while sauteing the vegetables. Slice thinly, across the grain, before serving.
3. Chop peppers and mushrooms and saute in a drizzle of olive oil with sun-dried tomatoes until tender, about 5-6 minutes.
Sprinkle with cheese, drizzle with balsamic vinaigrette, and enjoy! I like to put ingredients in individual serving dishes so my people can build their own salads — and it's especially appealing to youngsters.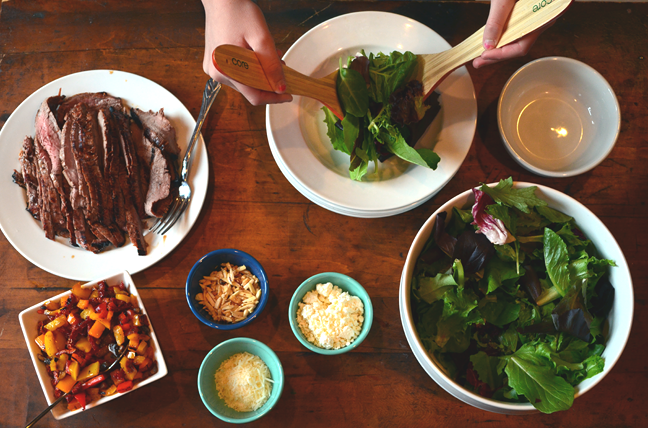 Put the decision-making powers in the hands of little people and they're apt to add a heaping serving of veggies to their plates, unprompted. (Or maybe I'm just raising a bunch of little control freaks. Could be!) Note: raw peppers would be a delightful addition to this salad. I saute mine because the kids prefer a softer texture.
I guess there's only one thing to ask: how's your mood today? What colors are calling your name from the depths of the refrigerator? Grab 'em and get cookin'! But if you need some help I can recommend some truly delicious dishes.
Bon appétit!