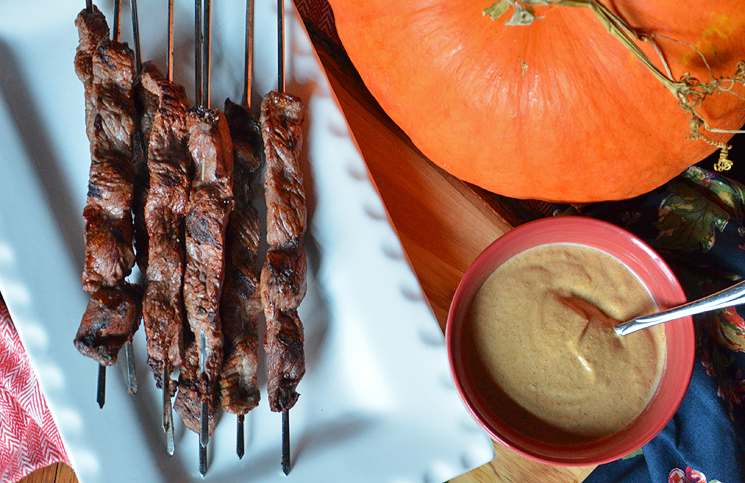 I'm one of those fall fanatics who enjoys pumpkin everything. I brew pumpkin coffee, burn pumpkin spice candles and bake pumpkin muffins. I even have those pumpkin scented plugins throughout my home — tis the season, you know! It seems only natural that this recipe would catch my attention: Spicy Steak Satays with Pumpkin Aioli.
My husband was a bit skeptical — the thought of dipping his freshly grilled and sizzling steak in a pumpkin mayonnaise sauce was a bit much for him to imagine.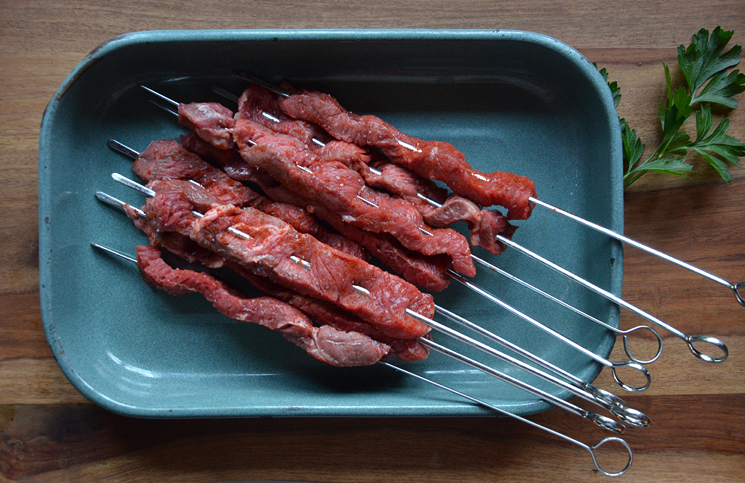 But here's the thing … these skewered sirloin strips were seasoned with salt and cayenne pepper before grilling. They packed a bit of a kick. "That pumpkin aioli is the perfect thing to cool every bite and meld the flavors!" — his words, not mine, though I agree completely. The aioli was delicious on the spicy steak!
The recipe couldn't be simpler. You'll need a one pound top sirloin steak. Slice thin and thread onto metal skewers (if using wooden skewers be sure to soak in water, first). Season with kosher salt and cayenne pepper. The aioli is a creamy combination of mayonnaise, pumpkin puree, pumpkin pie spice and apple cider. Here's a printable recipe.
Fire up the grill tonight and give these a try. Oh, and happy pumpkin season!