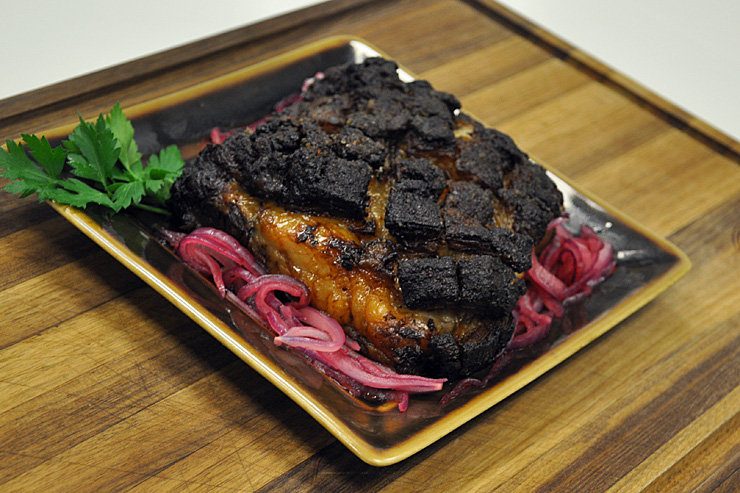 Everywhere you look in restaurants these days, you see pork belly.
Pork belly tacos. Burgers topped with pork belly. Pork belly in a salad. Pork belly topped with pork belly served with a side of pork belly … on a bed of pork belly.
You get the point. But did you know that, at least anatomically, bellies exist all over the place? Most of us only need to look down. That said, our culinary wizards have been experimenting with … wait for it … BEEF belly. No joke. It exists. And not only that, it's delicious.
If you've been reading for any amount of time, you may remember our good friend, Govind Armstrong, who sources beef belly and then does his own curing, smoking, drying and cooking process to wow his guests with homemade beef bacon.
If it works for bacon, why not for the entire beef belly? That's where our own meat maestro, Chef Peter Rosenberg, started  playing around. First, he went to the source. For meatheads who know their primals of beef, he procured beef belly from the short plate. While this cut has been put to good use by beef's porcine brethren for some time, it's really only been used for ground beef  on this side of the fence. That's because in the culinary world, we'd say it needs a little bit of help. And by that, we mean it needs A LOT of help.
And that's what Chef Rosenberg has done. On its own this cut is super tough, but with a little TLC, it's transformed into a show stopper. Chef Peter's process is this: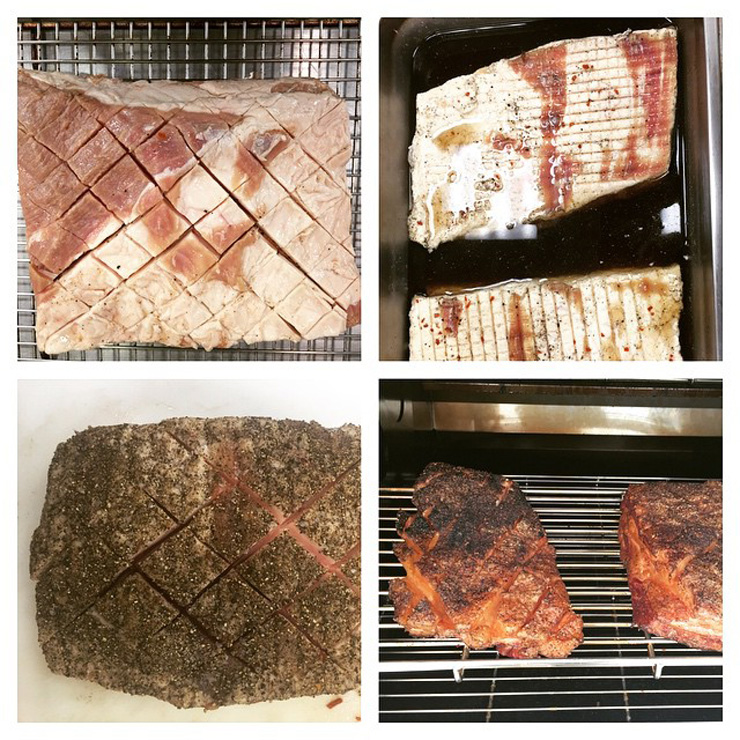 Create a brine out of kosher salt, sugar, pink curing salt and water, then submerge the raw belly into the mixture for 14 days.
After two weeks, remove the cut and allow to dry. Coat with fresh cracked pepper and place in smoker for approximately 2.5 hours at 180 degrees F., bringing the internal temperature of the beef to 125 F.
Once done, remove from smoker and place on oven rack for approximately 1 hour until the internal temperature reaches 160 degrees F.
Remove from oven and wrap in foil, then place back in oven for an additional 90 minutes until the internal temperature reaches 195-200 degrees F.
Remove from oven, unwrap and place back on oven rack for 30 minutes at 400 degrees F. until a golden crisp can be seen on top.
If you add that up, you're only looking at 14 days and 5 ½ hours of your time to replicate this.
So even if you're not hungry, go ahead and start one today. By the time it's ready, who knows?
Not sure about beef belly? Multiple-times James Beard Award nominee Jeremiah Bacon  was even impressed.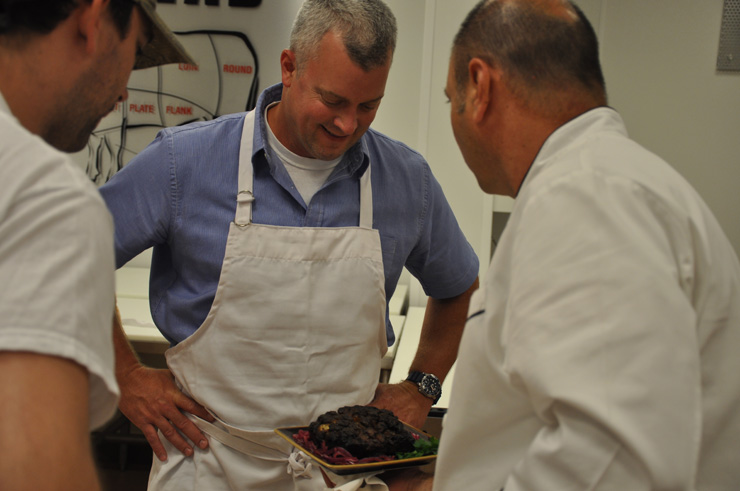 But why would one go to such lengths to create this? For one, if you're a chef in a restaurant, this is tremendous appetizer or shareable dish for tables. If you're just someone who simply likes to experiment in the kitchen, know that the flavor within the meat, and the transformation of the fatty cap into smoky, smooth, buttery goodness you'll taste in every bite may bring tears of joy.
So check it out. You'll make your own belly happy!