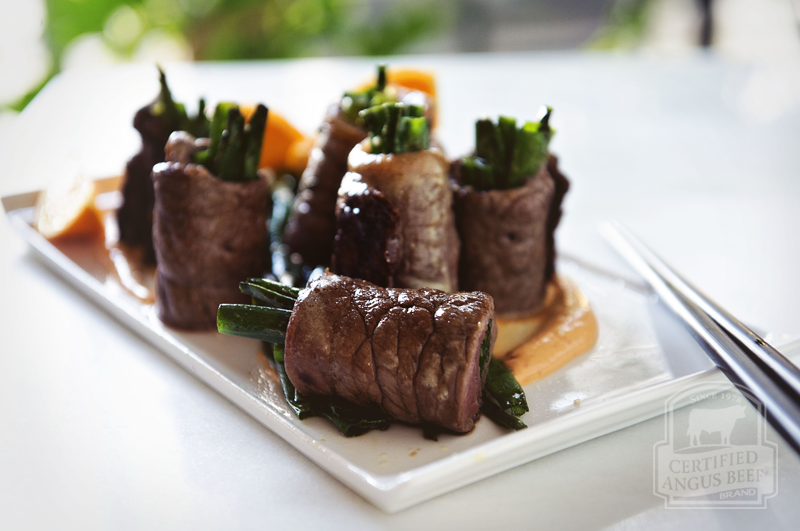 Bite-sized flavor comes wrapped and seared with scallions and sweet teriyaki sauce. Beef Negimaki is a great grab and go recipe for big holiday entertaining or for nibbling when you're toasting with friends. It goes perfectly with a variety of appetizers or a Japanese -inspired feast at home.
To make Grilled Beef Negimaki you will need an inexpensive cut of top blade steak sliced thin, a bunch of scallions, and teriyaki sauce. Feel free to dress this recipe up with blanched asparagus, roasted red peppers, julienned carrots, or other seasonal flavors you feel would complement the meal.
Grilled Beef Negimaki
Ingredients
1 lb. [i]Certified Angus Beef[/i] ® top blade steak, thinly sliced (simplify: ask butcher to slice 1/4″ thick)
3 bunches fresh scallions, trimmed of bulbs and tips
Freshly cracked black pepper
½ cup low sodium teriyaki sauce, plus a bit more for serving
Sesame seeds
Sriracha mayo for garnish
Instructions
Preheat grill to medium heat or for charcoal grilling, indirect heat.
Blanch scallions by quickly submerging in boiling water for 45 seconds. Drain and lay over ice cubes until ready to use.
Trim steak into 3″ x 5″ strips and lay in a bake dish. Pour teriyaki on top and allow the flavors to marinate for 10 minutes.
Remove steak from marinade and allow to drip for a few seconds before arranging over a clean work surface. Place a few of the blanched scallions near the end of the steak strip and roll.
Use a toothpick to secure. Repeat as needed for remaining strips of steak.
Arrange steak rolls over the grill and quickly sear on all sides.
Remove from heat and brush on a bit more teriyaki sauce. Sprinkle with sesame seeds.
Cut steak rolls in half if needed and arrange over a quick smear of Sriracha mayo to serve.
Notes
Be sure to clean and oil grill grate before heating.[br]Sriracha mayo can be made by adding as much or as little of the sriracho to a few tablespoons of your favorite mayo. Stir and serve.
For more recipes, appetizer ideas and holiday entertaining tips, visit CertifiedAngusBeef.com. Be sure to peruse our Pinterest boards, too!
Kita Roberts is a mountain biker, travel junkie, professional photographer and meat maven. See more of her fab food at GirlCarnivore.com.