Have you heard of hominy? If you're like many people it's a bit of a mystery. I knew it had something to do with corn — just what I wasn't sure. Fortunately, a new recipe from Certified Angus Beef ® Chef Peter Rosenberg changed all that.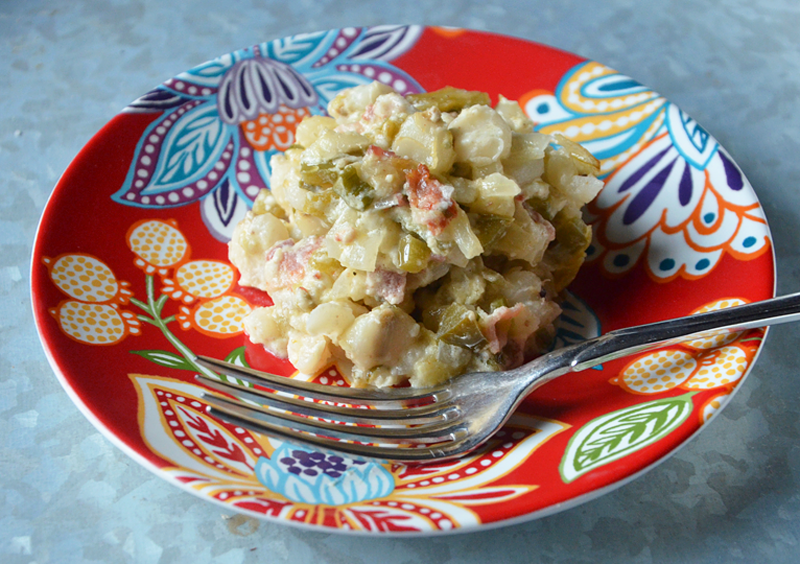 Hominy is corn soaked in mineral lime.
According to Huffington Post, the alkali process — known as nixtamalization, loosens the hulls from the corn kernels and softens the kernels themselves. The process can cause them to double in size. In traditional methods, lime may be replaced with lye or wood ash.
Hominy is used to make tortillas, masa, even a chocolate drink that's popular in Mexico. You can purchase it dried, ground or canned. This recipe from the Certified Angus Beef ® kitchen, uses the canned version, and incorporates 1/2 cup of the liquid. It's a uniquely Southwestern ingredient that pairs well with barbecue or any beef dish, really.
"I like to bring a story to the table," Chef Peter told me. "A story adds to the overall eating experience and makes it memorable."
And indeed, hominy is an ingredient I won't forget. This cheesy dish with its spicy flair is welcome on my table any time.
Baked Hominy with Cheese and Peppers
Author:
Ingredients
4 strips bacon, diced
1 large onion, diced small
1 large green pepper, seeded and diced small
1 tablespoon minced jalapeño pepper
1 cup shredded pepper jack cheese
1 cup sour cream
2 (4.25-ounce) cans diced green chilies (mild heat)
1/2 cup sliced green onions
1 teaspoon salt
2 (25-ounce) cans hominy, drained but reserve 1/2 cup of liquid
Instructions
Preheat oven to 325°F and grease a 13 x 9 baking dish.
In a large sauté pan or Dutch oven, sear bacon over medium-high heat until it starts to crisp. Remove bacon and hold; leave remaining bacon drippings in pan.
Add onion, green peppers and jalapeño cook until soft and transparent.
Remove pan from heat. Add bacon, shredded cheese, sour cream, chilies, green onion and salt. Stir to combine. Gently fold in hominy and reserved liquid.
Pour mixture into a greased 13 x 9 pan. Bake at 325°F for 30 to 40 minutes, or until hot and bubbly.
Hmmm. Wouldn't this dish taste amazing beside smoked brisket?!