My great-great-grandfather emigrated from County Down, Ireland in 1835. I can only imagine how big the world surely seemed to a six-year-old boy on the grandest adventure of his lifetime!
Fast forward four generations. Young Robert's direct descendants are still farming the land his parents settled, and others tend farms nearby. Though not familiar with original Irish customs, my family and cousins' families continue to live out the heritage our great-great-great-grandparents brought with them across the water: a longing for land, an affinity for growing good things, and a desire to produce beautiful food in its many forms.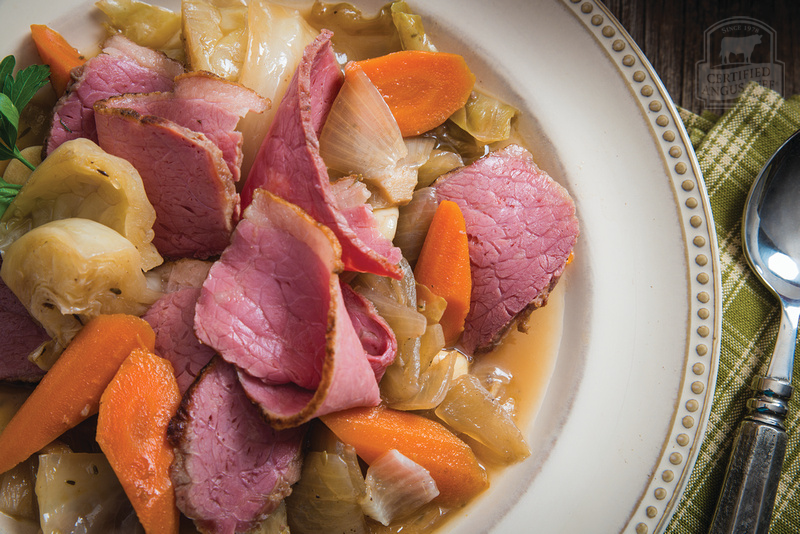 This Irish Braised Corned Beef recipe may not have originated in Ireland, but it's most definitely a favorite of Irish American immigrants who created new "old traditions." Give it a try and savor the flavors! The rest, as they say, is history.
Irish Braised Corned Beef
Author:
Ingredients
1 (3 1/2 to 4-pound) [i][url href="http://www.certifiedangusbeef.com" target="_blank"]Certified Angus Beef[/i] ®[/url] corned beef brisket flat
2 tablespoons canola oil
2 teaspoons ground coriander
1 teaspoon caraway seeds
1 teaspoon coarse ground black pepper
1 teaspoon dried thyme leaves
1/4 teaspoon ground clove
1 pound carrots, peeled and cut in 1-inch chunks
2 onions, cut in 1-inch chunks
6 peeled garlic cloves, cut in half lengthwise
1/2 head cabbage, cut in 8 wedges
4 bay leaves
1 cup beef stock
2 tablespoons coarsely chopped fresh parsley (optional)
Instructions
Remove corned beef from package, rinse and pat dry, cut into two equal chunks.
Preheat oven to 325F.
In a small mixing bowl combine coriander, caraway, black pepper, thyme and clove; set aside.
Heat oil in a large skillet over medium-high heat. Sear brisket until browned, fat side down first, 3-4 minutes per side.
Transfer brisket chunks to a large roasting pan or Dutch oven. Evenly coat all sides of brisket with spice blend. Spread carrots, onions, garlic, cabbage and bay leaves evenly around and on top, add stock and cover tightly with foil or lid. Place in oven and braise 2 hours until tender.
Slice thinly against the grain and serve with vegetables and broth, garnished with parsley.
Recipe Tips
You may see whole brisket, point cut brisket or brisket flat in your grocer's meat case. This recipe calls for brisket flat: a rectangular piece of the whole brisket that has been trimmed of excess fat. It's ideal for slicing.
Save time and dish duty! Sear the brisket in an oven-safe Dutch oven, then add other ingredients to the same pot for oven braising.
For more Irish-inspired ideas, and recipes for all occasions, visit CertifiedAngusBeef.com.