Chef Dave Martin's Chimichurri Hanger Steak
Yields 1+ cups of marinade
Ingredients: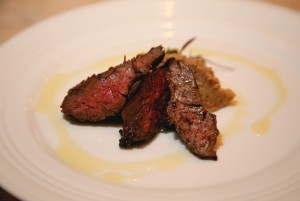 2-3 lbs of Certified Angus Beef ® brand hanger steak or your favorite cut, trimmed of fat. (Other good choices are flank and skirt steak for this marinade)
1 cup extra virgin olive oil
½ cup roasted garlic
½ cup good sherry
¼ cup fresh parsley
¼ cup fresh cilantro
¼ cup fresh oregano
¼ cup fresh thyme leaves
½ cup red wine vinegar
1.5 Tbsp good paprika (smoked, Spanish or Hungarian)
1 tsp cayenne
2 tsp black pepper
2 Tbsp kosher salt
Method:
Blend all ingredients in food processor and taste for flavor and adjust as needed. Place cleaned steak into marinade for an hour or two or overnight. Grill outdoors, or in a hot skillet to desired degree of doneness (Dave suggests medium-rare).
Chef's tip:Weather-permitting, you could skewer the meat and put on medium-high grill for 2-3 minutes. Cook to medium rare. Serve with your favorite side dishes.