Chef Dave Martin's Steak Tartare
Yields 16/ 1 oz portions
Ingredients: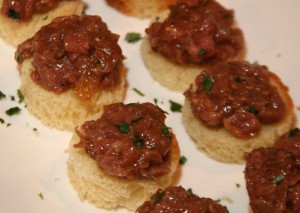 1 egg yolk
2 Tbsp ketchup
2 tsp Dijon mustard
1 tsp Worcestershire sauce
2 tsp hot sauce
3 Tbsp extra virgin olive oil
3 Tbsp fresh lemon juice
1 Tbsp black label whiskey
1 lb. Certified Angus Beef ® tenderloin, exterior fat removed and cut into ¼ inch cubes
2 oz caramelized sweet onions
Italian parsley
Kosher Salt, Black Pepper, extra virgin olive oil for drizzle
Directions:

Whisk egg yolks, ketchup, mustard, Worcestershire, and hot sauce in a large bowl until smooth. Gradually whisk in oil, then lemon juice. Season to taste with salt and pepper.
Add beef to liquid mixture and serve with caramelized onions, parsley, olive oil and other seasonings. Serve on toast points on chilled platters for a cocktail party. Garnish with parsley and olive oil as desired.