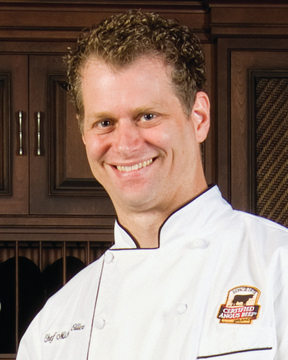 Michael Ollier is enamored with cooking traditions. He believes the heart and soul of American cuisine begins at the family dinner table — a philosophy that serves him well as chef for the Certified Angus Beef ® brand.
Chef Michael showcases the brand on radio and television shows. He uses his passion for food and subtle sense of humor to educate beef lovers about selecting and preparing delicious dishes. Special events and cooking demonstrations take him across the country to teach that flavorful food begins with fresh, high-quality ingredients.  When not traveling, he creates mouthwatering recipes and serves as the brand's food stylist.
His fascination with food began at a young age. His grandfather started a butcher shop after serving in World War II. His mother and aunts are influential cooks in their own right. Their passion was passed to the next generation. As the former chef de cuisine at South Market Bistro in Wooster, Ohio, Ollier was instrumental in starting the restaurant, developing relationships with farmers, and creating menus from fresh, local ingredients.
Earlier in his career, Ollier was a sous chef for Parker Bosley, the region's foremost advocate of the local food movement. Through an International Association of Culinary Professionals (IACP) writing grant, he received a class at the world-renowned Ecole LeNotre near Paris. He was a former newspaper chef columnist and food photographer. His teaching skills were perfected at Buehler's Fresh Foods, also based in Wooster, where he was a cooking school instructor.
When he's not in the kitchen, Ollier makes his home in Wooster, Ohio, with his wife and two sons.
Read more of Chef Michael's culinary adventures here: