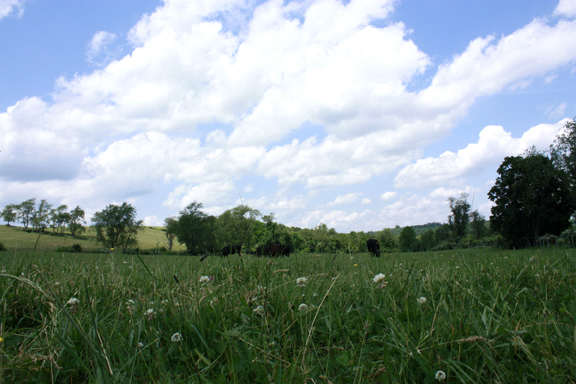 There are many opinions and assumptions about beef floating around the wild blue yonder. Determining fact from fiction takes up valuable time and energy in an age of conservation and eco-friendly living.
Conserve your resources. It's time to do some myth-bustin'.
MYTH: Grass-fed beef is healthier and more eco-friendly than grain-finished beef.
FACT: All beef is an excellent source of zinc, iron and protein, plus many B vitamins. Did you know there is no significant difference between omega three levels in grass-fed and grain-finished beef. And it's important to note that grass-fed beef does not mean free from added hormones and antibiotics.
As for energy use, greenhouse gas emissions per pound of beef are increased three-fold in grass-fed cattle. Why? Because it takes longer to get them to market weight when they're fed exclusively on pasture.
Here's the key thing to remember: All of today's beef cattle are grass fed. They begin life at their mother's side, frolicking around the pasture. As they grow older — think teenager stage — they are moved to another pasture with cattle of the same age where they eat grass. It's the last 150 days of the cycle that cattle are moved to a feedlot. There they are carefully tended and finished on a diet of grains and nutrients. It's a happy, healthy process that is efficient and resourceful.