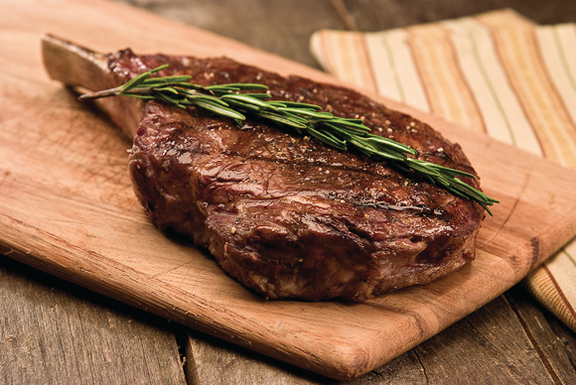 I have a stack of magazines on my desk — everything from plate to Saveur to bon appétit. The cover phrases speak volumes and the photos make my mouth water. I know we're not to judge a book by its cover, but no one can argue they say a lot whether we like it or not. Food is hot!
Today's menus and food magazines are designed to intrigue and tantalize, to seduce and dare I say it? Flirt. Yes, great food is flirtatious. With gorgeous plating, colorful pizazz and succulent accompaniments, main entrees have become the object of our desire. And those side dishes? Think of them as the come hither looks.
Our fixation doesn't just stop with sense of sight, though. Even names appeal to our base instincts. Take this for instance …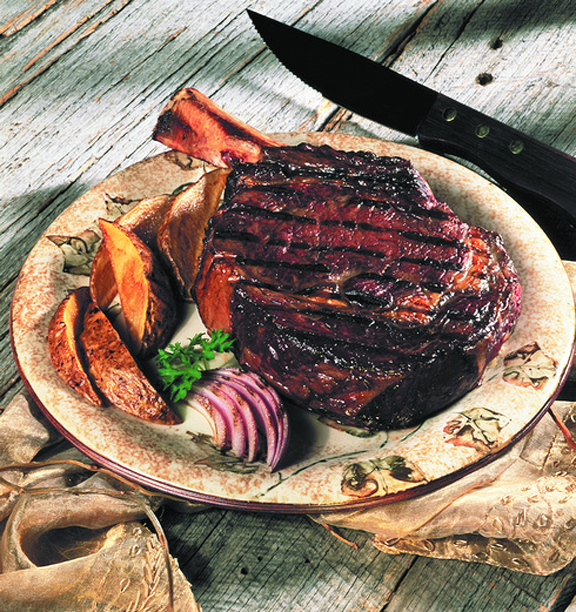 It's a tender, juicy bone-in ribeye steak grilled to perfection. We call it the Cowboy Steak. A simple name that transforms a great steak into something mysterious, rugged and confident, if not slightly arrogant. Let's face it. The cowboy steak is a sexy steak … a good lookin' piece of meat.
Admit it. You're hungry just looking at it.
When we take a mouthwatering beef cut like a ribeye and add a great name like 'the cowboy', then pair it with a few sizzles, flames and diamond grill marks most of us would be hopelessly devoted to having just one bite.
It's ok to fall in love with your food — that's how you know it's really good. You should relish your meal. If you don't, can't or haven't you might be a bit like Julia Child before she was Julia:
" … I was a pure romantic, and only operating with half my burners turned on."
Rev up your meals with fine ingredients. Start some engines with tantalizing entrees on swanky plates with sassy side dishes. Turn the burners to high, baby.
The freshest food … highest-quality food … is the most beautiful food. And whether you appreciate a juicy cowboy steak, a robust T-bone or a shy, quiet filet you will find a partner, pard'ner.
Need help finding your perfect match? We can help!
Now go forth and flaunt your sizzle factor!