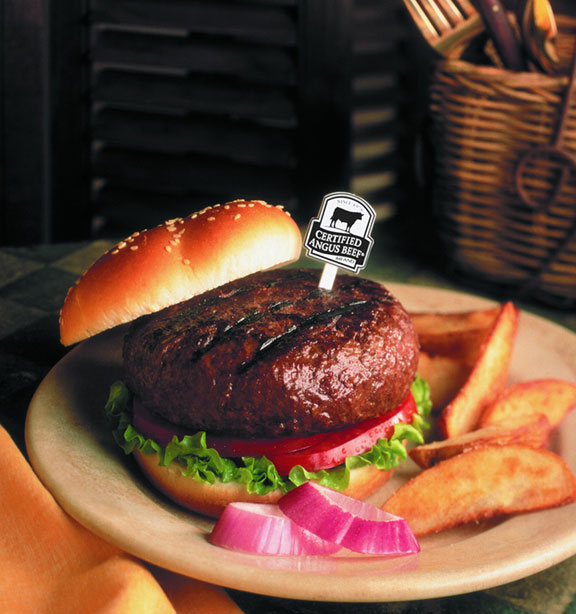 My husband is by no means high maintenance. He does a great job as gardener, enjoys grocery shopping and helps with the laundry. But since I have been working for Certified Angus Beef, he has become a bona fide beef snob.
He picked me up at the airport after I'd been traveling for five days. I was starving and he said, "You want to go to [renowned burger joint] don't you?" After all, the restaurant in question is known for having some of the best burgers around.
That is until last Sunday. My husband finished his sandwich, then commented that he regretted eating it. He dubbed the burger "a total waste of calories."
Are you kidding me? Since when does he count calories? This is a man who could eat cheeseburgers every day of the week and not complain!
Thankfully, being the good grocery shopper he is … we always have Bubba Burgers in the freezer. You may have seen these burgers at your grocery store. They come in several varieties, but we're partial (of course!) to the Certified Angus Beef ® variety.
Speaking purely as a consumer … burger lover … flavor lovin' lady, they are delicious.
Soon we may get to dine out on these beefy treats. In June, the first Bubba Burger Grill restaurant opened in Jacksonville, Fla. Billy Morris is president and CEO of the Jacksonville-based Hickory Foods, parent company of Bubba Burger and the restaurants. In an interview, Morris said he plans to add additional locations beyond Florida to the Southeastern U.S. and eventually, across the country. It's a restaurant concept born from a product in grocers' freezers. "It could be a first," he said.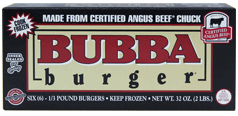 The Certified Angus Beef ® Bubba Burger is available in a black carton. Look for our logo on the box. And for now, keep a stash of these juicy burgers in the freezer. Maybe some day there'll be a restaurant in your neck of the woods!
Guess what's for dinner tonight?