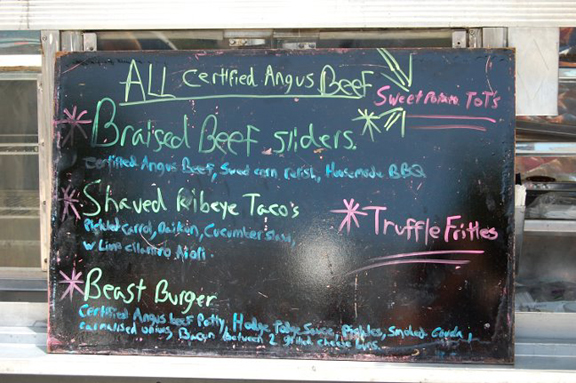 Throughout history, mankind generally has had limited options when it came to dining out. In the early days, if the Neanderthal Jones family didn't want to stay home and feast on grubs and stewed gravel, they could hitch a ride on the back of a Triceratops and roll through the drive-thru at McDinos or Tyrano Bell.
Of course, if they had a few extra clams in their pocket and more time on their hands, the Plesiosaurus Pub or the ultra-swanky Brontos Melted Grille were options for the sit-down crowd.
"Options!" they grunted. "Give us more options!"
And so it has been since the dawn of man – hungry people wanting to get away could only choose between cheap, quick food or expensive, slow, quality food. At least until Chris Hodgson and his team rolled (literally) onto the scene in downtown Cleveland in truck branded "Dim and Den Sum" on the side.
You see, this is a truck with a full-scale kitchen in the back, allowing Hodgson & Co. to bring restaurant quality food to you. This ain't no whataburger on wheels. And Hodgson isn't just some schmuck with a truck. This is a chef who cut his teeth at one of the hottest establishments in New York City, cooking for celebrities and dignitaries alike, and who was groomed under some of the most notable chefs in the country.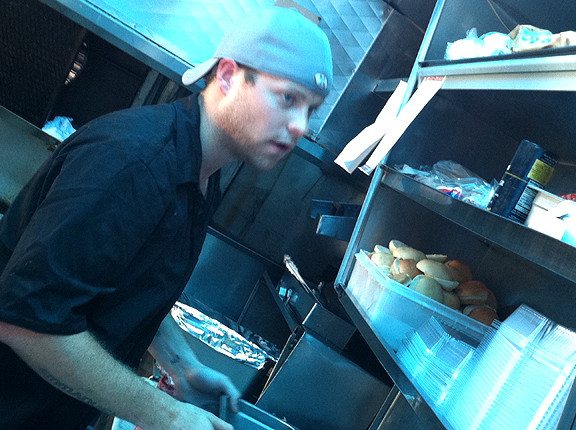 A quick peek inside reveals Hodgson manning the role of short order cook with burners and cooking tops on either side, producing not just quick food, but quick food with quality ingredients hard to find anywhere but inside a traditional restaurant.
With a menu boasting pulled pork with sriracha aioli, braised beef, kung pao, kimchi, and "den sum," don't write this off as your average late night roach coach playing to the urges of drunken carnivores. He even features something near and dear to my heart — Certified Angus Beef ® brand products.
"People love Certified Angus Beef ®," Hodgson says candidly.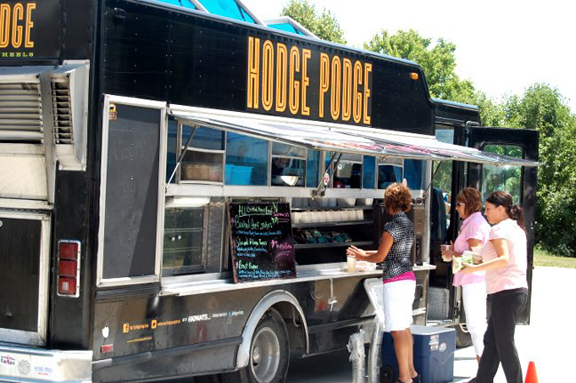 Chris paid a visit to our offices in Wooster, Ohio, recently and served lunch to the staff. I managed to get a taste of everything he had on his menu that day (I didn't get this physique by not being crafty), and, holy moly, this stuff is better than advertised.
My favorite on the day included his "Beast" burger, which featured a Certified Angus Beef ® brand patty with fairly typical toppings, but set apart by the two grilled cheese sandwiches that served as the top and bottom buns.
If I didn't explain that clearly enough, that's four slices of bread – 2 on top and 2 on bottom, stuffed with cheese, and a burger above and below. He also serves tasty sweet potato tots, which struck me as one of the great food combinations I'd never before seen, yet unknowingly had always craved.
Hodgson recently took his crew and a different truck, dubbed Hodge Podge, on the road as part of the Food Network's Great Food Truck Race, which airs Aug. 14.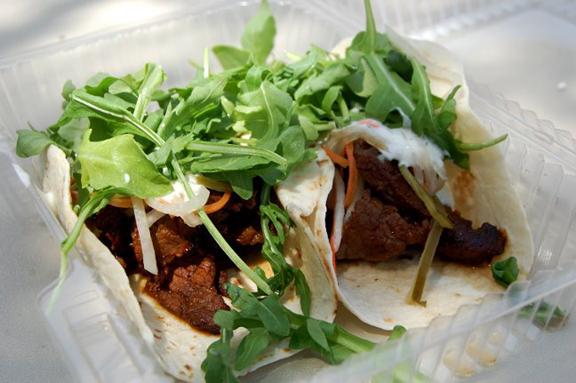 The overall takeaway from what you've just read is that you shouldn't be alarmed just because somebody's looking to sell you food out of the back of a truck. OK, well, maybe you should, unless you see the smiling face of Chef Hodgson and pick up the scent of a shaved ribeye taco, then you're OK.
Want to meet Chef Chris? Here's a little video we put together …