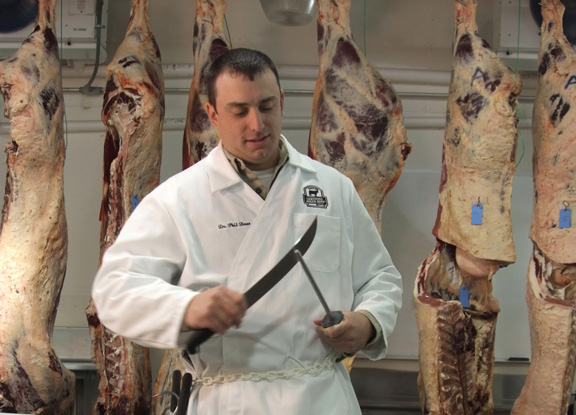 To accurately describe Dr. Phil Bass, take two minutes and complete the following exercise:
Empty one packet of Pop Rocks candy into a small Styrofoam cup.
Add one shot of espresso, two cups of Mrs. Butterworth pancake syrup and a Ghost chili pepper.
Shake well.
Set cup on fire.
Sprinkle with gasoline.
There has, perhaps, never been a man who loves meat more than Dr. Phil Bass. This is the man who shouts "Holy cows!" during business presentations. This is the man who sports T-shirts emblazoned with "SAUSAGE" across the front as his casual attire. This is the man who rattles off the Latin root name of beef cuts like a proud papa does the birth dates of his children. This is the man for whom great chefs around the world stop dead in their tracks and hang on his every word as he's dissecting a side of beef like a kid rushing through a thoroughly wrapped package on Christmas morning.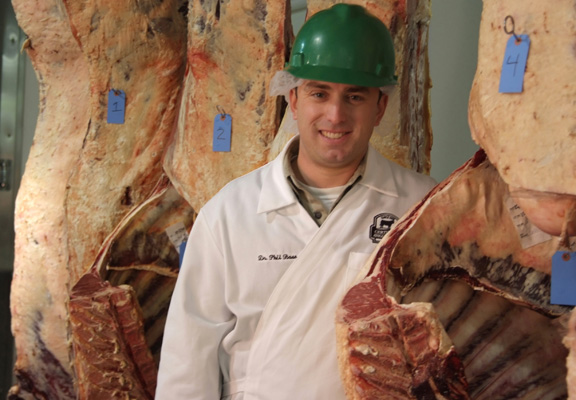 "I lose sleep the night before I get to cut meat," says Bass, a Ferndale, Calif., native who holds his doctorate in meat science from Colorado State University. "I grew up cutting meat as soon as I was tall enough to reach the table in my grandmother's garage. I've just always found it fascinating. With meat, you get to cut into it and see how things work, and then you get to eat it in the end."
Bass is the Certified Angus Beef LLC meat scientist.
Unofficially, he's the biggest meat junkie this side of St. Louis.
"It's a fascination of better understanding the workings of an animal, and then applying that to making a good eating experience," Bass says. "Anybody can cut meat, but if you cut it the right way, you can get highly desirable pieces from what once was thought as a less desirable muscle."
In his spare time, Bass spends his time "splitting firewood and driving my tractor," and enjoying quality family time with his wife and two-year old son.
"When I get home for the weekend, if I don't leave the place I'm content," says Bass. "I love spending time with my family. Anytime spent with them is OK by me."
And it's a safe bet they're dining on a tasty and tender Certified Angus Beef ® brand steak.