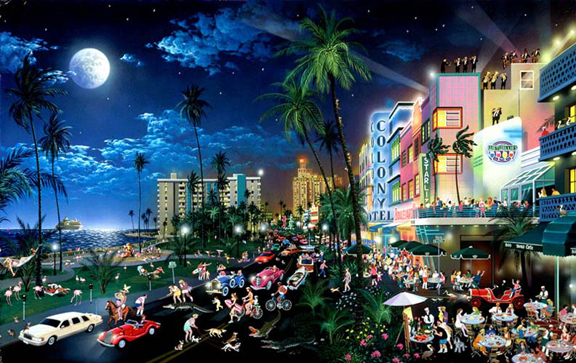 Tomorrow we're heading for fun in the sun at the South Beach Wine & Food Festival. The weather looks to be beautiful, the food will be amazing and what better place to showcase the world's best beef, right? We want you to come along for the ride!
We'll be at Best of the Best on Friday. This exquisite event will be held at the Fontainebleau Miami Beach Hotel. It's a mix of the country's best new chefs with the best wines. It's described as a leisurely stroll from station to station hob-knobbing with chefs and wine-makers. Among the many participants are Chef Peter Vauthy of Red, the Steakhouse in Miami and Cleveland, and Chef Craig Deihl of Cypress in Charleston, S.C.
Saturday takes us to The Flavors of Flay event sponsored by the Certified Angus Beef ® brand. Held on the pool deck at The Oasis at the Raleigh Hotel, it brings together executive chefs from all of Bobby Flay's culinary endeavors including Mesa Grill, Bar Americain, Bobby Flay Steak and Bobby's Burger Palace.
We'll have brunch with Paula Deen on Sunday. This Sunday service will be held at the Loews Miami Beach Hotel and includes the lady's favorite Southern chefs — among them Cindy Hutson of Ortanique on the Mile and the Sheerin Brothers, Chef Pat and Chef Michael, of Chicago's Trenchermen restaurant.
There are all sorts of things going on over the next few days. Be sure to check back here — we'll share photos, comment on food and atmosphere, and bring you bits of scenery only South Beach can offer.
See you soon!