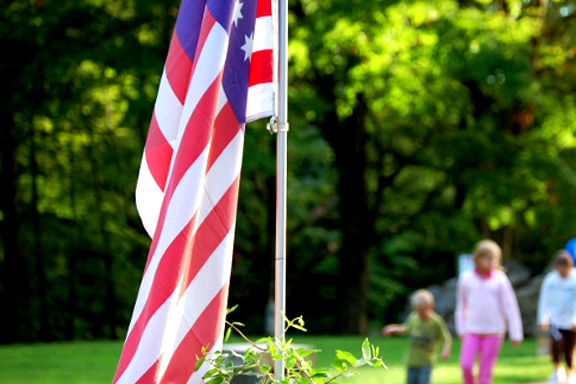 Memorial Day is a time to remember those who make our pursuit of happiness possible. It's also a great weekend for grilling. Gather those you hold dear and host a cookout with great food and fun times. I'm planning my own back yard get-together this weekend. First, we'll attend a community memorial service where a neighbor plans to read The Gettysburg Address. Then we'll head back to the house for family time and a cookout. Deciding what to grill is tough when there are so many tasty options!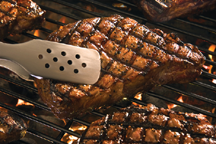 The ribeye is considered a perfect steak by the males in my family. It's extremely flavorful, and a simple salt and pepper seasoning brings out its rich, beefy taste. The ladies in my life love strip steaks. The strip — also called New York strip and Kansas City strip — is a lean cut that's extremely tender and tasty.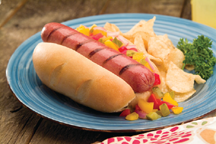 What to feed the nine kids in attendance? They adore cheeseburgers, but this is a party with people and the probability of baseball. They'll dine and dash. Frankfurters would be a great option. Or perhaps I'll serve a treat for party-goers of all ages: grilled pizza. Yes. That's it! An economical way to serve sizzling steaks to a crowd!
A Memorial Day Menu:
Grilled Steak Pizza and Beef Sliders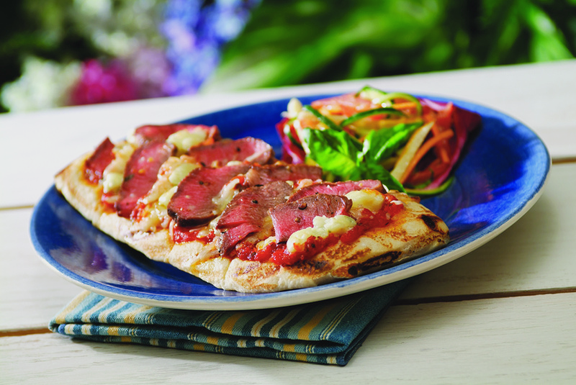 I like to grill homemade or prepared pizza crusts until crispy, then top with slices of grilled steak, caramelized onions and sweet bell peppers, and crumbled Gorgonzola or blue cheese. Put it back on the grill just until cheese is bubbling. For children, use a milder cheese like provolone or mozzarella.
The chefs at Certified Angus Beef ® have created some lip-smacking good steak pizza recipes. Try one of these:
Party guests also like their beef between buns, and it's always a good idea to offers several main dish options. Serve 'em a slider with those slices of grilled pizza.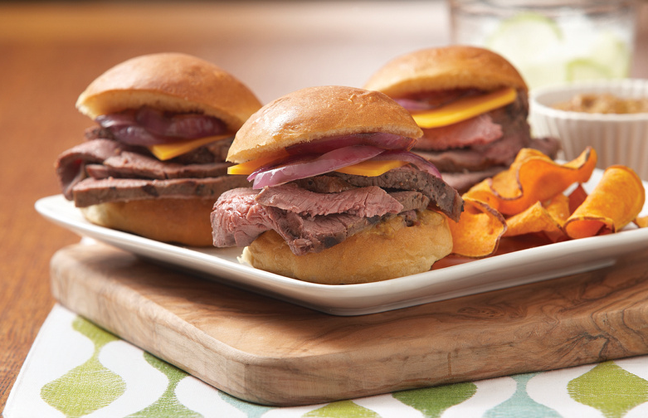 Sliders, or mini sandwiches, are just as tasty but not as filling as a regular burger or steak sandwich. And they're perfect for parties! Try one of these tasty options:
Don't worry if you're not the queen of the grill (or king, as the case may be). It's easy if you remember a few simple steps from our grilling experts … raise the STEAKS!
S – Start with a hot grill. Searing beef helps lock in its delicious juices.
T – Turn steaks or burgers gently with tongs or a spatula; never pierce with a fork.
E – Ensure juiciness by flipping steaks and burgers only once.
A – Assess doneness with an instant-read thermometer.
K – Keep food safety in mind. Wash anything that comes in contact with raw meat.
S – Set steaks aside to rest a few minutes before serving, to keep the juices inside.
For more recipes and grilling tips, visit CertifiedAngusBeef.com.
And I hope your weekend is bursting with family, friends and fabulous eats!