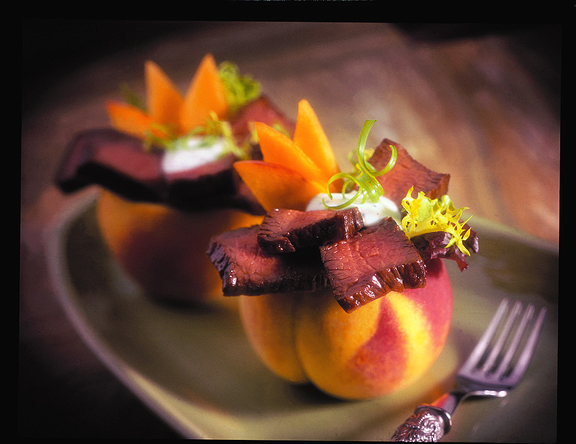 "You eat with your eyes first."
It's a culinary cliché, but one that's stood the test of time because it's based in fact. Chefs know that a meal is an experience to be savored by all the senses — not just the palate. Its aroma, texture, and visual presentation all come into play.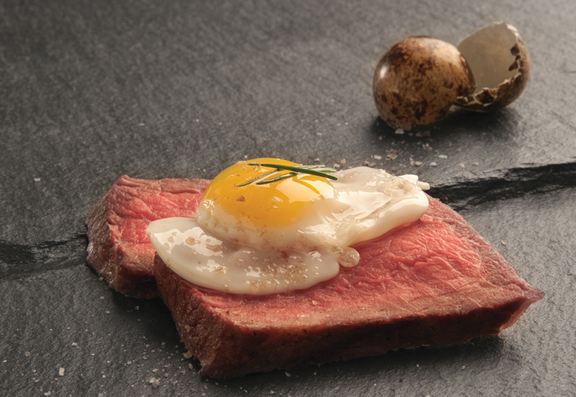 Chef Scott Popovic, one of the very talented members of the Certified Angus Beef ® culinary team, says it's all about balance.
"When I cook, it's a balancing act, and the visual is a big part of that," he explains. "I always approach a dish by considering its complementary aspects. If part of it is crunchy, I also want something soft. If it's salty, I need something sweet. And I also need to make sure there's some appealing contrast on the plate, whether it's achieved by height, color, texture or shapes."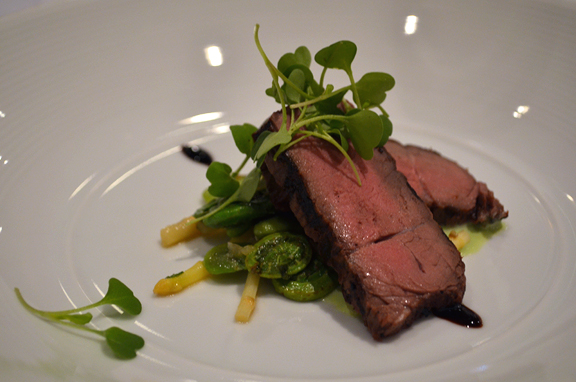 Opposites attract. Case in point: the dish he created at the brand's recent gala dinner celebrating the grand opening of its new Education & Culinary Center. Chef Scott balanced tender slices of sirloin steak, cooked sous-vide, with a springy combination of fiddleheads, asparagus and fava beans. A hearty balsamic reduction "anchored" the ingredients, which were finished with a light, ethereal spring pea foam.
"I think the food, and the occasion, will help direct you on your plating technique," says Chef Scott. "You need to incorporate some contrasts while staying true to your style. The food will tell you what it needs."
Chef Scott added that he knew from the beginning he'd plate his dish in a large bowl with a small base, in order for the dish to create a strong focal point on the food itself – much in the same way small photos can be displayed in large frames for maximum impact.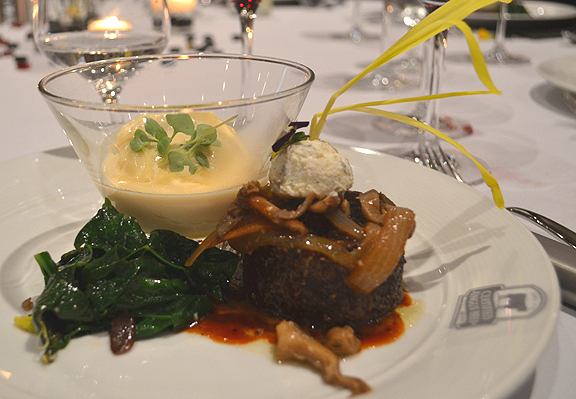 Style and substance. Perhaps the showiest dish at the celebration dinner was conceived by Chef Michelle Brown of Jag's Steak and Seafood.
She served mushroom ravioli in a sherry cream sauce — plated in a stemless martini glass — alongside a morel-encrusted spinalis medallion topped with bourbon caramelized onions and a gourmet cheese blend. The crowning — literally — touch: baby corn shoots and a delicate, colorful viola blossom. As someone who's always been drawn to colorful blooms no matter the situation, I marveled at the pop of color the tiny flower provided. (It's worth noting that edible blossoms are Chef Michelle's signature flourish, giving each of her dishes that personal touch.)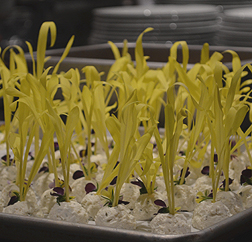 But it was the corn shoots that captured the most "oohs" and "ahhs," with diners enraptured by the height, unique color, and delicate fanfare they gave to an already appealing plate. A little know fact: Chef Scott said it took him and Chef Michelle nearly a half-hour to decide how the dish would be plated, with plenty of trial and error along the way. He explained that it's often more difficult for chefs to create inventive platings for one-time events such as this, when they're asked to use plates they may not have chosen.
Many chefs, when adding an item to their restaurant menu, will invest in specific new plates for that dish in order to showcase their vision in the best way possible. Some chefs, notes Chef Scott, like ground-breakers Grant Achatz of Alinea (Chicago) or Ferran Adria (Spain's El Bulli), will go so far as to work with designers to create one-of-a-kind service pieces based on how a particular ingredient is meant to be eaten and experienced.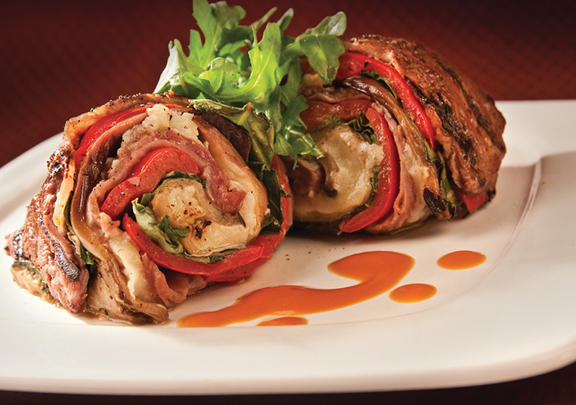 A matter of taste — and creativity. Just as an artist's works are often recognized at first glance (i.e., it's easy to tell the difference between a Picasso, a Monet and a Van Gogh), chefs develop their own styles, too. Those who go to culinary school learn traditional French presentation techniques, but Chef Scott explains that all go on to create their own style, whether they're influenced and inspired by their mentors, the techniques or ingredients they favor, trends in the field, and even good old-fashioned imagination.
I suppose it's called the "culinary arts" for good reason! Next time I think of that other cliché — "That looks good enough to eat!" — I'm going to remember the consideration that chefs give to ensuring each bite is truly a feast for the senses.