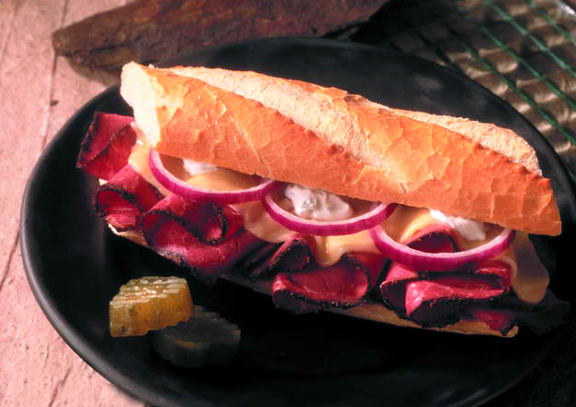 Here's a fresh and tasty summer sandwich that incorporates cucumber with dill and sour cream. Enjoy this zesty sandwich for lunch or dinner. Cucumbers not your favorite? Find more sandwich recipes here. And if you're determined to beat the heat and stay out of the kitchen, click here to find our favorite restaurants near you.
Pastrami & Cucumber Sandwich
1 pound Certified Angus Beef ® pastrami, thinly sliced
1/2 cucumber, puréed
1/2 cup sour cream
1 tablespoon chopped fresh dill
4 ounces Havarti cheese, thinly sliced
1 loaf French baguette, sliced in half lengthwise
1/2 red onion, thinly sliced into rings
1. Mix together puréed cucumber, sour cream and dill; set aside.
2. Cut baguette into four equal sandwich portions. Place pastrami and cheese between bread slices. Grill on a nonstick griddle over medium-high heat until cheese melts.
3. Open sandwich, add onion ring slices and two tablespoons sour cream sauce.
Enjoy!