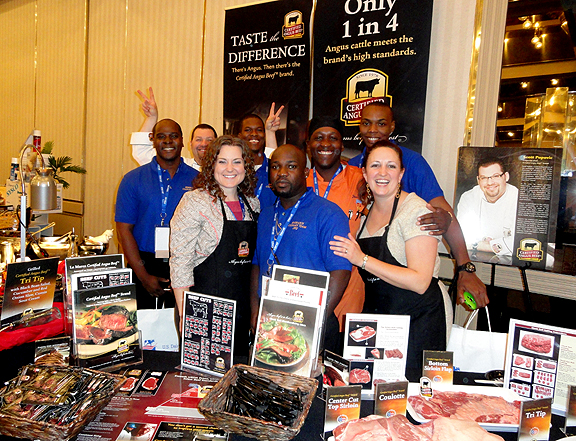 Taste of the Caribbean is a showcase of Caribbean cuisine held at the Hyatt Regency Hotel in Miami. Chefs from Caribbean hotel and resort destinations attend seminars and hear keynote speakers, participate in and enjoy a culinary trade show, and compete in a series of culinary challenges that showcase the region's most popular and innovative flavors.
There are individual and team awards, a Taste of the Islands challenge and more —including an individual Certified Angus Beef ® competition for best use of beef in a dish. The winner earns a trip to the brand's next beef industry chefs' tour.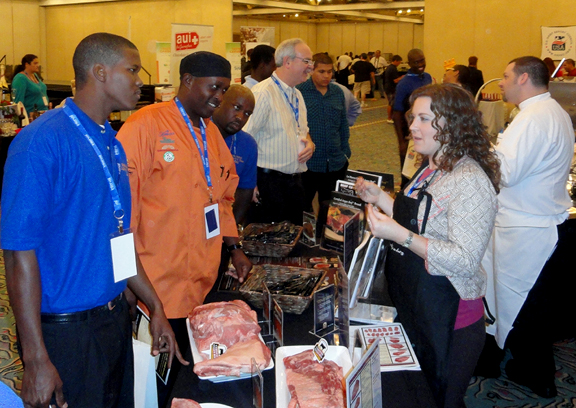 The Certified Angus Beef ® brand has sponsored the event for 10 years, donating beef for a series of mystery basket challenges. This year's featured beef cuts included bottom sirloin flap, chuck flap, center cut top sirloin, coulotte and tri-tip.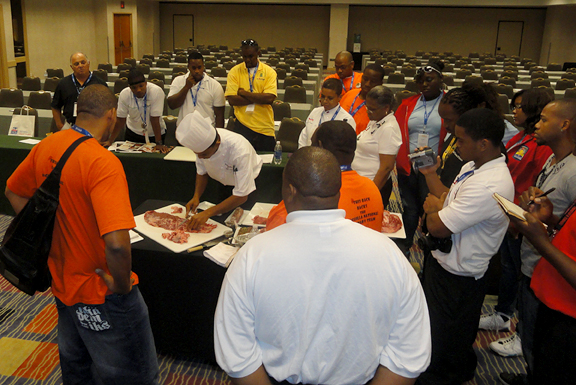 Competitors composed 11 teams from Anguilla, Bahamas, Barbados, Haiti, Jamaica, Trinidad & Tobago, British Virgin Islands, U.S. Virgin Islands, Puerto Rico, St. Lucia, and Curacao. Each team consists of two senior chefs, a junior chef, team captain, pastry chef, and a bartender. Usually 20-30 people come along to support the culinary team including hotel association executives, media, general managers, and the food and beverage directors from the hotel properties.
On Friday night there is a festival celebrating Caribbean street food. Each culinary team has a booth decorated with local décor and serves food and drinks from their respective islands. Music and dancing highlight the event. Booths are judged and points are included in the team's total score.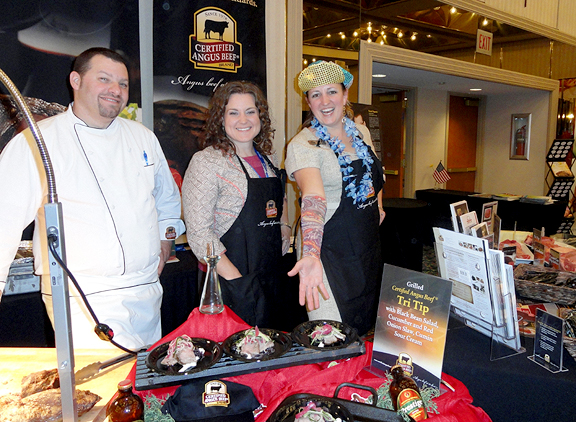 Chef Scott Popovic, Heather Hays and Maggie O'Quinn staffed the brand's trade show booth and answered questions on everything from cooking with beef to showcasing it on menus. Chef Scott prepared his own taste of the Caribbean for participants:
Grilled tri-tip with black bean salad, cucumber red onion slaw & cumin sour cream
Marinated grilled bottom sirloin flap steak with boniato mash, jicama mango slaw and root beer reduction
Marinated & sautéed clod heart wrap with apple slaw, sriracha aioli and chips
Taste of the Caribbean was most definitely a delicious event. For a complete list of winners and the hotels they represent, click here. It might be a great place to start if you're considering a vacation in the Caribbean!
And Chef Scott was willing to share one of his mouthwatering recipes with Rare readers. Enjoy!
Roasted Certified Angus Beef ® Filet of Strip Steak with Boniato Mash, Jicama, Mango Slaw and Rootbeer Reduction
Ingredients for 12 portions
9 lbs. Certified Angus Beef ® filet of strip
5 lbs. Boniato, peeled and diced
1/2 gallon milk
1 stick unsalted butter, melted
1 medium jicama, peeled and julienned thin
2 mangos, peeled and julienned thin
1/2 bunch cilantro, stems removed
2 Tablespoons rice wine vinegar
1 Tablespoon grape seed oil
1 quart rootbeer reduced over medium heat in a saucepan until thickened like syrup. Put in squeeze bottle.
Salt and pepper to taste
Instructions
To make boniato mash, cook diced boniato in a medium pan covered with milk and salt until soft. Drain and reserve milk. Rice the boniato adding butter and milk to the consistency of mashed potatoes. Add salt and pepper to taste.
To create slaw, combine mango, jicama, cilantro, vinegar and oil. Season with salt and pepper to taste.
Season filet of strip with salt and pepper and roast in until medium rare doneness (roasting instructions). Let rest and slice into 8 oz. portions.
Serve over boniato mash. Drizzle syrup on plate.
Recipe provided by the Certified Angus Beef ® brand