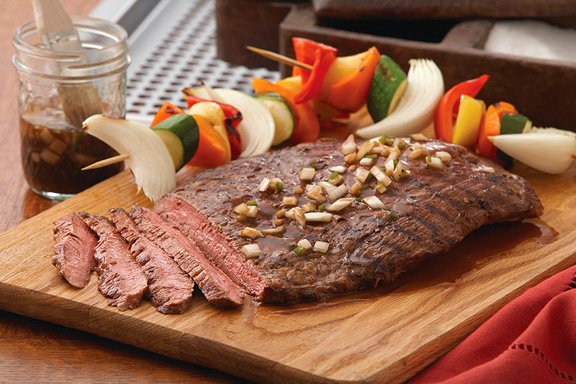 Beer-marinated Flank Steak …
makes for a luscious Labor Day picnic recipe. Trust me. You will not be disappointed. Flank steak is a lean, extremely flavorful cut of beef. It's often used for fajitas, but it can easily become the star of the show if you marinate, then grill. Flank steak should be sliced thin against the grain to highlight its best bite.
And here's a tip from me to you: If you're making this for a family picnic, grill fest or outdoor soiree, it's imperative that you grill at least two, maybe three. It's just that good. Enjoy!
Beer-marinated Grilled Flank Steak

2 pounds Certified Angus Beef ® brand flank steak
1 (12-ounce) bottle Guinness draught beer
1 yellow onion, chopped
1 garlic clove, chopped
3 jalapeño peppers, seeded and chopped
Salt and pepper to taste

1. Combine Guinness, onion, garlic, and peppers in a zipper-locking plastic bag with beef. Marinate 6 to 8 hours in refrigerator.
2. Remove steak; discard marinade and season with salt and pepper. Grill over medium-high heat to desired doneness.
3. Let steak rest 5 minutes; slice thinly across grain and serve.