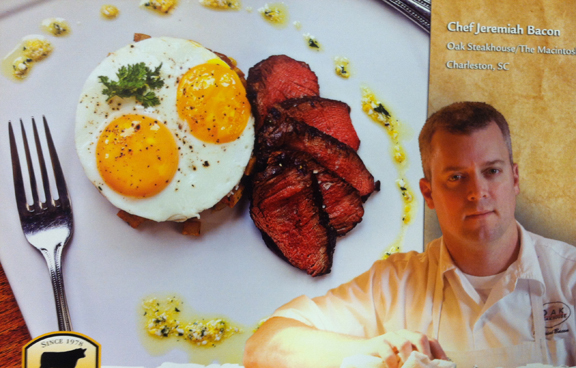 Jeremiah Bacon spent 10 years away from his beloved Charleston, honing his craft and (literally) sharpening his knife in some of the toughest, most intense kitchens in New York City.
But in 2010, Bacon had the opportunity to return to the city where he was raised, partnering with Steve Palmer's Indigo Road Restaurant Group, to take over Oak Steakhouse, Charleston's classic elegant steakhouse dining experience.
A year later, Bacon & Palmer flipped the switch on another concept — this time a hip, casual gastro pub dubbed simply, "The Macintosh."
Between the two, Bacon has found the sweet spot of his culinary voyage — one that pushes him to create classic ingredient-driven cuisine and another that flexes his creativity with flavors and cooking techniques — all while showcasing the highest quality, most sustainably raised local ingredients.
What's more, Oak Steakhouse is a platinum partner of the Sustainable Seafood Initiative, which helps ensure the long-term viability of the fishing industry in South Carolina.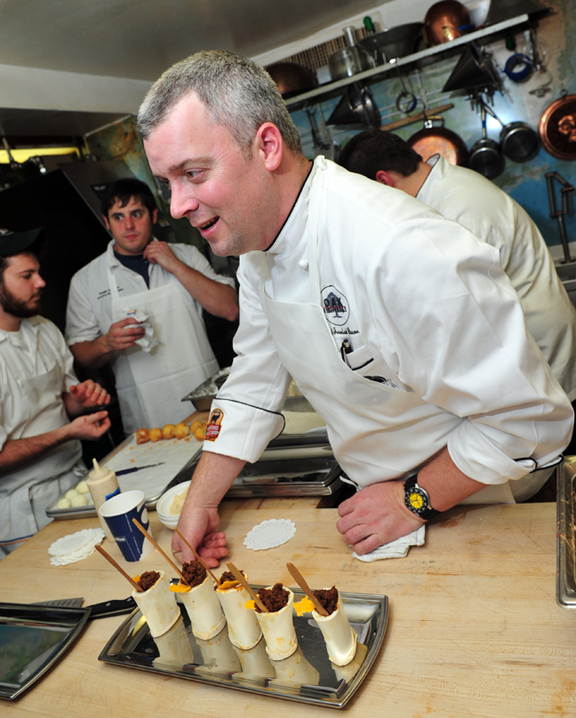 "The spring and fall, here, are high seasons for greens because of the milder weather," said Bacon, who worked in Eric Ripert's Le Bernardin and Thomas Keller's Per Se before returning to his native city. "You can't grow those in the summer because it's too hot. We try and source as local as possible — local clams, oysters — and instead of iceberg wedges we use a bib wedge, and tomatoes grown by a local hydroponic farmer."
When it comes to beef, Bacon says his preferred Certified Angus Beef ® cuts fit right into their local and sustainable model.
"Steve and I visited Yon Family Farms (Ridge Spring, S.C.) awhile back," he said. "We actually just drove past their exit this weekend on our way back from Sunday Supper South in Atlanta. To meet them and to know them, it gives us confidence that our beef is definitely in the same spirit of everything else we're doing."
Last month, Bacon "Mr. October" in the new Certified Angus Beef ® brand calendar, which showcases the chef and his unique take on steak and eggs.
According to chef, the dish features tenderloin, potato hash with caramelized shallots, and a "fried egg sauce."
"We fried an egg, and then pureed it with champagne vinegar and herbs," Bacon says.
That's right. Melt-in-your-mouth tenderloin, a fried egg and champagne at brunch.
I guess Bacon really does make everything better.