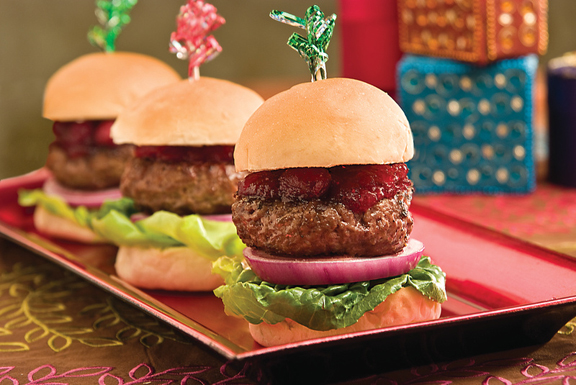 A little cranberry tart and tang on a beefy mini burger — also known as a slider — makes a great appetizer for holiday gatherings. And this slider is much heartier than the typical bite-sized delight. It's sure to satisfy your hungriest guest.
Chef Scott Popovic's holiday sliders will have your friends and family declaring this the most wonderful and flavorful time of the year!
Holiday Sliders
Yields 12
Ingredients
1 1/2 pounds Certified Angus Beef ® brand ground chuck
1 head bibb lettuce, washed and separated
1 small red onion, sliced in rings
1/4 cup whole cranberry jelly
12 mini knot rolls or mini burger buns, sliced in half
Salt and pepper to taste
Instructions
Form ground chuck into 12, 2-ounce patties. Season lightly with salt and pepper.
Grill or pan-sear on each side, cooking thoroughly (160°F internal temperature).
Build burgers by layering lettuce, red onion, patty and jelly on a bun. Skewer with a toothpick frill for easy handling.
Chef's note: Sliders are all the rage and for good reason. If you prefer a larger burger, simply make four 6-ounce patties and use regular-sized buns. Either way, they pack big satisfaction in every bite!
Click here for more tantalizing appetizer recipes!