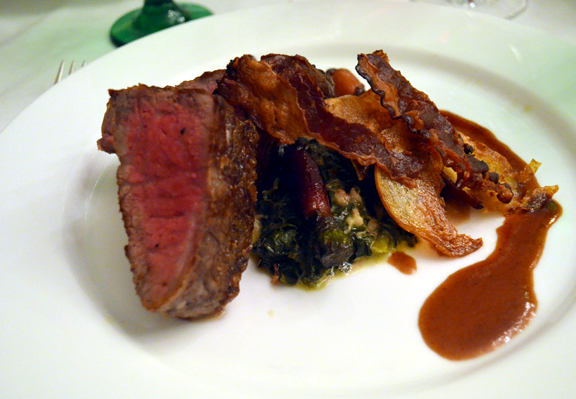 A few months back, I received a note from a friend who spends his weekends dabbling in the kitchen when he's not up to his ears with seminary work. He experiments — not just with beef, but with an assortment of meats, grains, vegetables, fruits and other caveman cuisine found at our local Buehler's Fresh Foods.
His note consisted of five words: Why doesn't beef bacon exist?
Dumbfounded, I sat there for a minute before deciding to ask one of our experts via text message. After a few moments, David O'Diam, who previously ran the meat lab at The Ohio State University, replied:
It does. It's just not nearly as good as that of our porcine friends."
Perhaps O'Diam just hasn't had his hands on beef bacon prepared by renowned Chef Govind Armstrong, who's had guests at his hip Los Angeles-based Post & Beam restaurant craving his creation so much you'd think it was made of … well, bacon.
Armstrong had been thinking of toying around with beef bacon for some time, and our own Chef Scott recommended the former Top Chef Masters and Next Iron Chef competitor start by trying to produce his product using beef navel.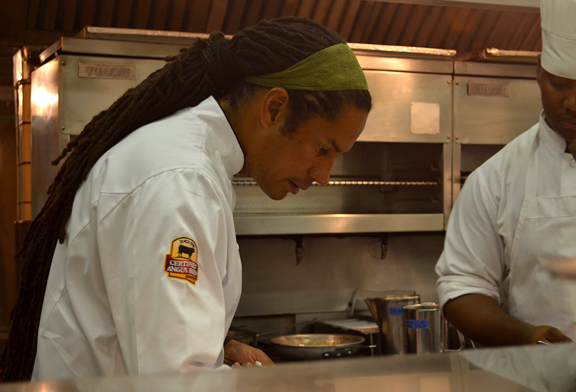 "It's been extremely successful," says Armstrong, who uses beef bacon in a number of dishes on his menu. "We do about a nine-day cure on it, then let it dry on a well-ventilated cooling rack. Then we give it another eight hours in the smoker. It's pretty great."
Armstrong says his beef bacon is nearly indistinguishable from traditional, pork-derived bacon in terms of flavor, texture and appearance, and serves as a great alternative for customers who — for dietary or religious reasons — cannot eat pork products.
"We started using it on a shrimp and grits dish at Post & Beam," Armstrong said. "We wanted to stay pretty true to the simple, Lowcountry-style version of the dish, but without traditional bacon. So we used beef bacon. We cured it, sliced it thin and crisped it up. It's become a dish that normally people wouldn't order because of the pork product, and now it's one of our most popular items."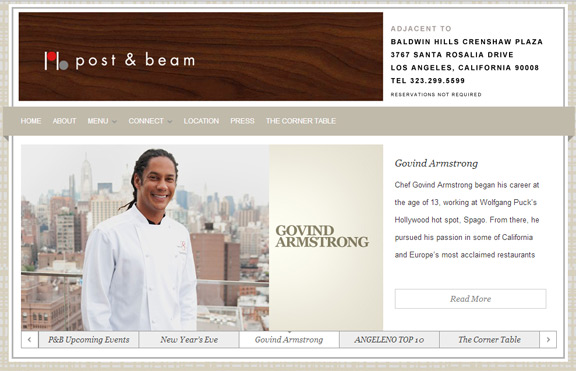 Slowly, Armstrong's beef bacon is showing up in more and more dishes. From pizzas and entrees to traditional brunch dishes, the chef is still searching for applications that could benefit from his unique creation.
"It's super versatile," he said. "Our cooks love it. Our servers let everyone know it's 100% beef, but when people see it on the menu they read 'bacon' and occasionally ask to skip it. But I'd say more than half the people who initially request it off their plate are pleasantly surprised.
"Beef bacon is something that's made a lot of people here really happy when they eat it. We're pretty proud." ~ Chef Govind Armstrong