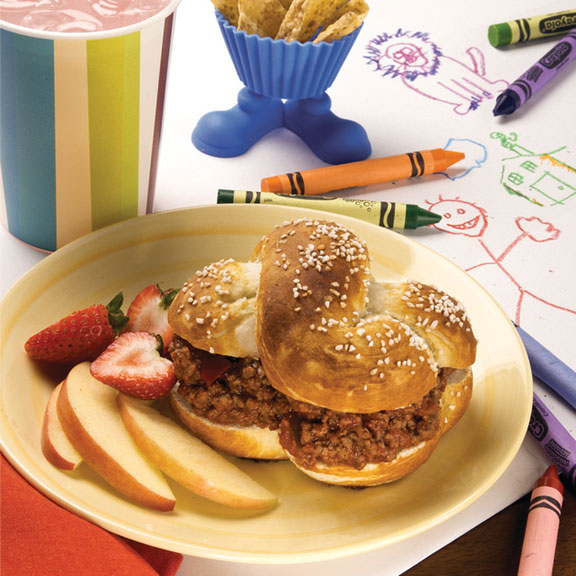 If you have children you know it's often a challenge to put food on the table that they will actually eat. Sloppy Joe sandwiches are always a winner in our house.
This recipe — served on a soft pretzel bun — is not only tasty but a fun way to involve your kids in the cooking process. Your family may be set to enjoy a three-day weekend due to Martin Luther King, Jr. Day observances. Why not use the extra time at home to gather together? Invite your brood to the kitchen and create a 'sloppy' masterpiece!
Sloppy Joes on Soft Pretzel Buns


Serves 8
Ingredients:
2 pounds Certified Angus Beef ® ground chuck
2 packages active dry yeast
1 teaspoon sugar
1 1/4 cups warm water
4 1/2 cups flour
1/2 cup sugar
1 1/2 teaspoons salt
1 tablespoon vegetable oil
1/4 cup baking soda
2 cups hot water
Pretzel salt
1 (1.3-ounce) packet sloppy Joe seasoning mix
1 (15-ounce) can tomato sauce
1. In a small bowl, dissolve yeast and 1 teaspoon sugar in 1 1/4 cups water; let stand 7-8 minutes until creamy.
2. In a large bowl, combine flour, sugar and salt. Make a well in the center; add oil and yeast mixture. Mix together to form dough. Turn onto a lightly floured surface. Knead dough about 5 minutes until smooth; adding flour as needed, dough will be slightly sticky.
3. Lightly oil large bowl. Add dough turning to coat with oil. Cover with plastic wrap and let rise in a warm place about an hour, or until doubled in size.
4. Preheat oven to 450ºF. Divide dough into 8 pieces. Roll each piece into a rope and form into fun shapes.
5. Combine baking soda and hot water. Dip each pretzel into water mixture and place on a greased baking sheet. Sprinkle with pretzel salt. Bake for 10-12 minutes.
6. Brown ground beef over medium-high heat until no pink remains; drain. Mix in sloppy Joe seasoning and tomato sauce. Bring to a boil, reduce heat and simmer 10 minutes. Serve on pretzel bun.