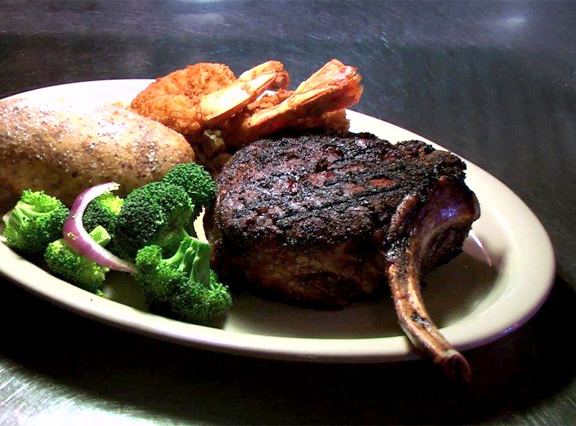 Twenty-six ounces of tender, juicy, fall-off-the-bone, melt-in-your-mouth Cowboy Steak generously crusted with a 14-spice blend and served with an ice cold beer fresh from the tap. Enough said. Until next time folks! HA! Just kidding.
This hunk of mouthwatering meat is a Peacock Alley American Grill & Bar specialty. It's the most popular dish in the 80-year-old Bismarck restaurant, and it's not even listed on the menu. The novelty steak is one of many beef dishes crafted by Head Chef Dustin Swenningson, otherwise known as Chef Dusty, who adds a North Dakota twist to the traditional steak dinner. Sure, he and restaurant owner Dale Zimmerman offer all the customary steakhouse items, but with an added flavor only found at Peacock Alley.
Take the filet mignon for example. Not only is it the most tender beef cut, but Chef Dusty wraps it in savory applewood bacon. Proteins unite! Peacock Alley also serves unique beef cuts for the kind of dining experience you'll never forget — memorable steaks like a 26 oz. bone-in Cowboy Steak that hangs off the plate.
Or try the Steak Fingers — a beefy twist on the more traditional chicken hors d'oeuvres.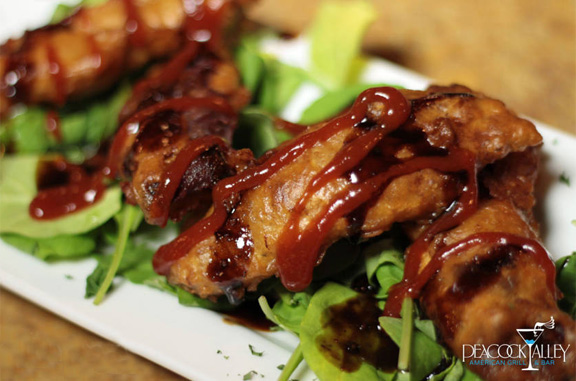 The Prime Time Egg Rolls — sliced prime rib, peppers, smoked Gouda and your choice of spicy Thai or sweet plum sauce. What a treat! And then there are the burgers …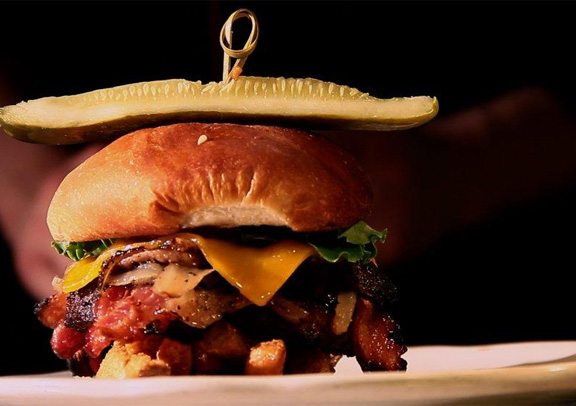 … stacked with fun toppings and flavor combinations that blow the typical burger out of the water. And how about Peacock Alley's Prime Rib sandwiches. They're roasted for hours, carved, then seared and topped with an array of flavor-bursting ingredients.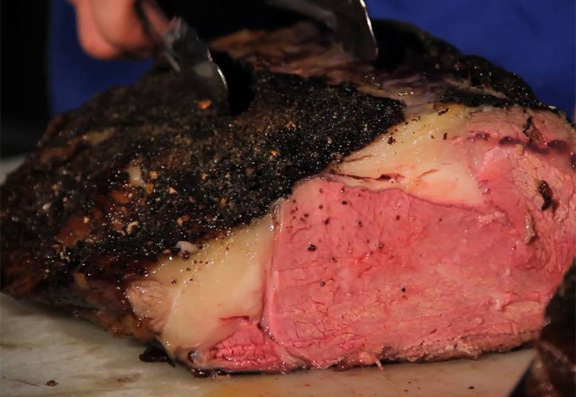 Is your mouth watering? Mine sure is.
Adding a vintage angle, the restaurant is housed in Bismarck's historic Patterson Hotel.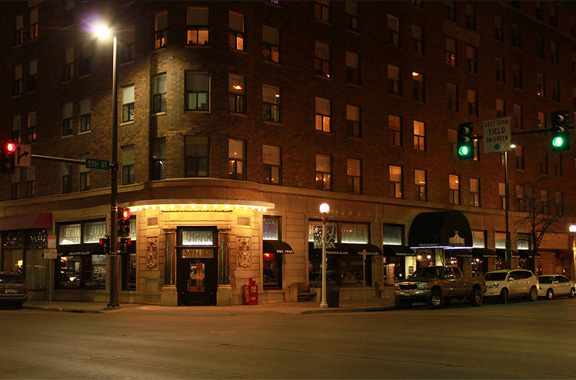 Dale and Chef Dusty work closely to continually grow and improve their customers' experience through the dining atmosphere, service and top-quality meals, especially when it comes to beef. The two are so passionate about quality, they reveal five new Certified Angus Beef ® brand offerings each month. The brand's corporate chef, Michael Ollier, has had the opportunity to work with Chef Dusty on creative menuing and marketing ideas.
"He's always thinking, 'What's next? What can I do better to set Peacock Alley apart?'" Michael said. Chef Dusty once told him, "My goal is to be the most beef knowledgeable restaurant around. Peacock Alley is looking to be King of Beef in not only Bismarck, but the great state of North Dakota."
Chef Dusty's beef creations frequently involve one of dozens of his original sauce blends. A personal goal is to create 10,000 sauce recipes by the end of his career. Talk about passion, and an explosion of flavor to boot!
Dale and Chef Dusty's creativity, beef innovation and marketing were recently recognized when the Beef Checkoff named Peacock Alley 2012 Restaurant Innovator of the Year, a nationally recognized honor.
"We are always offering something new," Dale said. "A new sauce. A new cooking technique. A new cut. We strive to do things for people they can't do at home. This means offering cuts you can't get at a store. Sauces you can't get anywhere else … "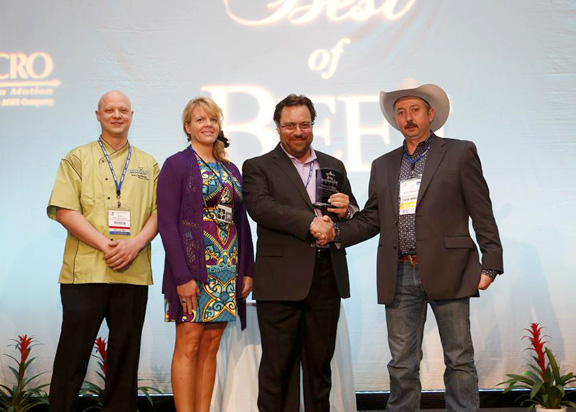 It looks like I need to save up an appetite and pack my bags to visit Bismarck for a Peacock Alley cowboy steak! For more information on Peacock Alley American Grill & Bar, visit on Facebook or see what they're up to on YouTube.
All photos from Peacock Alley American Grill & Bar.