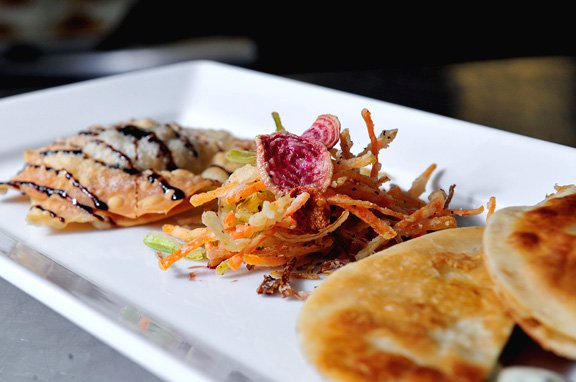 Foodies know it all too well: that sinking, yet excited, feeling when you open a menu and find an array of tantalizing choices — knowing you can only reasonably choose so many.
That's the appeal of Tapas-style dishes. Not only can restaurant patrons choose among numerous smaller plates and servings to try a wider variety of specialties at one sitting, but chefs can use the concept to introduce new flavors, ingredients and preparations. A smaller plate is literally a smaller investment and a great way to foster experimentation and creativity.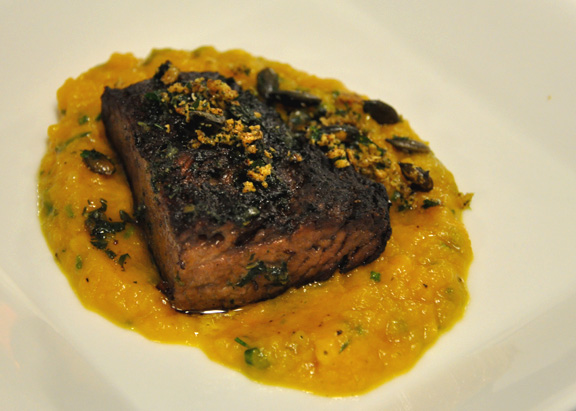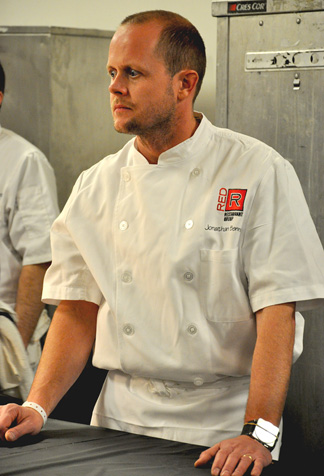 At a recent dinner prepared by Cleveland's best chefs, Jonathan Bennett, executive chef and partner of Moxie, The Restaurant, and Red, The Steakhouse near Cleveland, Ohio, served smoked Certified Angus Beef ® brand Prime brisket, with kabocha squash ragout, spiced pepitas and winter herb pistou. You won't find it on his restaurants' menus (yet), but it sure impressed the crowd!
What you will find on Moxie's menu is an array of "small," "medium" and "large" dishes. If you're in the mood to cross international lines, you might combine a diverse selection of "smalls" like Korean-style BBQ wings, crab arancini, flash-fried burratini and a roasted pear tart. Or, you can go more classic with a "medium" iceberg and blue cheese salad and a "large" Certified Angus Beef ® brand Delmonico steak frites. Truly something for everyone!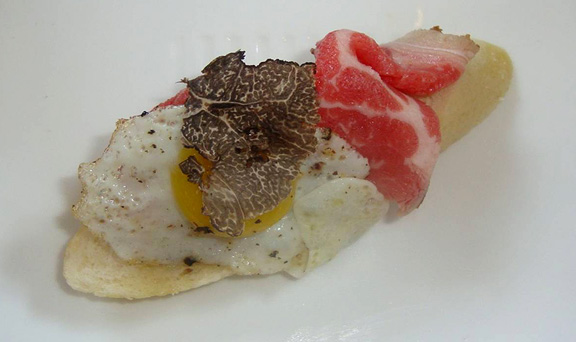 Small plates also offer chefs the opportunity to experiment with new dishes – or put a new twist on something familiar. Take the classic steak and eggs: in Chef Scott Popovic's hands, it's strip steak carpaccio, topped with a quail egg and shaved black truffle. Good things do come in small and savory packages — just ask the lucky eaters at the Cayman Cookout!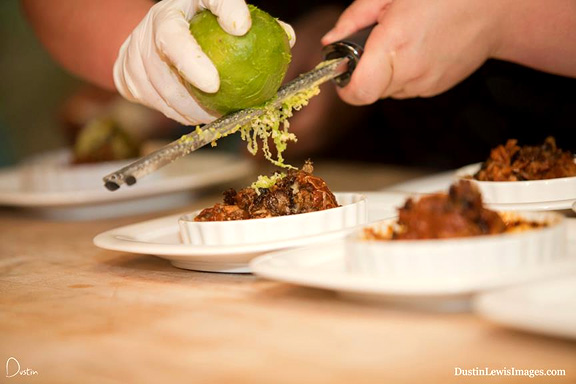 Special events, like the Cayman Cookout, are often the best venues to sample a chef's creative dishes. Executive Chef Jerry Weihbrecht of Zoe's in Virginia Beach, Va., showcased a variety of inspired bites at a dinner he presented at the James Beard House in New York City. One standout was molé-braised Certified Angus Beef ® brand brisket with shaved avocado.
Weihbrecht is also one of the growing number of chefs who are introducing tasting menus at their restaurants. For a special price, Zoe's patrons can tailor their own tasting menu to include an appetizer, salad, entrée and dessert — or any combination thereof. Sommelier-paired wines are available for an additional charge.
Perhaps the best tapas-style dining comes with the opportunity to share it with others. If everyone at the table orders a handful of different selections, you've got the chance to experience the majority of — or entire — menu. Everyone knows you're going to ask for "just one bite" of each others' meals, so why not divide the dishes and multiply the fun and the flavor?