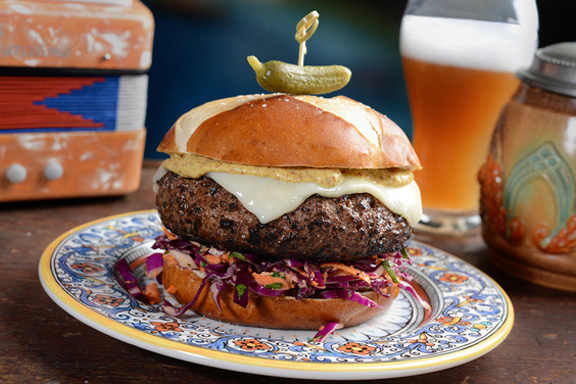 Before March 2013 fades into the sunset we must bid adieu to International Burger Month — but not before we savor a few more of the tastiest recipes to be found on this side of the border. First up is the Spicy German Burger. It's a juicy bite of beef with the tang of spicy mustard, red cabbage slaw and Swiss cheese. Skewer your top bun with a dill pickle if you want to serve your burgers with a fantastic little flourish.
For those who prefer spice with a kick, try the Border Burger.
Chili powder, cumin and adobo seasonings combine with Monterey Jack cheese and a topping of corn and black beans. It's a colorful burger that would also be great as a slider — all the flavor, in miniature. Serve with chips, salsa, a Margarita and if you're feeling brave, hot sauce. If you prefer to tame your taste buds, add the creamy texture of fresh avocado and a strip or two of bacon to your burger.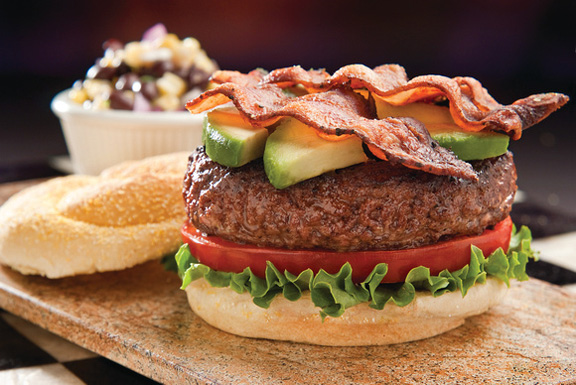 The Avocado Bacon Burger is fresh, colorful and mmm! It even sounds good!
These are just a few of the ideas coming from our chefs, of course. They have endless topping ideas for the adding new twists to everyone's favorite all-American burger. Sure, it's fun to add international ingredients, but let's be honest — just about anything you put on a Certified Angus Beef ® brand burger is going to taste amazing. It's all about the beef, you see — it's always tender, juicy and full of rich flavor. The other ingredients? Window dressing for the main attraction.
As much as I love avocado, black beans and yes, even bacon on my burger, my idea of perfection is, well, cheesy. The perfect complement to a beefy burger is stinky cheese. It doesn't fit our theme, I know. This burger wouldn't make the list of internationally acclaimed sandwiches …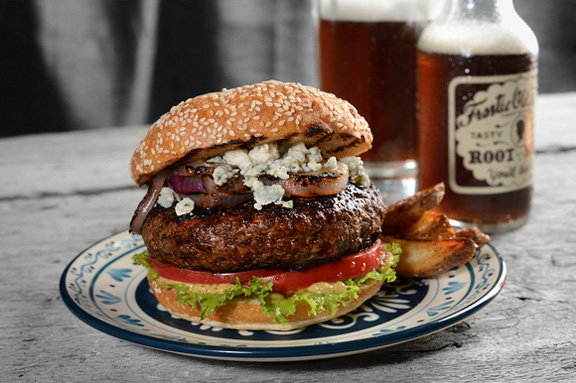 But love me tender, love me true;
Feed me a Black and Bleu —
… and I'll be happy. Oh, but wait!
'Bleu' is French … right?
Oui! Yes, indeed!