Yesterday we left readers wondering … what problem could crop up during a seemingly normal day as a meat cutter? As it turns out, it wouldn't be a normal day if there weren't some challenges …
It's not often that problems arise in DiBiasio's department, but when they do, it's when he appreciates his team the most.
Mattie was the first to notice. The pricing stickers printing from their computer were not matching up to the actual price of an item being featured in the new ad. Customers were supposed to get $2 off a Certified Angus Beef ®standing rib roast, and the labels only reflected a $1 discount. A phone call to the corporate office — located less than a mile from where Ed and Helen first opened their Wooster store — assured DiBiasio that the technology team was aware and working to remedy the problem.
A few more phone calls quickly revealed that the Medina store was not alone in this glitch. Another call came from the checkout line — a customer was trying to purchase the item and wanted to get clarification on price. This call would surely be the first of many his team would be called upon to answer.
Flying Fois Gras. It's 10 a.m. and DiBiasio has been so preoccupied he's not yet picked up a knife. True to trend, another distraction pops up.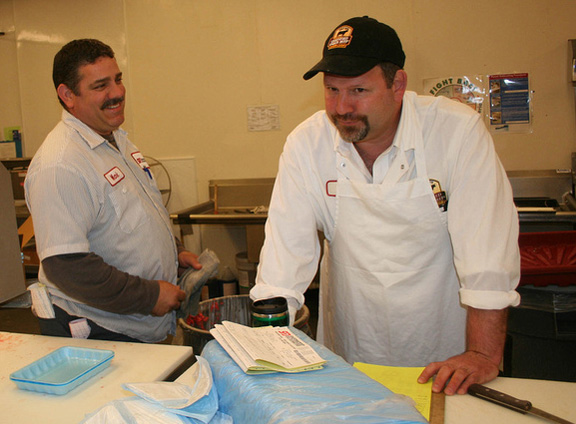 A store employee sought him out to handle an odd, if not amusing situation. A landscaper was outside attempting to do his job, but was persistently being interrupted by an angry gander, desperately trying to keep him away from a mother goose and her eggs. When he arrived, the laborer was sitting next to his lawn mower. DiBiasio sidestepped a feathered dive-bomb, and, assessing the situation, pulled the plug on any further beautification efforts to that side of the store until the winged guests vacated.
When the meat meets metal. By 10:30, DiBiasio is finally able to settle into his first love. Scanning the checklist of items Maitland hasn't already trimmed, he grabs a chuck roll from the cooler and lays it on his sterile table. With the efficiency of a mechanic methodically taking apart his favorite automobile, DiBiasio quickly turns a Flintstone-sized hunk of meat into an assortment of grill-ready steaks. Judy Rice, another member of the meat department, places Styrofoam trays with each steak into a machine that individually wraps them, and then places a pricing sticker on top. The corporate pricing snafu has yet to be remedied, but customers are being charged the promised price and are happy.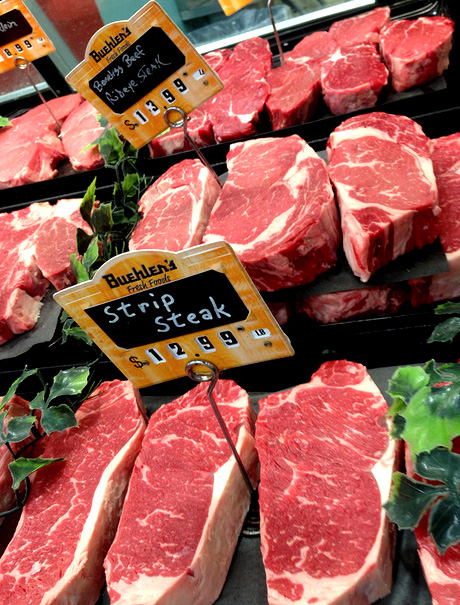 "The retail business, it's actually pretty easy to figure out," DiBiasio says. "You find out what the customer wants, and you give it to them. That's it."
For the next several hours, DiBiasio is allowed to be in his element. Pork butts, rib rolls, top sirloin — his knife glides through them all with a look of ease. Harmony has returned to the butcher shop. This is where Pat DiBiasio could spend hour upon hour, jokingly ribbing his coworkers and singing classic rock anthems from the 1970s while breaking down meat. It's an homage to his upbringing. His father. His childhood. His career trajectory that was determined long before today.
And to outsiders peeking through the paned glass window to the Buehler's Fresh Foods meat department, it's undeniably evident: the meat man is at home.
To catch up on the entire series check out these posts:
A Day in the Life of an Ohio meat cutter, part 1