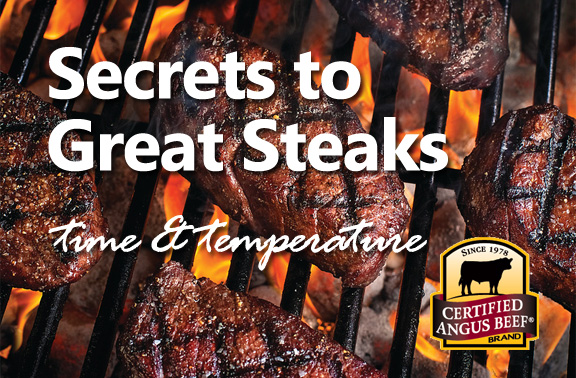 Independence Day is just around the corner and if you're like millions of Americans (and me!), you will celebrate with fireworks and something flavorful from the grill. When it comes to steaks, one of the most common questions is: "How long should I cook it?" There's no easy answer, but there is good news. Learn a couple of things about time and temperature and you're on your way to great steaks!
Several factors affect sizzle time — the temperature of your grill, the thickness of your steak, and more – so the best way to determine when your steaks are done is to use an instant-read thermometer. Place it carefully into the thickest part of the steak, from the side. Be careful not to touch bone or fat
Your steak's temperature will continue to rise 5 to 10 degrees after it's pulled off the grill, thanks to a process called "carryover cooking." To avoid overcooking, take your steak off the heat when it's a few degrees shy of your target temperature:
Rare – 140°F
Medium Rare – 145°F
Medium – 160°F
Well – 170°F
Most chefs and steak experts prefer medium-rare, which gives a steak maximum flavor, tenderness and juiciness. However, top-quality Certified Angus Beef ® brand steaks have generous marbling and will still be tasty when cooked to higher temperatures. The marbling acts like an insurance policy.
Need a little inspiration? Try one of these steak recipes or one of our favorites:
Beer-marinated Grilled Flank Steak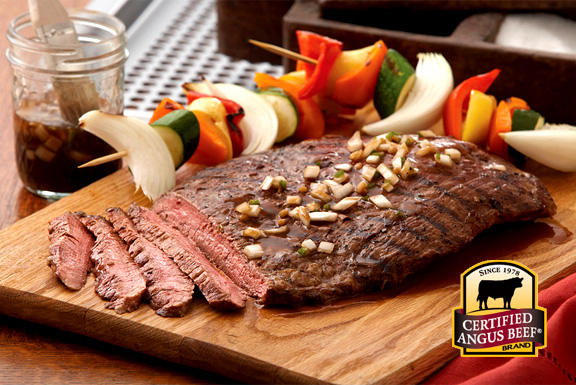 Ingredients:
2 pounds Certified Angus Beef ® flank steak
1 (12-ounce) bottle Guinness draught
1 yellow onion, chopped
1 garlic clove, chopped
3 jalapeño peppers, seeded and chopped
Salt and pepper to taste
1. Combine Guinness, onion, garlic, and peppers in a zipper-locking plastic bag with beef. Marinate 6 to 8 hours in refrigerator.
2. Remove steak; discard marinade and season with salt and pepper. Grill over medium-high heat to desired doneness.
3. Let steak rest 5 minutes; slice thinly across grain and serve.