As executive chef at one of the premier steakhouses in the country, Chris Turke deals with hundreds of huge cuts of succulent, tender beef on a daily basis. But ask the chef from Portland, Oregon's acclaimed RingSide Steakhouse Eastside location about the best steak he's ever eaten, and he'll respond without hesitation.
"It was last summer at our owner's beach house right on the Pacific Ocean," Turke recalls. "He brought some 50-day, dry-aged Certified Angus Beef ® New York strips and filets out. We set up a bonfire and cooked up these steaks – they were the most unbelievably decadent steaks I've ever had. They were marbled and had this popcorn-flavor nose to them – it was a sort of nuttiness I've rarely tasted before."
RingSide is known for its dry-aged steaks. Turke's colleague, chef Beau Carr, oversees an on-premise dry-aging cooler at the restaurant's uptown location, which supplies both restaurants. Think of it as a humidity- and temperature-controlled playground for mad men of meat.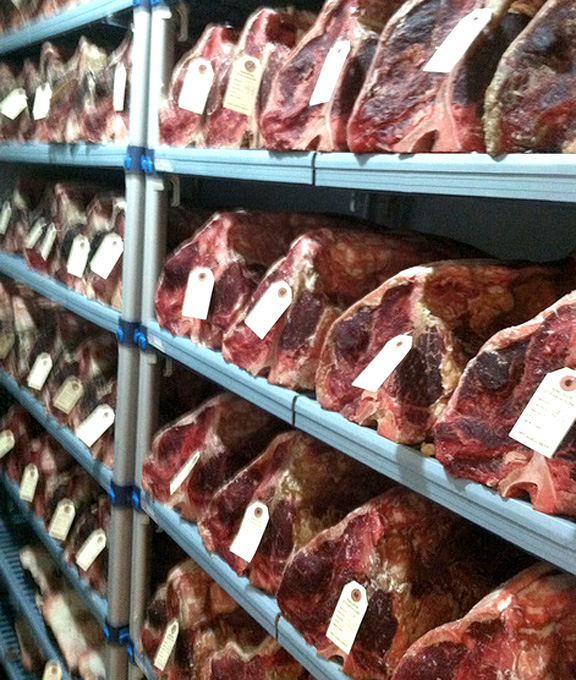 RingSide guests will attest that the chefs have touched on something very special in their dry-aging conquests, helping it garner numerous accolades, both locally and nationally.  The 8-oz. filet mignon is the top selling steak in the restaurant and ironically, Turke's most popular dish this month isn't a dry-aged piece of meat at all.
"Lately it's been a three-course Surf & Turf meal with prawns and a 28-day, wet-aged teres major (also known as the petite tender) that we are featuring as an entrée choice during Portland Dining Month," Turke says. "We sear it, give it a light roast and then slice it thin. It's served with a sauce bordelaise and bone marrow. People love it."
RingSide offers Certified Angus Beef ® brand cuts sourced from the Northwest United States – something that is crucial to its customers.
The city's food scene was famously satirized in this TV clip from IFC's Portlandia, but Turke says many restaurants in the city really do make a concerted effort to inform their public where their food comes from.
"A lot of times, the first thing they ask is 'Where did this come from?'" Turke says. "Some really do the Portlandia thing. What was the cow fed? Was it humanely butchered? It's definitely a Portland thing that's has a degree of truth to it. Some people want to know everything they can."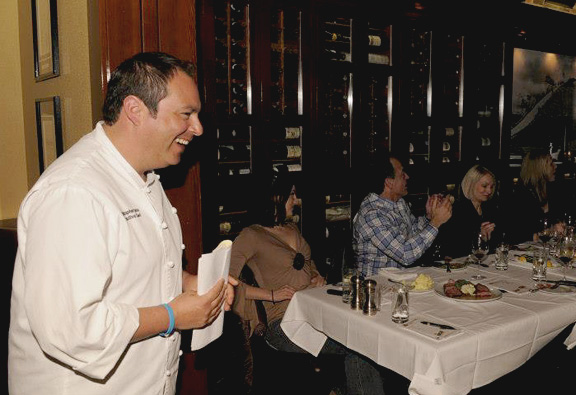 Turke considers himself as not only a chef, but also a foodie. A native of San Francisco, he relocated to Portland in the past decade. Turke has been within a stone's throw of some of the most iconic restaurants in the world most of his life. Portland has earned the reputation of hosting a burgeoning food scene – which was one of the reasons he left his home for the City of Roses – and he has certainly found some favorites outside of his own four walls.
"Caffe Mingo is this really great Italian restaurant. I love what they do with pasta – it's just really light and I couldn't do it myself. If I'm gonna go out to eat, I want to eat something that I can't make myself. Another place called Yuzu has sort of Japanese tapas. It's simple food, but it's unbelievable.
"I love Zenner's Sausage when I go to Portland Timbers MSL Soccer games. They do all different styles and types of sausage."

But none are quite like RingSide, which takes guests on a journey to the 50s, where its big band music, servers donning tuxedos and large, red leather booths are reminiscent of the rat pack era.
"Most of our staff has been here for a long, long time," Turke says. "You feel that family connection when you walk in the door. It definitely has kind of a cool, retro feel to it. We've been here since the 70s, and our uptown location has been going since the 40s.
"It's safe to say we've stood the test of time."