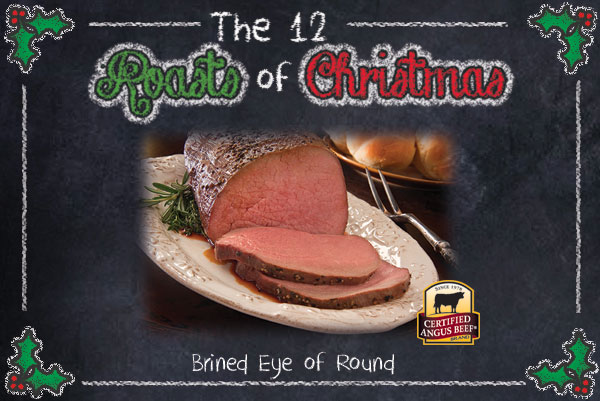 I remember the first time I saw a raw eye of round. "That's a tenderloin!" I proudly spouted, like any good student who confidently knows his cuts of beef. Alas, 'twas not the case. While it's true both cuts are similar in appearance due to their barrel shape, the eating quality differences between the tenderloin and the eye of round couldn't be greater. The tenderloin is forgiving. The eye of round? Eh, not so much.
Even at the highest quality levels, like a Certified Angus Beef ® brand eye of round, this cut doesn't have much marbling. In short, it needs a little help to taste great. And that is precisely why I'm writing this. With a little patience and the right know-how, you can take this ultra-lean, economical, but generally tough, cut of beef and turn it into something magical. Stick with me. We'll do this together, with the always appreciated help of Chef Michael Ollier, the Certified Angus Beef ®  brand's senior corporate chef : Brined Eye of Round printable recipe.
The secret is in the brine. By definition, brining is simply soaking your cut in salt water until it's saturated. This not only helps flavor the beef, but it also assists in tenderization. This brine, however, is much more than that. It's Christmas time, so Chef Michael imparted additional holiday flavors in the beef. For starters, you will need a 1 ½ pound Certified Angus Beef ® brand eye of round roast from your favorite retailer.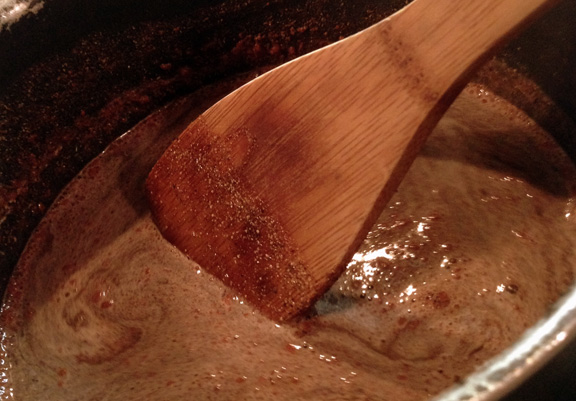 Step 1
In a saucepan combine the sugar, salt, pepper and spices with water. First boil, then simmer. The result is a thick, holiday-scented paste that smells so good you shouldn't be surprised if Santa Claus himself comes knocking on your door for a taste. Turn him down, though. You have bigger plans for this creation. Pull it off the heat and add 3 cups of ice water. This will make your thick paste more watery, which is the consistency you want for your brine.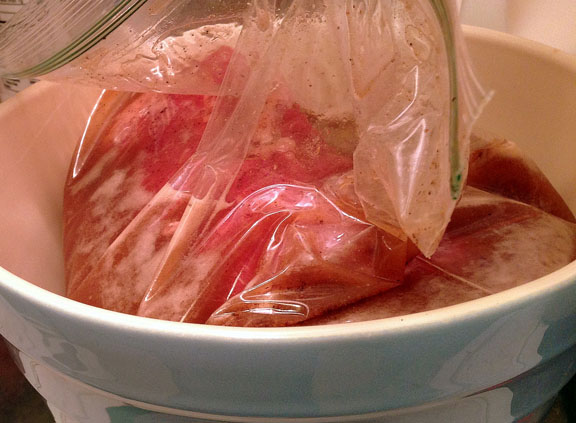 Step 2
Grab a zipper-locking bag and put the beef inside. Add the brine, then seal the bag and put it in the refrigerator for at least eight hours. Do something else for 8-16 hours. I dunno, put up your holiday lights, watch Burl Ives' Rudolph the Red-Nosed Reindeer 32 times in a row, or maybe just pull up a chair and imagine what's happening inside the fridge. Whatever you do, though, near the end of this process, go ahead and preheat your oven to 300 degrees.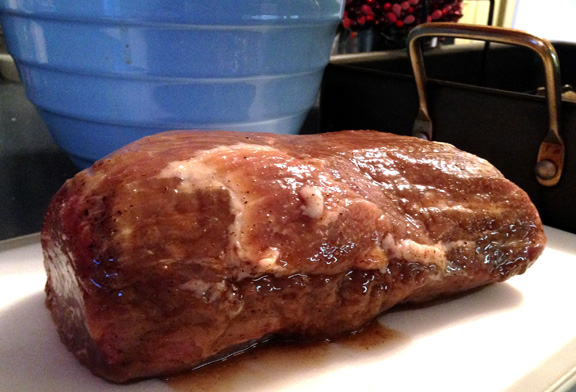 Step 3
Pull your bag out of the fridge and remove the beef. You can dump the brine liquid — surely it's done its job by now. Place beef on a roasting pan and slide it into the oven for 90 minutes. That's it! No salt and pepper on the outside needed. Your brine handled all the heavy lifting while you were waiting. All those flavors are nestled neatly inside the beef and will be waiting for you when cooking is completed.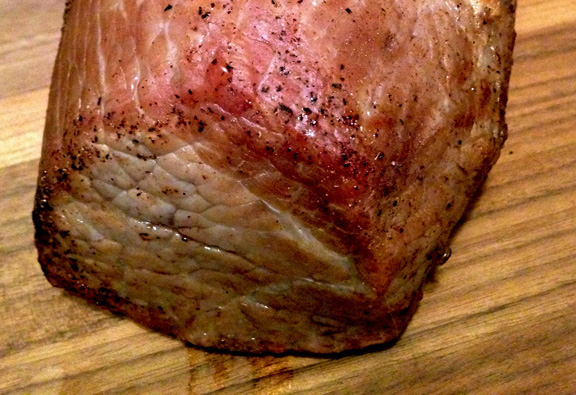 Step 5
Remove the roast when it reaches your desired degree of doneness: I pulled mine out at 130 degrees. Check the temperature with an instant-read meat thermometer. This is especially important, because, remember, this ain't no tenderloin or rib roast you're working with. An overcooked eye of round is going to be tough, no bones about it. Pulling it at 130 will give you a nice medium rare to medium finish, which is perfect.
Let the roast rest for a good 5-10 minutes after removing it from the oven before slicing. The meat will continue to cook and the inner juices will more evenly distribute, allowing for an exceptional eating experience.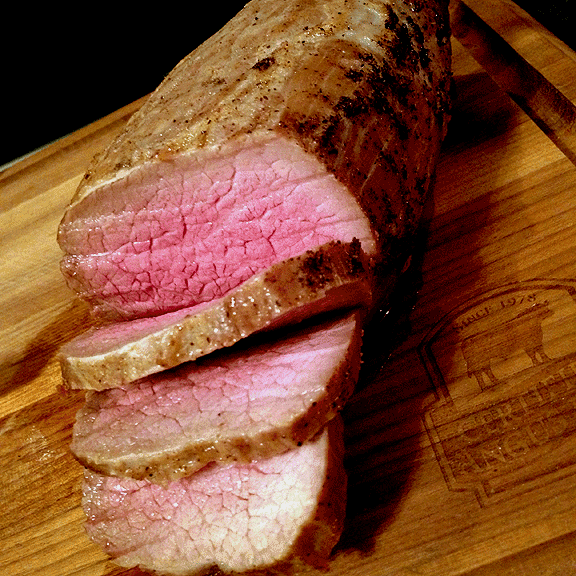 After resting, cut into that bad boy and see what you think. My guess is you'll be pleased. Enjoy. And yes, Chef Michael and I do accept gifts of appreciation.
Happy Holidays!