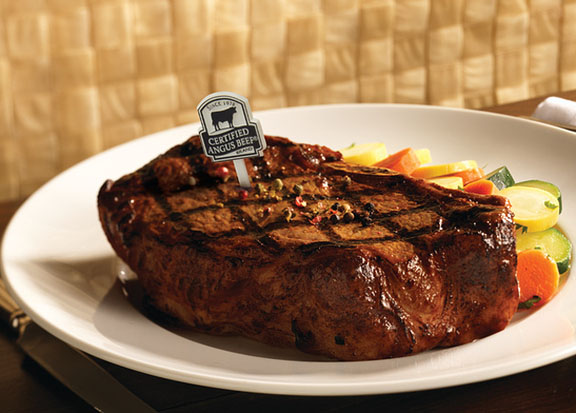 Salt and pepper are quintessential toppings for premium steaks. A dash or two of our favorite seasonings will perfectly enhance a tender, juicy hunk of beef. Every once in awhile it's nice to dress things up a bit, right? Classic steak butter will add a layer of rich flavor and best of all, it's easy to make. Simply combine butter, roasted garlic and fresh herbs, then refrigerate until firm. Serve on a sizzling steak.
Making this simple, decadent perfection is easy. Begin with softened butter and roasted garlic. You're welcome to use store-bought roasted garlic but you can roast your own:
Now that the garlic is ready, chop fresh herbs like rosemary, sage and parsley. Herbs offer fresh flavor factor. They'll be delicious on your steak!
Classic Steak Butter
Place 1/2 pound unsalted, softened butter in a bowl
To the butter, add and combine:
1 T. roasted garlic
1 T. Kosher salt
1 t. finely chopped shallots
1 t. each finely chopped rosemary, sage and parsley
Salt and pepper to taste
Using plastic wrap or waxed paper, roll butter into a log shape about 1 inch in diameter
Refrigerate 2 hours or until butter is solid.(Note: Recipe will yield 16 butter servings; reserve 12 for later use.)
When steaks are ready, place a 1/4-inch slice of butter on each steak while it rests.
As the juices are reabsorbed into the steak, the butter will slowly melt over the top.
Steak butter is an added layer of amazing flavor on a truly remarkable hunk of beef. For grilling tips, beef cuts information, recipes and more, visit the Certified Angus Beef ® brand.
Happy grilling — and be sure to butter 'em up once in awhile!