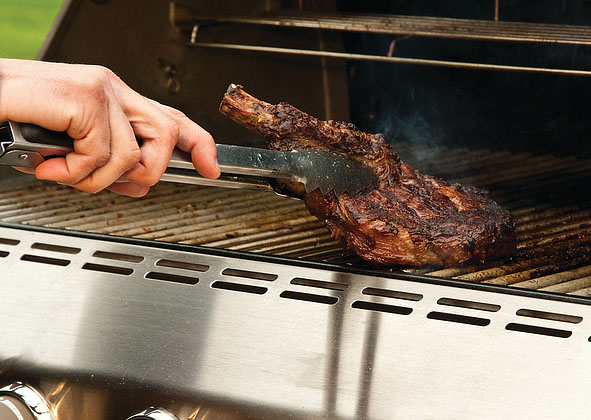 They say April showers bring May flowers but stormy weather also makes grilling a bit of a challenge. Sure, there are hard-core grilling gurus who make the perfect steak come rain, shine, hell or high water — but honestly, do you want to make a soggy sacrifice for a sizzling steak? Yes … but no. Right?
Worry no more, fair weather friends. You CAN serve satisfying sizzle in the midst of the downpour thanks to several cooking techniques that deliver mouthwatering steaks in minutes. They may not have the smoky, charred fresh-off-the-grill flavor, but they'll certainly please your taste buds and be good to the last tender bite!
Option No. 1: Pan Roasting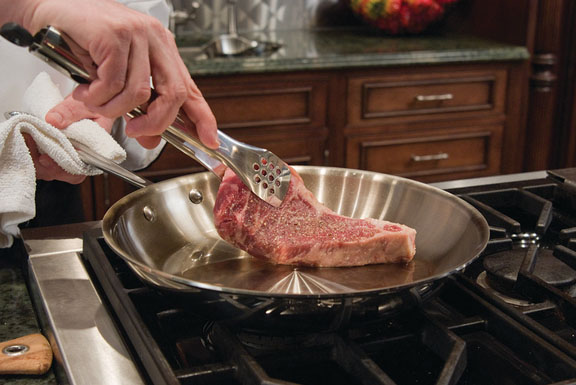 To pan roast steaks, preheat the oven to 325°F. Season steaks with salt and pepper, or your favorite steak seasoning blend. Then preheat an oven-proof pan on high heat and add a thin layer of oil. Heat until oil begins to shimmer.
Gently add steaks to pan without overcrowding, and sear about two minutes. Flip steaks with tongs and sear the other side about two minutes. Place pan in the preheated oven for 5 to 7 minutes, or until steaks reach desired doneness. Use an instant-read thermometer for accuracy.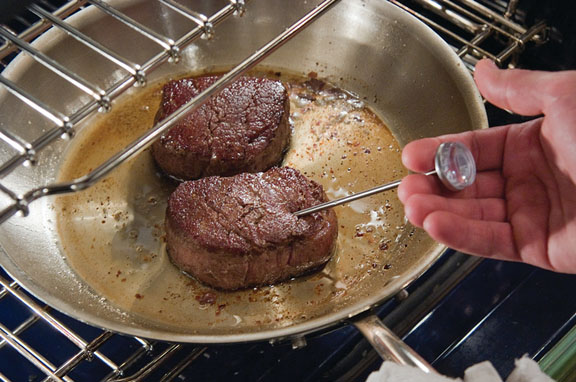 At this point you can enjoy your tasty steaks or make a pan sauce. Chef Michael will show you how to do it in a couple of quick, easy steps. He'll also tell you the best beef cuts for pan roasting.  Watch now!
Option No. 2: Pan Searing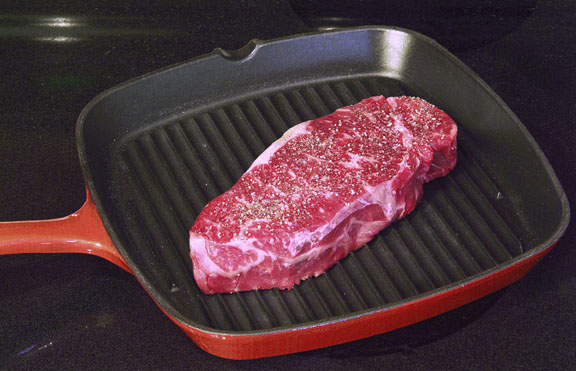 Pan searing requires a hot skillet — cast iron or enameled cast iron work best. Preheat the skillet in the oven before placing it on the stove to ensure an evenly heated surface. Remember, you're replicating the grill with this technique.
Season steaks with salt and pepper and drizzle with oil. Add steaks to the hot grill pan and sear for two minutes on low to medium heat. The real kitchen expert around here suggests you top your steak with garlic and rosemary, then place the skillet back in the oven. He explains why — and talks about his favorite cookware! — in this instructional video that will have you sinking your teeth into the best steak you've ever prepared indoors. And quite possibly, saving your pennies for the most colorful cookware on earth!
Option No. 3: Sautéing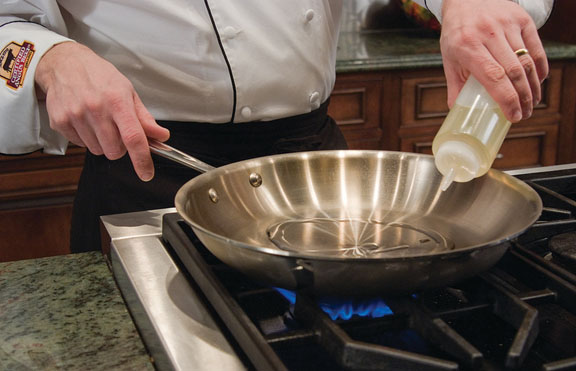 To sauté steaks, preheat a large pan over medium-high heat. Season steak with salt and pepper, or desired seasonings. Next, add a small amount of oil to the pan and heat. When the oil shimmers, use tongs to gently place steaks in the pan. Don't crowd them — they need room to sizzle!
When juices begin to rise to the surface of the meat, about 2-3 minutes, flip steaks with tongs. Cook steaks another couple minutes and check doneness with an instant-read thermometer. When steaks reach your desired doneness, remove from the pan and allow to rest for about five minutes before serving. View step-BY by-step instructions here.
So there you have it — three rainy day options for savory steaks. They're similar in technique but each offers a distinct textural difference. Try them and see which you prefer — the crisp bite of a pan-seared steak; the tender, juicy flavor of an oven-roasted cut; or the tasty goodness of steak, sautéed. And the next time the sky is falling — or more aptly, the raindrops keep fallin' on your head — you'll know steaks are still a go for dinner!