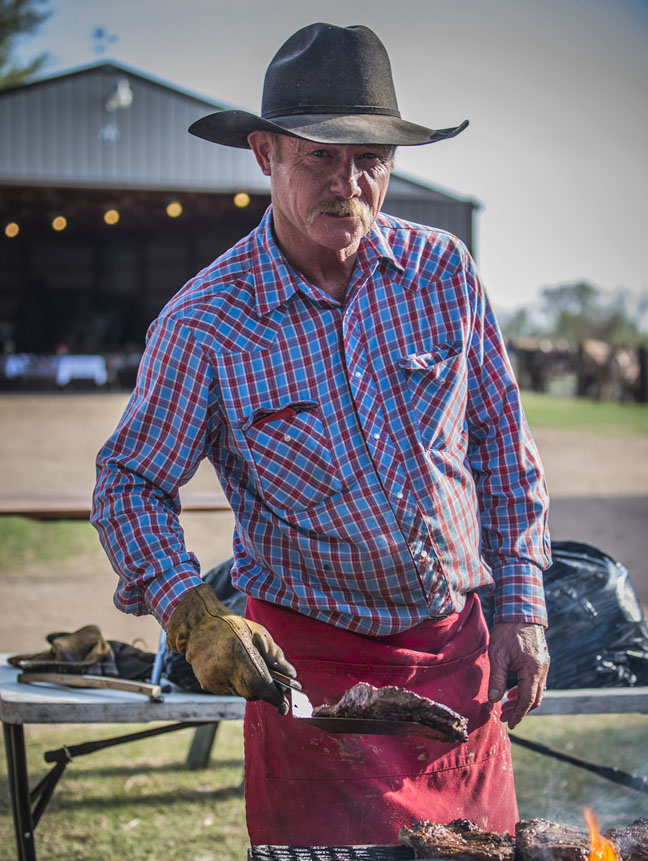 There's a decency and humility about Kent Rollins that you don't get from most people. Perhaps it came from his Oklahoma roots, his chosen life out on the range, or his "sweet little wife," Shannon, for whom he thanks the Lord before each and every meal.
But that really shouldn't come as much of a surprise — there's not much about Kent Rollins you'd classify as typical. After all, who else among us makes a living cooking succulent cuisine over an open fire that's lauded by food critics and chefs, alike? Who has thrown down with Bobby Flay on national television and won? Who has blown away celebrity chef judges like Aaron Sanchez and Alex Guarnaschelli with simple cowboy cooking?
Traveling the country and cooking out of the back of his 1876 Studebaker chuck wagon (shown below with Certified Angus Beef ® brand Chef Michael Ollier, left), Rollins has built a reputation for serving the spectacular, perfecting the art of Dutch oven cooking, and pleasing even the toughest audiences.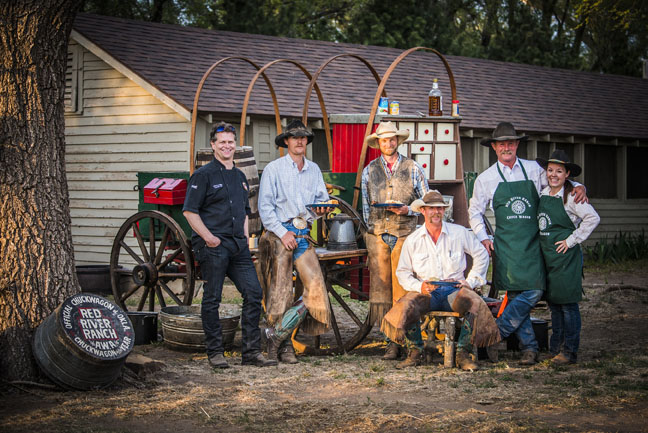 "I learned to cook from my mama," says Rollins, who recently dazzled a group of chefs at Stucky Angus Ranch near Kingman, Ks. "When you cook with cast iron, you want to have the heat all the way around the outside so it cooks evenly. When we cook, we rotate the lid one way, and the pot the other so you even out all the heat."
Rollins has traveled across the country cooking for everything from weddings to corporate events and heritage festivals. He's been named the Official Chuck Wagon Cook of Oklahoma, and received the Will Rogers Award for Chuck Wagon of the Year by the Academy of Western Artists.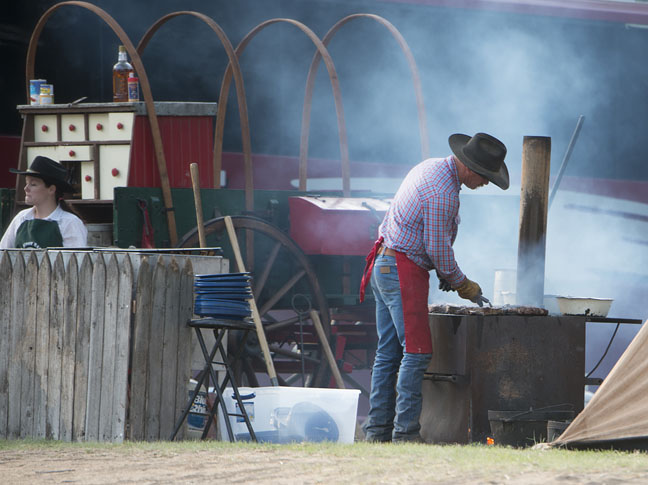 Rollins' cuisine starts with his trusty companion, Bertha — a 380-pound steel oven heated by mesquite wood and charcoal. We witnessed him cooking more than 60 22-oz. Certified Angus Beef ® brand cowboy ribeyes on old Bertha, marinated and rubbed with his secret recipe. Inside the chamber, he borrows some of the blazing wood and charcoal, and transfers them beneath his cast iron Dutch ovens, as well as laying coals on the lids of each of the pots.
It's those pots that are a true sticking point for Rollins. Laid back as he seems, cast iron is one subject that he's quite specific about.
"Good cast iron is hard to come by any more," says Rollins who swears by now-defunct Griswold manufacturing cast iron Dutch ovens. "Griswolds are the best, but they don't make them anymore. If you can get your hands on anything by Griswold, that's an heirloom right there."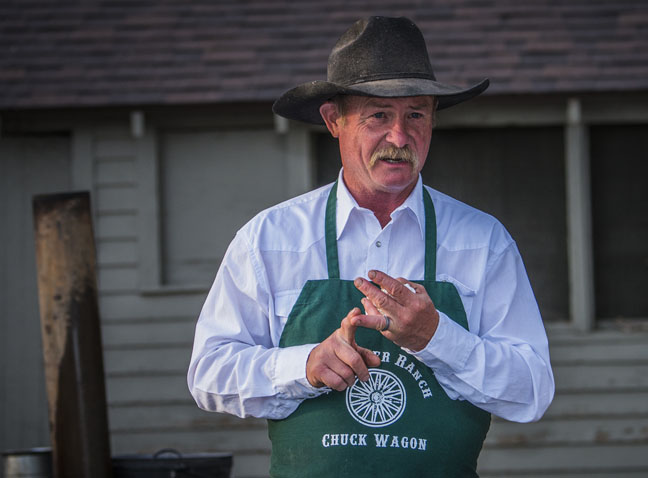 A few weeks back, Rollins cooked us up a chuck wagon dinner consisting of those 22 oz. bone-in cowboy ribeyes, hominy and green chili casserole, baked beans, bread and a bread pudding with whisky sauce. EVERYTHING was cooked in cast iron Dutch ovens over coal and mesquite wood.
And the results? Clearly, the man knows of what he speaks!
Interested in chuck wagon cooking and cast iron tips? Meet Kent online. And you can find traditional steak grilling tips here.