Chef Matt Mytro of Flour restaurant in Moreland Hills, Ohio, is heating things up this summer with grilled recipes that sizzle, literally. He shared his recipe for grilled ribeyes with polenta with us and I'm happy to share it with you! This is a meal made for [mouthwatering] dinner parties or grand summer gatherings, but you could easily half the quantities, below, for a more intimate affair. Just add a glass of wine or two, a spectacular sunset, and you have a perfect and amazingly flavorful patio soiree. Enjoy!
Certified Angus Beef ® brand Ribeyes with Polenta
8 16-ounce Certified Angus Beef ® brand ribeye
Salt and pepper to taste
Grill steaks over medium-high heat to desired doneness. Remove steak from grill and allow to rest 5 minutes. Note: Make polenta recipe first (see below). Prepare steaks pre-made polenta warms on the grill. 
Polenta
2 cups polenta
12 cups 2% milk
1 cup garlic confit
3 sprigs rosemary
1 1/2 cups mascarpone
1 cup Parmesan cheese, finely grated
Salt and pepper to taste
Place polenta, milk, garlic confit and rosemary in a large pot on very low heat. Cook for 2 hours, stirring every 5 minutes. Remove rosemary; add mascarpone and parmesan. Using a large hand-held emersion blender, puree polenta for 5 minutes. Season with salt and pepper to taste. Cool on sheet tray and cut into squares. Cook on grill to warm.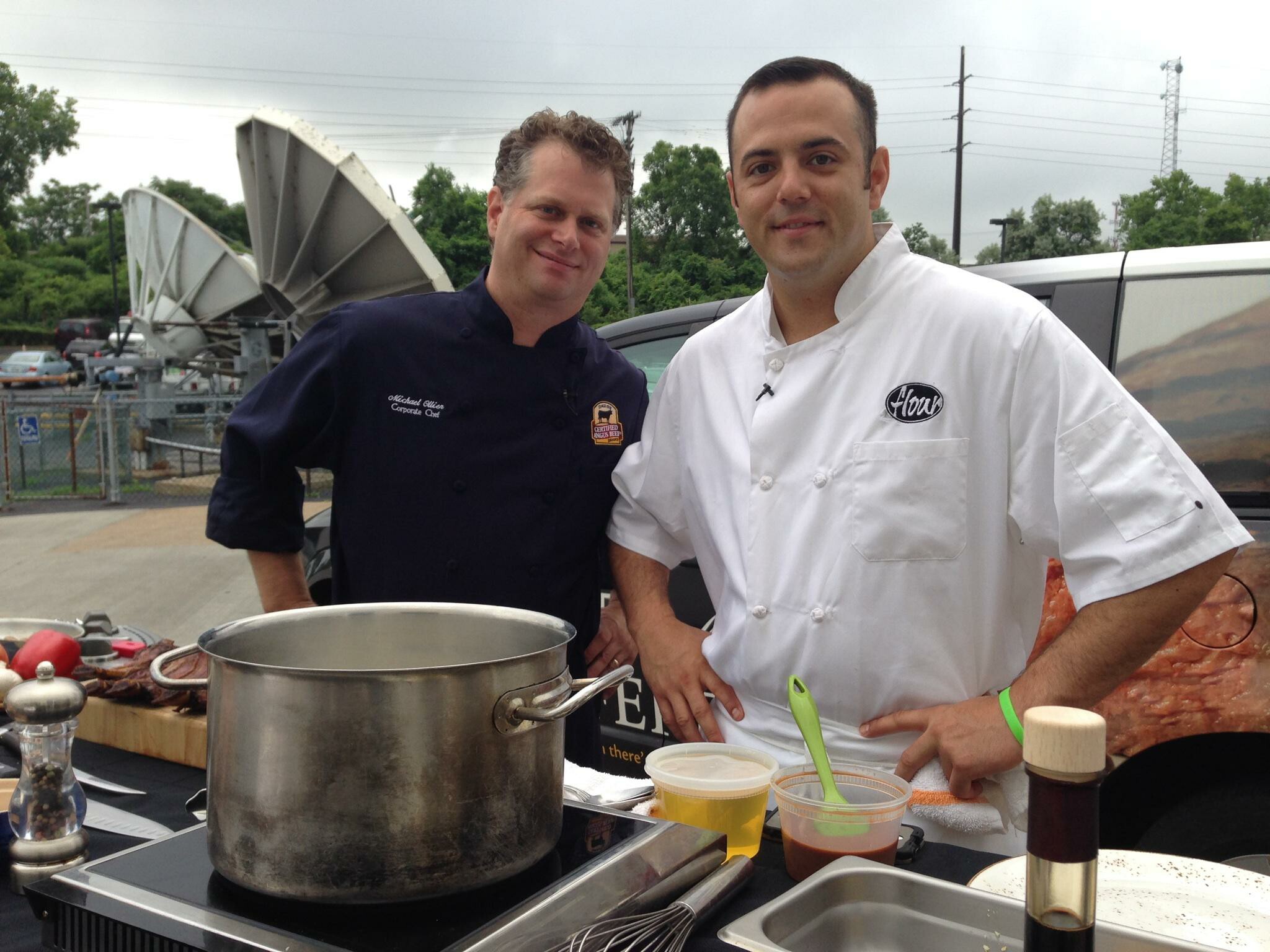 Did you catch Chef Michael and Chef Matt Mytro on Fox 8 Cleveland? They were grilling in parking lot — tantalizing taste buds and giving grilling tips for a summer full of flavor!