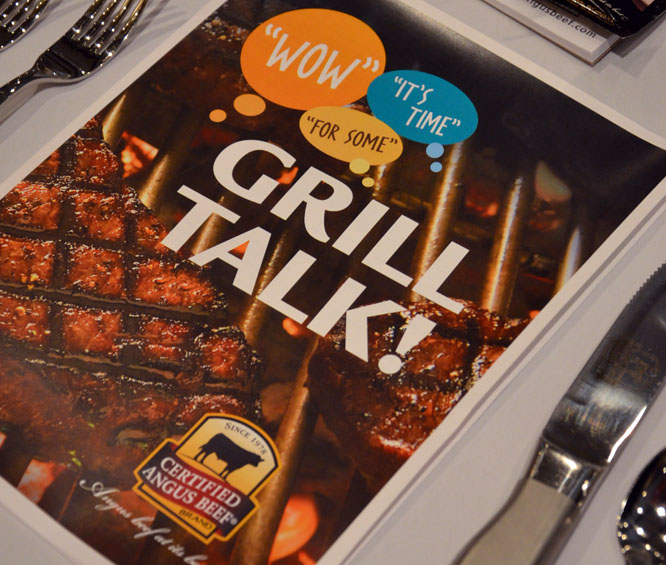 It's not every day the Certified Angus Beef ® brand hosts a cooking class, but any chance to learn from Chef Michael Ollier is a tasty proposition. The Grill Talk event, held at the brand's Education & Culinary Center in Wooster, Ohio, was a sizzling good time. There was smoke … there was fire … there was an amazing meal. In between bites we talked grilling tips and how-to techniques. Now I'm livin' for the weekends when I can put Chef Michael's advice to flavorful use!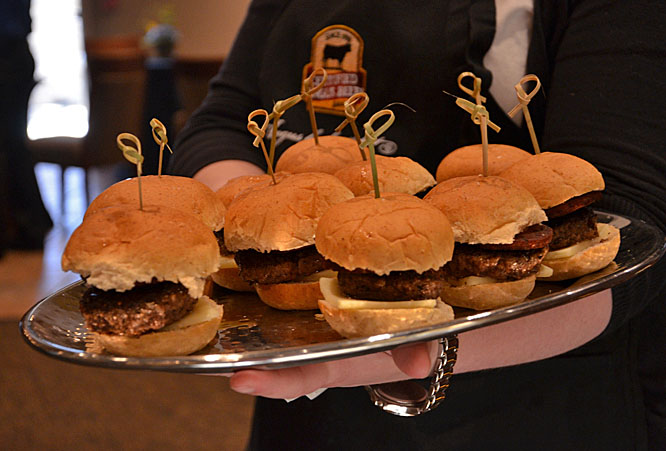 Serve a slider. Mini burgers will appetize your guests before the real feast begins. Whether you're having a pool party, good ol' American game of baseball, family reunion or simply lounging on the patio, sliders keep people satisfied until the main dishes are served. Try Grilled Mini Sirloin Sandwiches, Mini Bacon & Blue Burgers or this recipe for Holiday Sliders. Serve on those tiny little "silver dollar" buns.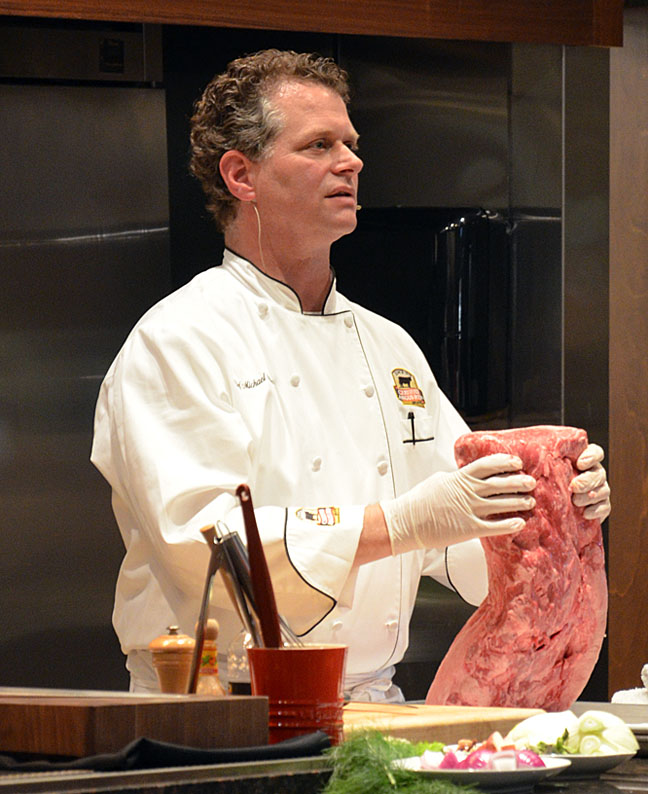 Choose premium cuts for grilling. No matter what cut of beef served at your shindig, be sure it's a tender, juicy cut with rich, beefy flavor. And there are so many cuts to choose from! First and most importantly, look for the Certified Angus Beef ® label at your grocer. Then it's on to the steaks — or maybe ground chuck for burgers? Or perhaps flank steak cut into thin, delicious strips — you name it, you can grill it. But for best results, try Chef Michael's recommended Grilling Cuts. And of course, kids love frankfurters.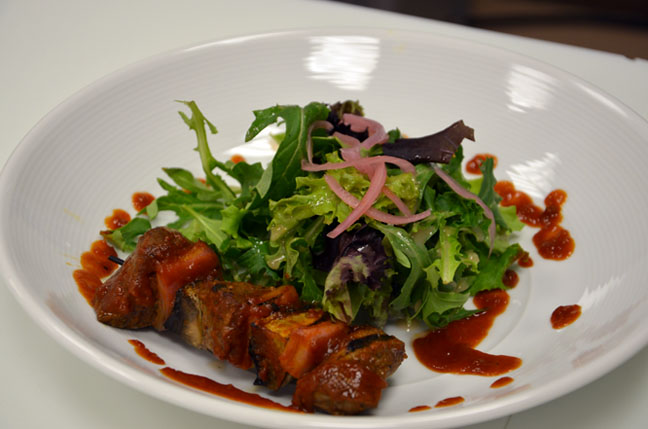 Make kabobs. They're a favorite way to highlight sensational beef and summer fresh vegetables. Serve Steak Kabobs with Pesto Sauce and a fresh salad. It's a lighter meal that pairs perfectly with your favorite wines for outdoor dining. If you're feeding a larger or more casual crowd, try Flank Steak Kabobs or even Grilled Hawaiian Beef Kabobs.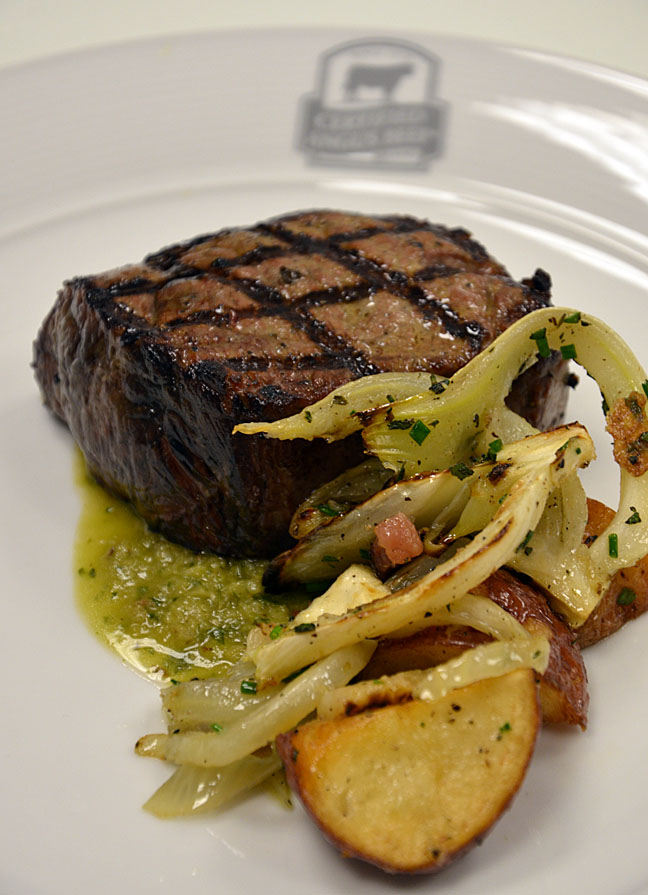 Master the art of grilling. To truly impress special occasion guests, or when dining 'out' — literally — with your significant other, steak is a perfect choice. Remember the basics:
Before putting steaks on the grill, make sure it's good and hot. You should hear it sizzle. Searing the meat locks in the natural juices.
Top chefs know you don't have to marinate steaks if you start with a high quality product. All you need is a little salt and pepper when you choose the Certified Angus Beef ® brand, which is loaded with mouthwatering marbling.
When you're grilling, never use a fork to turn steaks. Always use a spatula or tongs to keep those delicious juices from escaping.
There's not a single, one-size-fits-all answer when it comes to how long to grill steaks — it depends on a lot of factors like how thick the steaks are, how you like them cooked, and the temperature of your grill. In general, cook 1-inch thick steaks over medium heat about 5 to 6 minutes per side for medium rare (145° F).
When steaks are cooked, take them off the grill and let them rest on a clean plate for a few minutes. That helps keep the tasty juices in the beef, where they belong, and not all over your plate!
And check out some of Chef Michael's favorite cuts and marinades.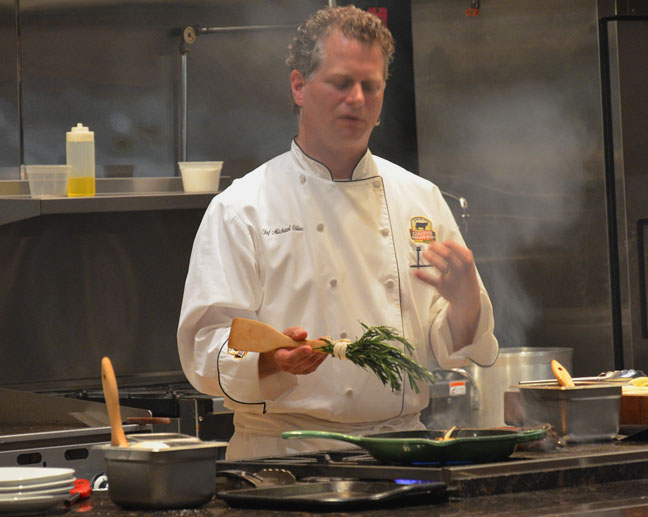 Baste with fresh herbs. One last tip from the grill master, himself. (And this is one of my favorites!) To add gentle flavors to steaks, baste the beef with a homemade herb brush. Chef Michael used kitchen string to tie a bundle of fresh rosemary to the end of a wooden spoon. Dip the rosemary in melted butter and minced garlic, then baste the steaks while cooking. The result complements the steak without overpowering its rich, meaty flavor.
And here's one last bit of advice for your next grill friends gathering: always end the meal with something to satisfy your crowd's sweet tooth [teeth?].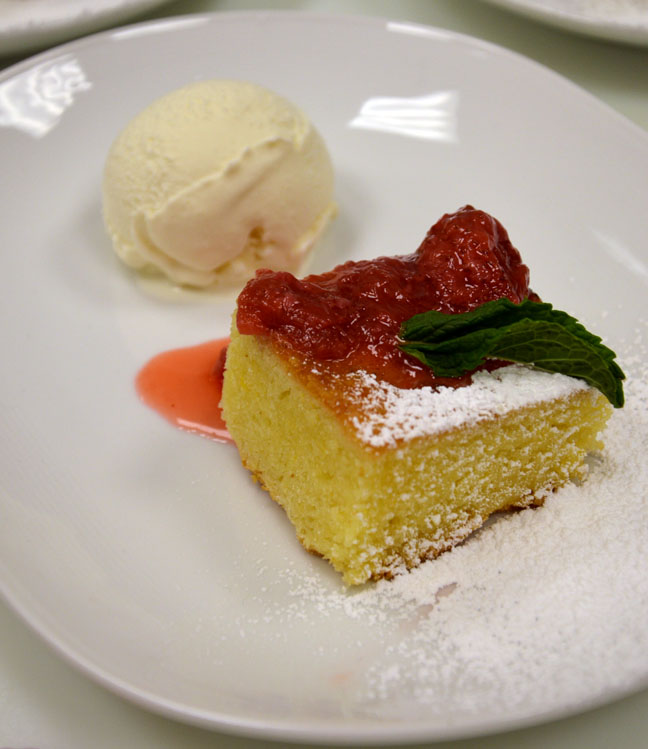 Grilled pound cake topped with strawberry-rhubarb compote? Yes, please! Put the pound cake on the grill for a few moments until it has nice grill marks. Serve with fresh strawberries (or other fruit), maybe a scoop of ice cream, and a dusting of powdered sugar. A sprig of fresh mint perfects the plate!
Information on the brand's next cooking class (set for October) will be posted on CertifiedAngusBeef.com. Stay tuned for late-summer details.