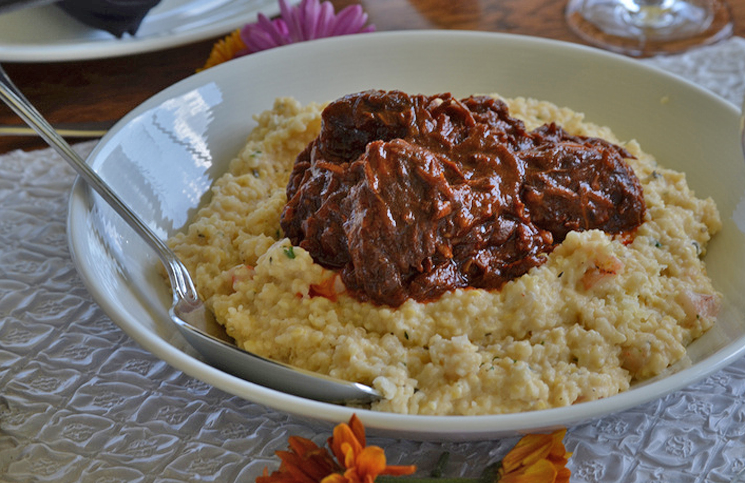 Love al fresco dining? Me, too — but deciding on a menu can be a challenge. We like to serve foods we know guests will enjoy. We want to ensure they're simple enough that we have time to enjoy the party. And then there's the weather to consider, right? Decisions, decisions!
Several years ago, the Certified Angus Beef ® brand took guests on a farm tour in West Virginia. The trip included a lovely outdoor dining opportunity. The meal was nothing but tantalizing comfort food: beef short ribs served on a bed of cheesy shrimp grits. You could serve the meal with a garden fresh salad and your favorite red or white wine for an unforgettable evening in the outdoors (but indoors would be just as delicious!). Enjoy!
Braised Short Ribs with Cheese Grits
Ingredients
5 lbs. Certified Angus Beef ® brand short ribs
1 red onion, chopped
4 stalks celery, chopped
3 carrots, chopped
1 cup tomato paste
1 cup red wine
3 sprigs thyme
2 bay leaves
Beef stock to cover
Instructions
Season and sear short ribs in a large pan or Dutch oven over high heat.
Stir in onions, celery, and carrots; add tomato paste and red wine.
Simmer for 5 minutes or until thickened.
Add thyme, bay leaves and stock; cover and transfer to oven. Cook at 225°F until tender, around 3-4 hours.
Grilled Shrimp and Mascarpone White Grits
Ingredients
1 pound jumbo shrimp, peeled, deveined and tails removed
6 cups water
1 tablespoon butter
2 cups stone ground white grits
1/2 cup mascarpone cheese
1/2 cup Parmesan cheese, shredded
Salt and pepper to taste
Instructions
Season shrimp and grill. Dice and set aside.
Bring water and butter to a low simmer. Whisk grits in, slowly.
Turn stove to low and cook for 3 hours, stirring as needed. Add extra water if grits need to continue cooking until soft.
Remove from stove and fold in shrimp and cheeses. Season to taste.
Place grits in a large bowl, topped with braised short ribs. Serves 6, family-style.
Quick Tips for Outdoor Dining Elegance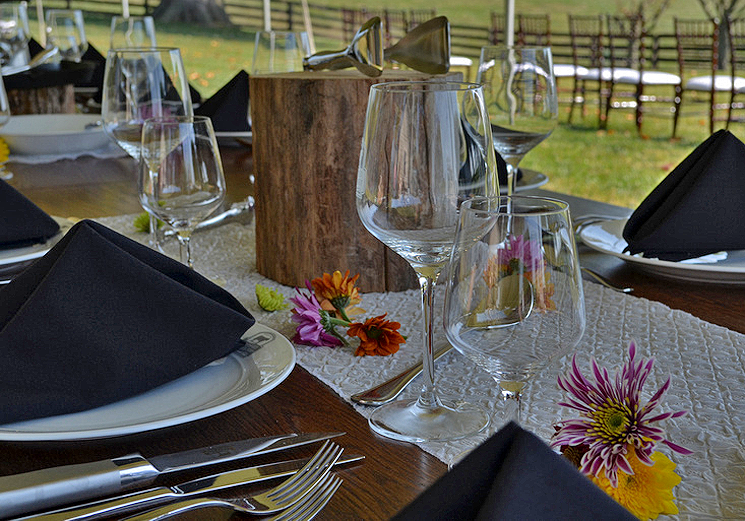 Use cloth napkins, your favorite china, silverware and stemware. Sure you're eating outdoors, but there's no rule that says paper plates are a must!

Use unique serving pieces to showcase decadent food. A slice of wood, cleaned and stripped of its bark, can be used as a 'hot plate' for holding sizzling skillets or steamy pots of food.

Light citronella candles at the perimeter of your space to protect guests and food from pesky visitors.

After the meal, clear away the dishes, carry food inside and return to your guests. This makes them feel relaxed and welcome. Dishes can wait until guests depart. 

Strands of white lights wrapped around the base of trees or overhead create a magical, romantic feel.

Have a few throws or lightweight blankets available on chilly evenings.

Good food, favorite beverages and most of all, a relaxed hostess or host, are keys to a successful evening. Slow down and enjoy the occasion!
Happy weekending!