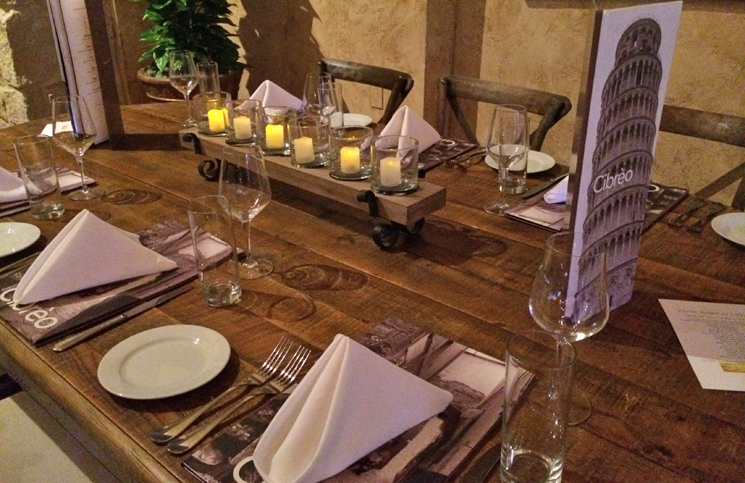 When life gets a little same-old, same-old, I know of one sure cure: travel. I've always jumped at the chance to hit the road or take to the sky in search of a new experience — and through experiences both good and bad during the adventure, travel always realigns my perspective. I marvel at the transformative power that a different locale actually has.
Of course, like most of us, I have neither unlimited time nor budget to explore the world as often as I'd like … which sometimes leads to that "same-old, same-old" ennui. Fortunately, I've found that food can deliver that same feeling of discovery, especially when it's presented in memorable ways.
Chefs and restaurateurs worth their salt know it's vital to offer their guests an experience, through food and ambiance, which will transport them, if only for an evening. Chef Chris Hodgson, a Cleveland based rising star — in fact, you may recognize him from stints on the Food Network's "The Great Food Truck Race" and "Next Food Network Star" — wants to give his guests something they may not see anywhere else.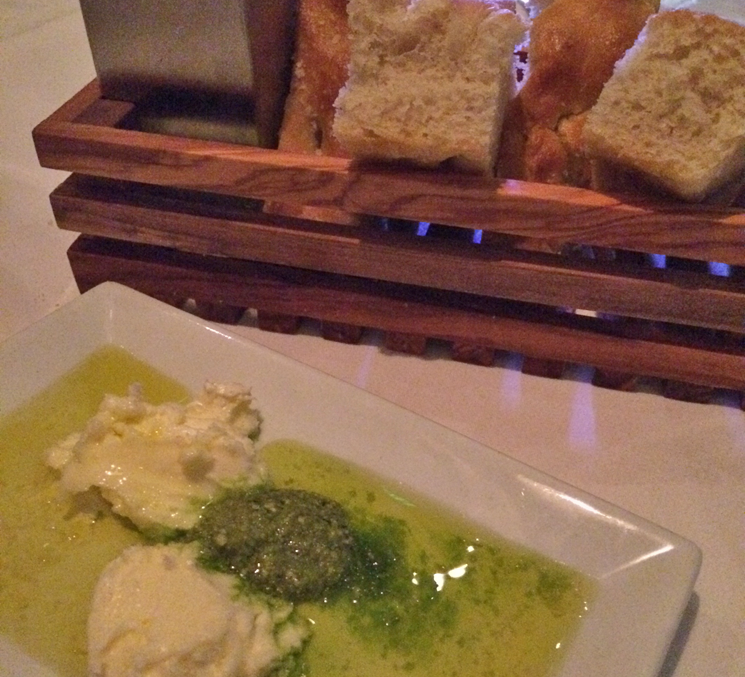 Take Cibrèo Italian Kitchen, which transports guests to an elegant stone-walled Tuscan villa … right in the heart of Cleveland, Ohio's theater district. On an evening before my husband and I took in a touring Broadway production, we enjoyed a dinner that made us feel as though we were a continent away.
The best part: something for everyone on the menu. Those who expect an Italian restaurant to have the traditional favorites — pasta Bolognese, lasagna, veal parmigiano — wouldn't go away disappointed. And those looking to take a more extensive culinary journey will find satisfaction in dishes like ricotta gnocchi with duck and roasted turnip, Certified Angus Beef ® brand tenderloin carpaccio, or orrechiette with sausage, rapini, pachino tomatoes and pignoli.
We opted to take the middle ground — an area where Hodgson excels: comfortable, approachable dishes, elevated to out-of-the-ordinary with creative tweaks. It's a culinary philosophy informed by his extensive travels, and one which influences every bite of his contemporary, eclectic and creative take on comfort food.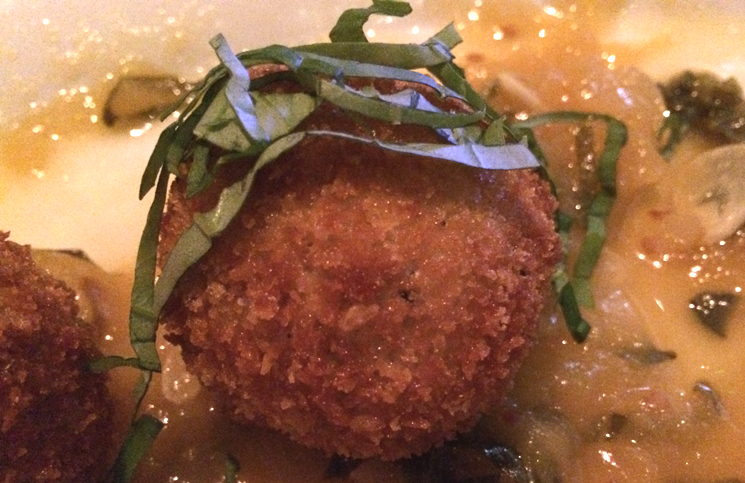 Arancini has become one of those dishes that we can't resist ordering whenever we see it on a menu. (It's risotto and cheese, rolled into balls, breaded and fried … I mean, come on! This stuff should be everywhere.) Hodge's version features finely-chopped asparagus and basil, too. Yes, it's exactly as delicious as it sounds.
My husband then chose the beef cheeks, braised until meltingly tender and served with savory porcini, truffle and shiitake risotto. Can you imagine a more umami-laden, totally satisfying dish? I'm not sure one exists.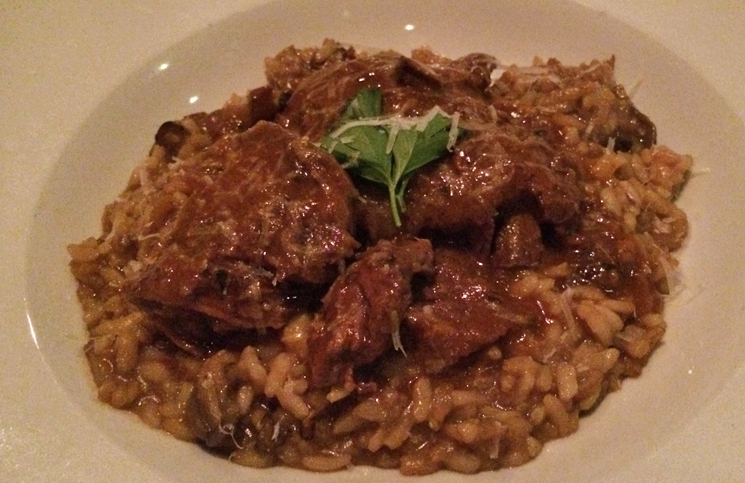 I decided to go more traditional, with a richly-marbled Certified Angus Beef ® brand strip steak, served with light-as-air potato gnocchi and blistered pachino tomatoes. Now, I'm usually pretty adamant about not wanting sauces of any kind covering up a good steak, but I was willing to give Hodgson's signature salsa verde a try — and I'm so glad I did. The bright, fresh herb blend balanced perfectly with the naturally robust beef.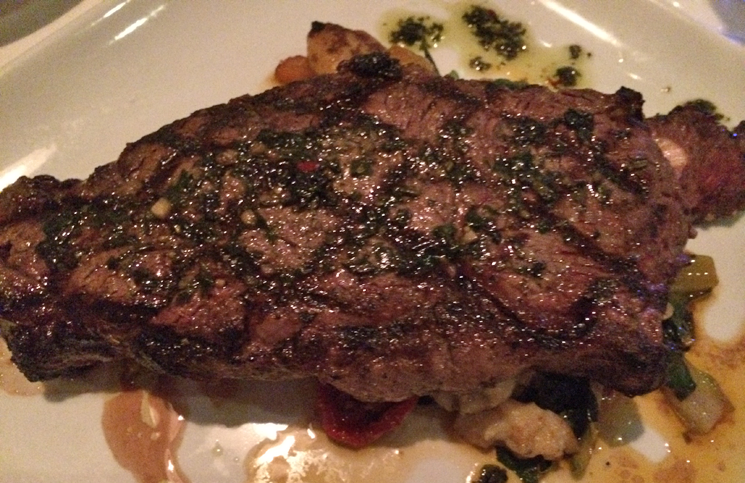 In fact, it's so good, and so versatile, you're likely to find it used on dishes at other restaurants within the Driftwood Restaurant and Catering Group, owned by Hodgson and proprietor Scott Kuhn. Case in point: the grilled hanger steak at the downtown hot spot Hodge's. (Yes, my husband and I are gradually making the rounds!)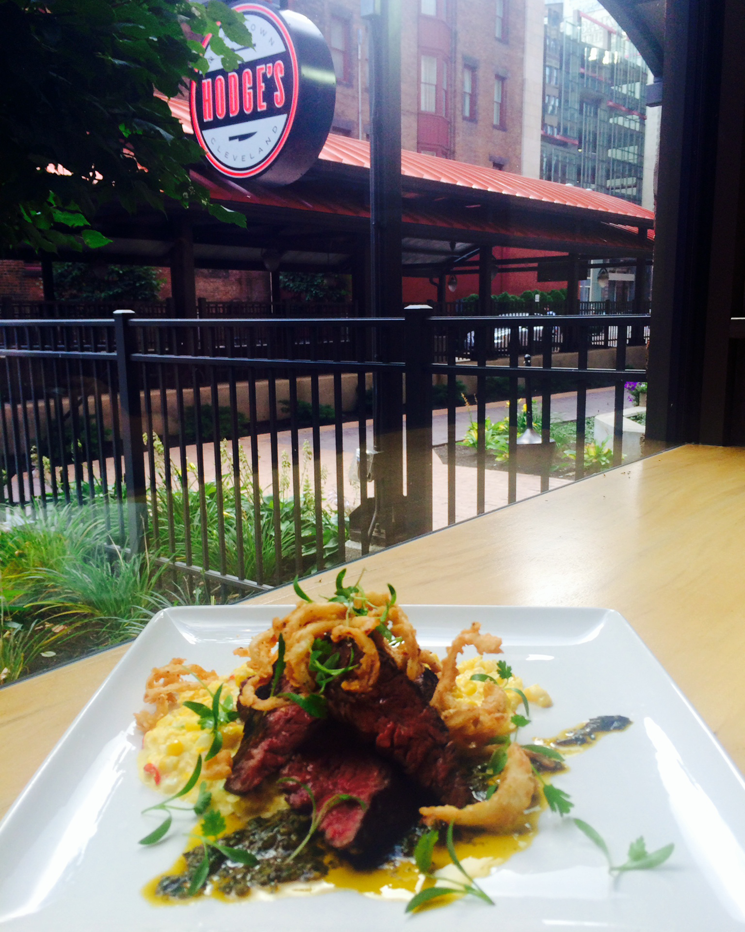 Care to make his salsa verde for yourself? Hodgson was kind enough to share the recipe — though be warned, it makes a lot! Refrigerate the leftovers, or plan to invite a large crowd over. Grill up the steaks of your choice — seasoned simply with salt and pepper — and then let this salsa verde transport you and your guests to a new, delicious place! (Plus, if your herb garden is growing out of control this time of year, it's a great way to help use the bounty.)
[yumprint-recipe id='2′]