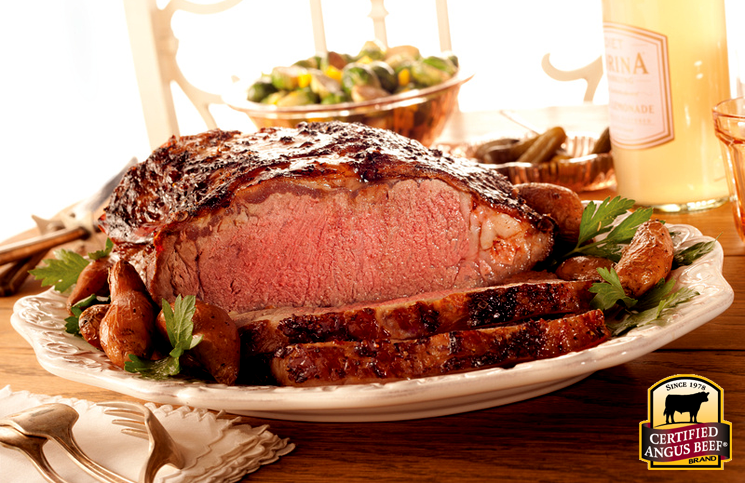 We look forward to roasting season every year. It's a time to gather friends and family around the dinner table, enjoy a feast and converse over large chunks of our favorite protein — beef. This year we decided to teach you everything you need to know about beef in our weekly Beef 101 series. We hope you find part one extremely useful, and we wish you a very merry #roastingseason!
What is roasting?
Originally, roasting meant cooking meat in front of open flame. Early cooks placed meat, poultry or wild game on or near the hearth, or suspended it from a hook. Eventually, the spit was invented and meat was cooked more evenly. Through trial and over time, the modern-day marvel – the oven – was invented. Roasting has never been easier.
How does roasting work?
Roasting employs all methods of heat transfer: radiation, convection and conduction.
Heat radiates from oven walls to cook the surface
Hot air in the oven transfers or convects heat into the meat
The meat's heated exterior conducts heat to the inside
How big of a roast do I need?
When buying a roast, plan on a pound for every two guests, and a half-pound per two children. Then, add an extra pound just in case, and because leftover roast makes for easy future meals.
Example serving size:
Six adults (3 lbs.) plus four kids (1 lb.) = 3 lbs. for adults, 1 lb. for kids, plus 1 lb. extra
Purchase a 5-lb. roast
For delicious roast recipes, carving tips and more, visit CertifiedAngusBeef.com. And for even more ideas, visit our 'Tis the Season Pinterest board! We look forward to sharing part two in our roasting series, next week! Until then, keep calm and eat beef!