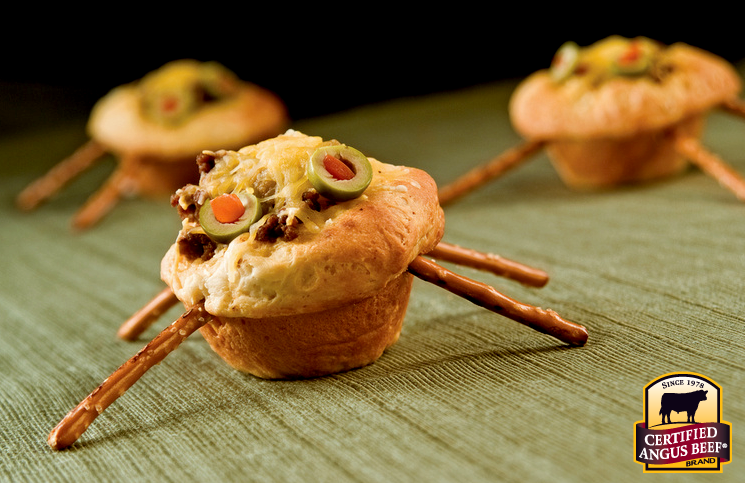 This Spooky Spiders recipe transforms simple ingredients like ground beef, refrigerated biscuit dough, pretzels and mozzarella cheese into delightful Halloween treats. Your little ghouls and goblins will absolutely love this idea! And don't worry if they don't like olives. Have them pluck the eyeballs and pull those spider legs before they take their first bite. Evil laughs and cackles recommended for effect!
Happy Halloweening!
Spooky Spiders Ground Beef Biscuits
Ingredients
½ pound Certified Angus Beef ® ground beef
½ package taco seasoning
½ cup water
1 16-ounce tube home-style refrigerated biscuit dough
Ketchup
½ cup Shredded mozzarella or cheddar cheese
16 sliced black or green olives
32 pretzel sticks
Instructions
Cook ground beef and drain excess fat. Add taco seasoning and water, simmer for 5 minutes. Set aside.
Preheat oven to 375°F.
Separate dough into 8 biscuits; place each biscuit into ungreased large muffin tin. Press dough firmly into bottom and up the sides of each cup.
Divide crumbled ground beef evenly into dough cups. Squirt ketchup over meat; sprinkle with cheese. Place two olive slices on top of each for "eyes."
Bake for 20 minutes, or until biscuit edges are golden brown. Cool 5 minutes; remove from muffin cups. Stick four pretzel sticks into each side of each biscuit cup for legs.