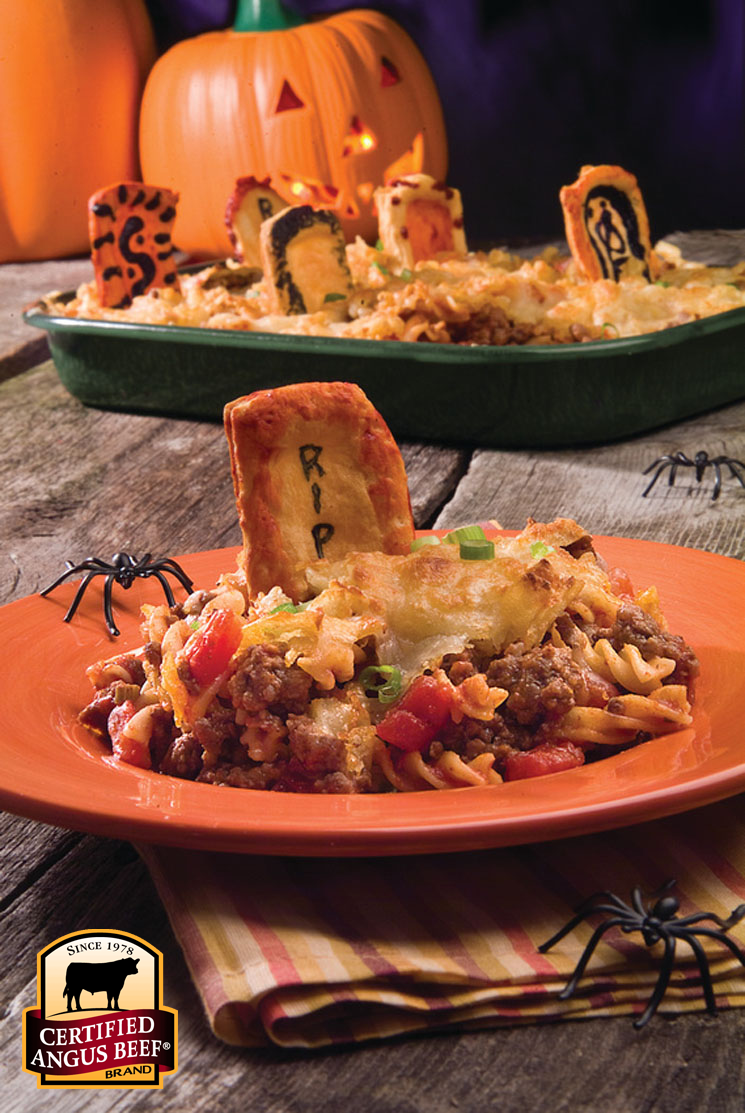 Graveyard Bake
This hearty beef casserole is the perfect meal on trick-or-treat night. All of your little ghouls and goblins will love this dish made with ground beef, fusilli pasta, Monterey Jack cheese and crushed potato chips!
Ingredients
1 pound Certified Angus Beef ® ground chuck
1 (28-ounce) can diced tomatoes
1 (15-ounce) can tomato sauce
1 teaspoon onion powder
1 teaspoon garlic salt
½ teaspoon cayenne pepper
½ pound fusilli pasta, cooked and drained
2 cups crushed potato chips
1 cup Monterey jack cheese
4 green onions, sliced thin
6 oval crackers (like Keebler Town House®), optional
Instructions
Brown ground chuck in large fry pan. Drain liquid from beef.
Add tomatoes, tomato sauce, onion powder, garlic salt and cayenne pepper; simmer for 5 minutes. Mix in cooked pasta.
Pour into a 9 x 9 baking dish. Top with potato chips and cheese and broil for 3 minutes or until the cheese is melted and chips are golden brown.
Garnish with green onions and crackers (tombstones).
For more Halloween-inspired dishes and beef at its best, visit CertifiedAngusBeef.com.