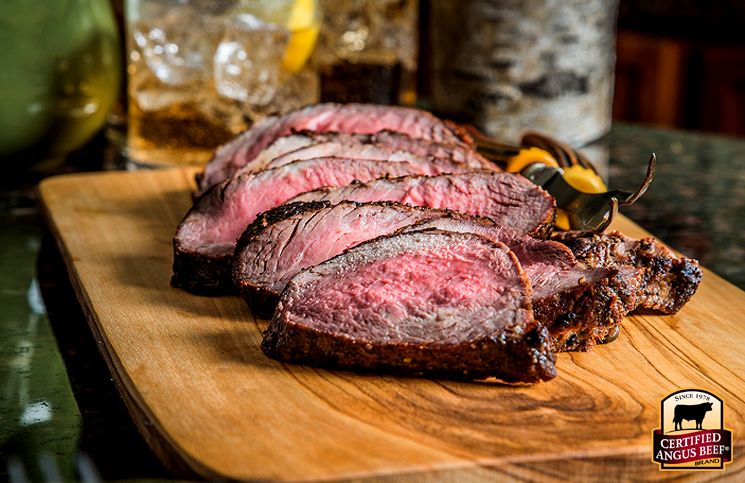 We look forward to roasting season every year. It's a time to gather friends and family around the dinner table, enjoy a feast and converse over large chunks of our favorite protein — beef. This year we decided to teach you everything you need to know about roasting in our weekly Beef 101 series. We wish you a very merry #roastingseason!
Did you know you can use your grill like an oven? You can roast large cuts of beef on your grill, just as you would in an oven. Your grill's instruction manual probably has more details on this cooking method, but I asked Certified Angus Beef ® brand Chef Michael Ollier. He offered some grill roasting techniques — and you can use either a charcoal or gas grill with great results!
For charcoal grills:
Build coals on two opposing sides of the grate and put a drip pan in the middle. Sear the beef roast directly over the hot coals, rotating for a uniform and browned exterior. Transfer roast to the middle of the rack over the drip pan for roasting. And keep the lid closed. Use an instant read thermometer to check for ideal doneness.
For gas grills:
Preheat to high. Sear all sides of the beef, turn off the center or one side burner, and reduce remaining burner(s) to medium. Your target temperature should be 325°F -350°F. Use an instant read thermometer to check for doneness.
Best Beef Cuts for Roasting
Look for roasts labeled as chuck, rib, tri-tip roast, sirloin, strip or tenderloin roast. And if you're looking for great rub, marinade or sauces for your roast, try one of these recipes.
For delicious roast recipes, carving tips and more, visit CertifiedAngusBeef.com. And for even more ideas, visit our 'Tis the Season Pinterest board! We look forward to sharing part three in our roasting series, next week!