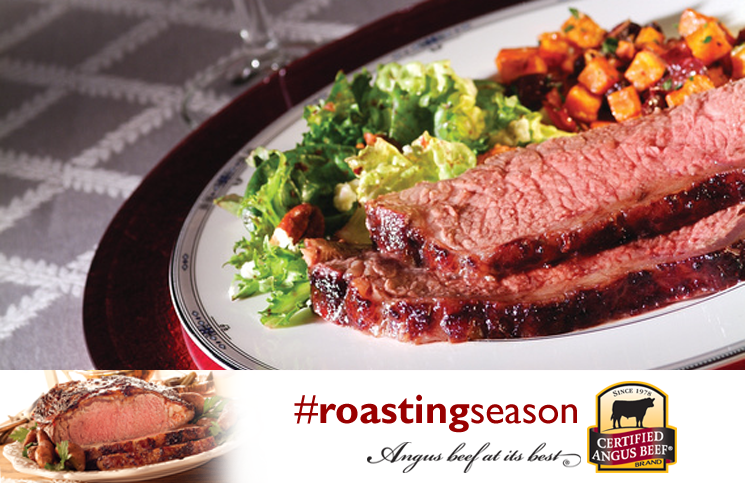 I spend more time in the kitchen during December than any other time of year. One day I'm baking cookies for my girls' theater group or a cookie exchange. The next, I'm arranging hot cocoa and snacks for little boys who spent the day in the woods, building a fort. Friends come over for cocktails by the fire, and visiting family members enjoy potlucks that seem to fill every inch of kitchen counter space. No matter what's going on around here I have one goal: prepare delicious food that makes everyone — from kids to friends to family — feel loved and appreciated. It's the season of giving, after all, and my favorite offering is the gift of good taste!
New York Strip Roast is my favorite 'special occasion' cut of beef. It would earn applause at any table on its own. Pair it with a sweet cherry and chipotle glaze, and you have the makings of an unforgettable feast! It's sweet … there's just enough heat … and it's SIMPLE to prepare (and looks like a million bucks!).
To make Sweet Cherry & Chipotle Roasted N.Y. Strip Roast you'll need a 5-lb. roast. Choose one from the fresh meat case at your local grocer, or have the butcher cut one especially for you. The roast will feed 10-12 people, but don't worry if your guest list is smaller. The leftovers are absolutely divine!  You will also need: 7 oz. can of sweet dark cherries, drained; 1 cup frozen red sweet cherries; 2 tablespoons chipotle peppers in adobo; 2 tablespoons molasses; salt and pepper, to taste. Click here for the complete recipe.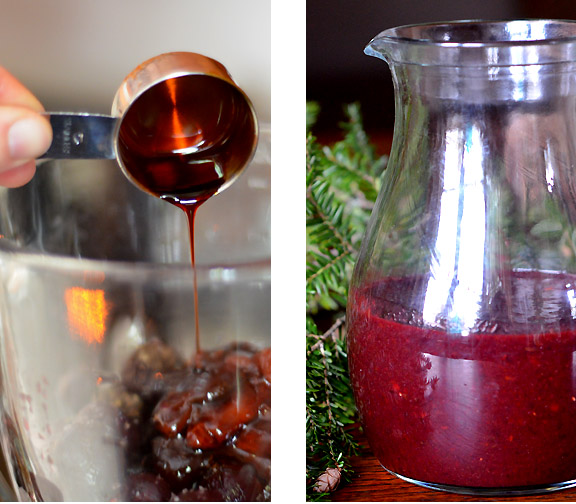 Step 1: Preheat oven to 500°F. Combine cherries, chipotle peppers and molasses in a blender. Divide sauce; reserving half for glazing the beef during cooking, and half to serve with the cooked roast at the table.
Note: The recipe calls for 2 tablespoons of chipotle peppers in adobo. I didn't puree the peppers in a food processor and measure exactly two tablespoons. I just spooned a couple of chipotles and a scoop of the adobo into the blender with the other ingredients.
Step 2: Coat a roasting pan with cooking spray. Place roast in the pan, fat side up, and season with salt and pepper. Place in preheated oven for 10 minutes.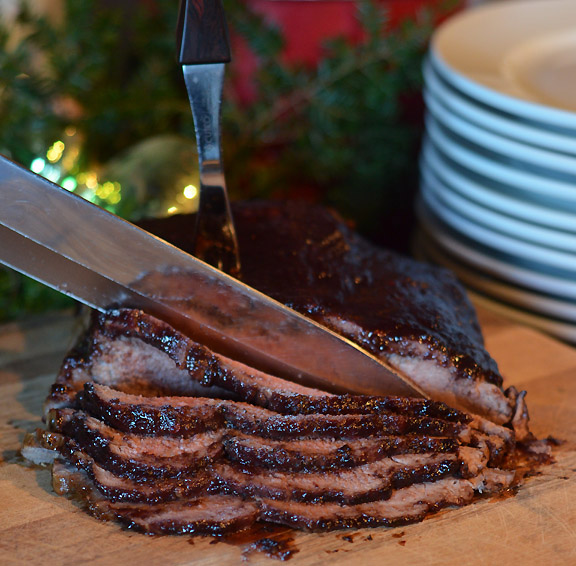 Step 3: Reduce heat to 325°F. Remove roast from the oven and brush with a thin glaze of the cherry and chipotle sauce. Repeat every 15 minutes until the roast reaches desired doneness, approximately one hour.
Step 4: Remove the roast from the oven and allow it to rest for 20 minutes. Heat the reserved sauce in a small saucepan. Slice your roast across the grain and serve with the warm cherry chipotle sauce for an extra sweet-n-spicy kick.
Find more holiday #roastingseason recipes here.
For more roasting tips, seasonal ideas, appetizers and even more beefy deliciousness, check out the
Certified Angus Beef ® brand boards on Pinterest.
We're on Twitter, too: #roastingseason.