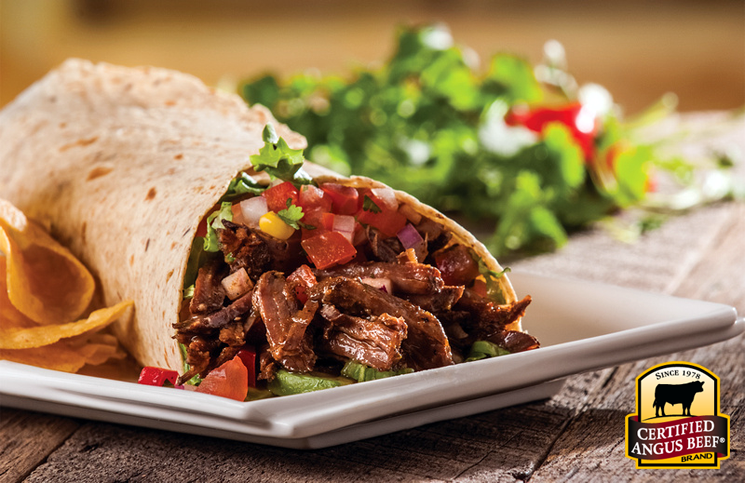 This is a fix it, forget it, and serve it when you're ready recipe. It's perfect for busy weekdays, or slow and simple Saturdays. Just remember to plan ahead. You'll want to prepare the spices and marinate the meat overnight before braising in the slow cooker. These extra steps create depth of flavor and make this meal truly delicious!
Slow Cooker Barbacoa Burritos
Author:
Ingredients
3 pounds Certified Angus Beef ® shoulder clod roast, cut into 2-inch chunks
1 Mexican cinnamon stick (or one regular)
1 tablespoon cumin seeds
2 teaspoons Mexican oregano (or Italian)
2 teaspoons ground coffee
1 teaspoon allspice berries
2 tablespoons salt
4 dried ancho chili peppers, stems and seeds removed
3 cups beef stock
1 onion, chopped
6 cloves fresh garlic, chopped
1 (6-ounce) can tomato paste
1/4 cup red wine vinegar
12 soft flour tortillas
Green leaf lettuce, finely sliced
2 limes, cut into wedges
Optional toppings: sour cream, finely shredded cheddar, julienne radishes, chopped fresh cilantro, sliced avocado, pico de gallo
Instructions
In a heavy skillet toast cinnamon, allspice, cumin, oregano and coffee over medium heat until fragrant, about 1 minute. Cool, add salt and grind in a spice grinder to a fine powder.
Season beef evenly with spice blend. Cover tightly with plastic or put in a zip lock; refrigerate overnight.
Put dried peppers in a pot with 3 cups beef stock over medium-high heat. Bring to a boil, cook 5 minutes, turn off heat and cover with a lid.
In slow cooker combine beef, onion, garlic, tomato paste, vinegar and chili peppers with stock. Cook on high 1 hour then on low for 6 hours to fork-tender.
When beef is cool enough to handle, hand shred. Put cooking liquid and vegetable mixture in a food processor or blender and puree until smooth; combine with shredded beef. Serve with warm soft tortillas, lime wedges and optional ingredients
For more recipes, cooking tips and instructional videos, visit certifiedangusbeef.com or visit the brand on Pinterest!