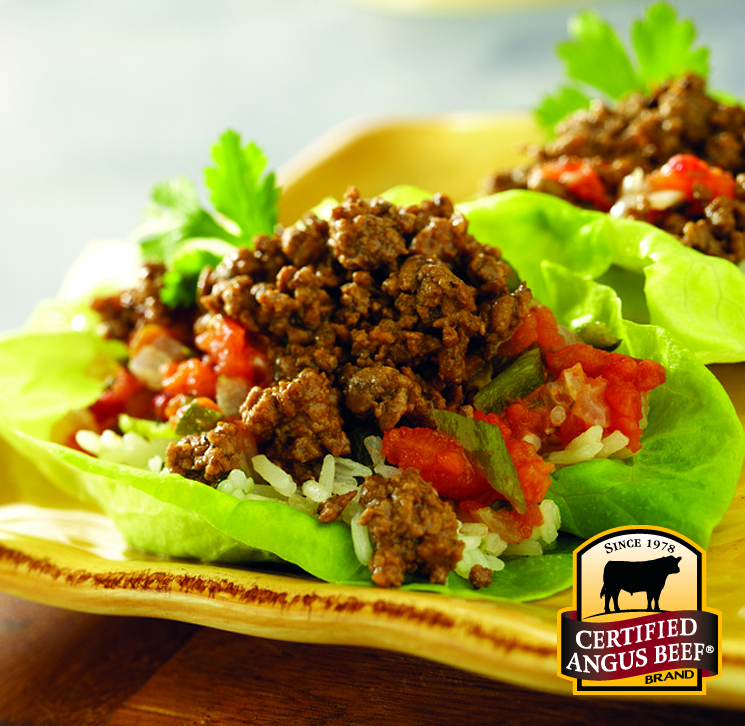 A new year usually means serious business to most of us, but it's a good idea to lighten up. These Latin Lettuce Wraps offer spicy flavor for snack time, as an appetizer, or to serve at mealtime. They're full of protein, vitamins and minerals, and perhaps best of all — each has only 2 grams of fat. This recipe is so simple you'll have these wrapped up in no time!
Easy Latin Lettuce Wraps
Author:
Ingredients
1 pound Certified Angus Beef ® ground chuck
1 tablespoon adobo seasoning
2 cups jasmine rice, cooked
2 limes
1 bunch cilantro, divided
2 heads Bibb lettuce, washed, separated and drained
1 jar (10-12 ounces) of your favorite salsa
Instructions
Season ground beef with adobo seasoning; brown beef and drain.
Season cooked rice with finely chopped zest of two limes, juice of one lime and 2 tablespoons chopped cilantro.
Serve beef, rice, lettuce and salsa in separate dishes so guests can build their own wraps.
Notes
Serves 24 as an appetizer; 10 to 12 as an entrée.[br]Calories: 65[br]Fat: 2 g[br]Saturated Fat: 1 g[br]Cholesterol: 12 mg[br]Carbohydrate: 7 g[br]Dietary Fiber: 1 g[br]Protein: 5 g[br]Sodium: 136 mg[br]Iron: 3% of Daily Value