Flank steak skewers with red chimichurri are simple to make. You'll need a grill (but a hot skillet will do in a pinch or a blizzard). You'll need a food processor (but a blender will work, too!). You're going to slice and skewer the beef, then pulse the remaining ingredients. Grill the steak, top with chimichurri and voila! You have a sensational dish that's perfect as an appetizer, for dinner, or to serve during a raucous sporting event. This is a $25 recipe that tastes like a million bucks. And served with red chimichurri? Yum!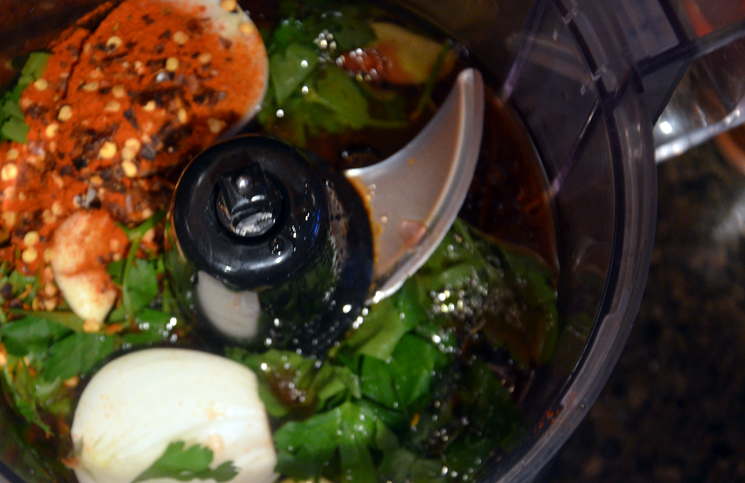 Typical chimichurri recipes combine main ingredients like parsley and cilantro, olive oil, garlic and onion, red wine vinegar, and red pepper flakes. The result is a tangy chimichurri that adds bright green pizzazz to any dish. This recipe features an extra ingredient that takes the flavor — and color — in a new direction: smoked paprika. The taste is a perfect complement to sizzling ribbons of grilled Certified Angus Beef ® brand flank steak.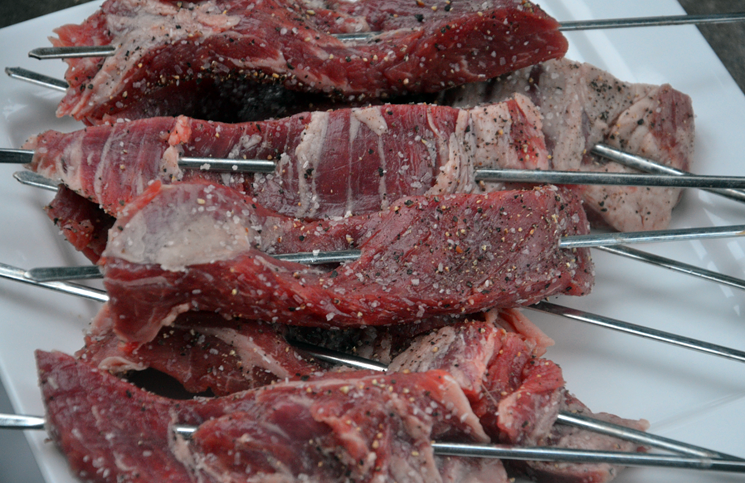 Flank steak is a lean and very flavorful cut of beef. It's a popular cut for fajita recipes. Always slice it thin, and remember to cut against the grain. Flank steak is ideal for marinating before grilling, too. It's a favorite in my house, and the addition of red chimichurri had my table mates exclaiming and proclaiming in appreciation.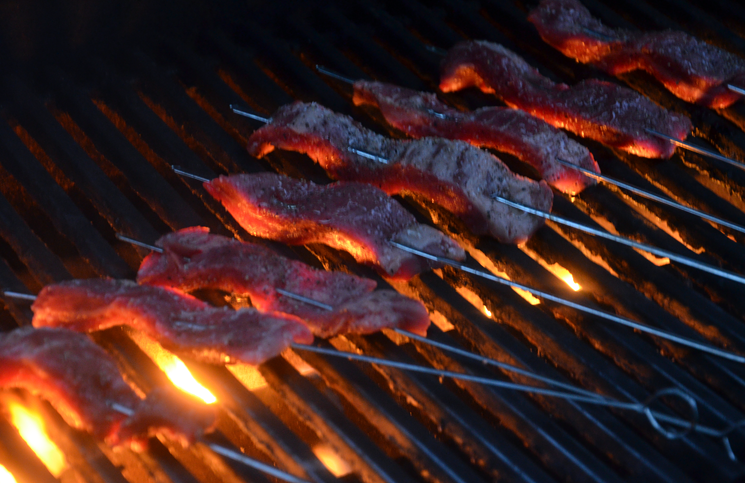 Delicious beef, simply skewered and grilled, made all the more delightful with a red chimichurri sauce. This is an easy recipe that should be added to your list of things to make in a pinch. And here's a tip: I had leftover chimichurri, so I froze it for future meals. You can pour it into ice cube trays (for single servings) or a larger container, and freeze. It will thaw in a jiffy the next time you need it. Enjoy!
Grilled Steak Skewers with Red Chimichurri
Author:
Ingredients
2 pounds Certified Angus Beef ® brand culotte or flank steak
1/2 cup chopped fresh cilantro
1/2 onion, finely diced
3 garlic cloves, minced
1 tablespoon smoked paprika
1 teaspoon red pepper flakes
1/2 cup sherry or red wine vinegar
1/2 cup olive oil
Coarse kosher salt & pepper to taste
Instructions
Cut steak into ribbons, approximately 1-inch wide and 3-inches long. Skewer ribbons onto high-heat-safe skewers using an "S" or "C" shape, depending on length. Set aside, refrigerated.
In a food processor or blender combine cilantro, onion, garlic, paprika, red pepper flakes, vinegar and oil by pulsing to a finely chopped consistency. Transfer to a serving bowl.
Preheat grill to high. Season beef evenly with salt and pepper. Grill over high heat to medium doneness. Turn at least once during cooking to ensure even cooking.
Remove from heat and serve with chimichurri sauce.