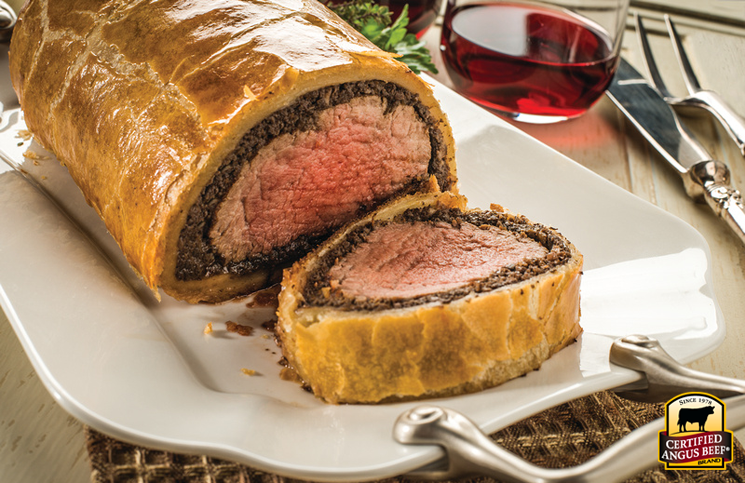 Editor's Note: This post written by Chef Ashley Pado.
When I order a dish that includes puff pastry, I automatically feel my supper status goes up a few notches. One example: Beef Wellington, a traditional tenderloin roast wrapped in puff pastry, slathered with butter and baked until golden brown.
Puff pastry is a light and flaky dough that is made by incorporating tiny pockets of butter throughout, so when the pastry bakes, the butter pockets burst to create flaky, buttery layers. Add in beef tenderloin and what else could you possibly ask for?
Beef Wellington looks fancy, sounds fancy and tastes fancy! But really, it's made up of only three main things: beef, puff pastry and mushroom duxelles — a mixture of mushroom, shallot and herbs. It's my go-to recipe when hosting a special dinner; to kick it up a notch, I carve it tableside! There's something about that moment when you first see the perfectly cooked beef tenderloin tucked away in that hot, buttery puff pastry. You can't help but be impressed with yourself — it's an Instagram-worthy moment for sure. #IDidThat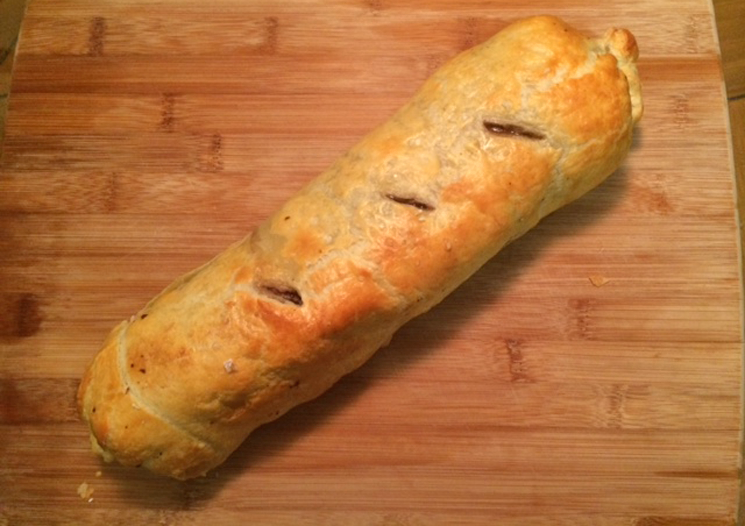 The first time I had Beef Wellington was in culinary school. Our chef instructor prepared one for us so we could take clear notes at each step. As it cooked, we waited with great excitement to try the final product. It was a magical medley of tender beef enhanced by the earthiness of the mushroom mixture and the buttery bliss of the pastry. I was in heaven, and determined to make it part of my culinary repertoire!
I've had a few years of Wellington-making since that day, and I've picked up some tricks along the way. For instance, some people don't sear their beef before coating it with the mushroom mixture. I believe that when you sear the beef, you add that extra layer of flavor by developing the crust we all love so much.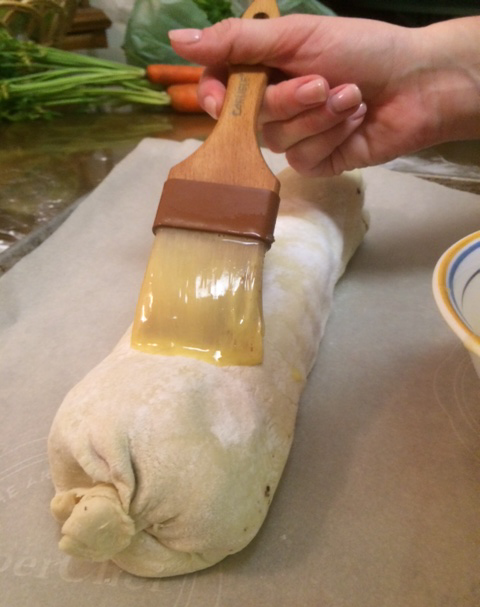 After you sear the beef, it's time to marry it with the duxelles and wrap with puff pastry! If you aren't feeling adventurous, buy the frozen puff pastry — although making your own is fun (hmmm, maybe that should be the subject of a future post!)
Pinch the edges closed to make sure the beef is completely covered, then brush with egg wash and bake. In less than an hour, you'll have a dinner fit for the cover of a fancy food magazine.
I suppose it's possible to use a different cut of beef in Wellington, but I feel strongly that classic tenderloin is the way to go. Tenderloin is the most tender cut of all of them, and it performs well every time, making it a virtually foolproof choice when you have guests to impress. Plus, pairing it with the mushroom and shallot mixture enhances its delicate flavor.
One final tip: when baking your Wellington, have an internal read thermometer nearby. That way, you can cook your meat to perfect medium-rare with ease, and you won't need to cut into that beautiful creation to check for doneness every six minutes. (Don't kid yourself, we've all done it!) In fact, I feel strongly that a good thermometer is the secret to cooking all beef to perfection rather than relying on guesswork. If you don't have one, you need one!
Yes, Beef Wellington is one of the classics, and for good reason. Elegant enough to impress, yet surprisingly simple to prepare. Go ahead, put it on your culinary bucket list. Once you carve that perfect first slice for your family, you'll feel as if you've officially earned chef status. #BeefRoyalty indeed!
Beef Wellington
Ingredients
2 1/2 – 3 pound Certified Angus Beef ® brand tenderloin
3 tablespoons butter
1 shallot, minced
1/2 cup finely chopped cremini mushrooms
1/2 cup finely chopped button mushrooms
1/2 cup finely chopped shiitake mushrooms
1/2 cup red wine
Olive oil as needed
1 (17.3-ounce, 2 sheets) package frozen puff pastry, thawed
All-purpose flour as needed
1 egg yolk, lightly beaten
2 tablespoons warm water
1 (12-fluid ounce) package prepared beef demi-glace
Instructions
Preheat oven to 425ºF. In medium skillet, melt butter; add shallot and mushrooms. Sweat mixture over medium heat. As water begins to cook out, turn heat to low, stirring occasionally, until mixture is dry looking (about 10 to 15 minutes).
Add red wine and cook until dry again. Season as needed with salt and pepper; refrigerate.
Brush beef with olive oil and season with salt and pepper.
In large skillet, sear beef until it turns brown on all sides. Cover tenderloin and refrigerate until ready to assemble.
To assemble, roll puff pastry to length that extends 2 inches past each end of the tenderloin, and twice as wide as the diameter; use flour as needed to prevent sticking.
Spread thin layer of mushroom mixture down center of puff pastry, keeping 2-inch border all around.
Lay tenderloin on top of mushroom mixture; fold puff pastry around, creating seam on bottom and tucking sides under.
Place on parchment papered baking sheet, seam side down.
Combine egg yolk and water to form an egg wash. Brush over puff pastry and bake 20 minutes.
Turn temperature down to 400ºF and bake an additional 15 minutes. If the crust begins to get dark, tent with foil.
For medium-rare, remove beef from oven when meat thermometer registers 135ºF; rest covered 10 minutes before slicing.
Heat demi-glace in small saucepan.
To serve, cut into 12 1/2-inch slices. Fan two slices on each dinner plate. Top with 2 ounces demi-glace.