[Editor's note: This post was written by Certified Angus Beef ® brand chef, Ashley Pado.]
As a chef, I am automatically labeled 'food snob' no matter what I do.
Being a twenty-something with bills to pay, sticking to a budget and trying to impress my friends with my cooking skills has always been a challenge! There is only so much you can do with ramen noodles and cereal.  I've found beef to be the go-to choice to satisfy me and my guests, and it just so happens it can also be an inexpensive choice if you know what to look for.
Let me set the scene for you …
Tiny apartment, bare pantry and Mastering the Art of French Cooking lying on the counter beside my half-eaten pop tart. That's when I found my inspiration. Julia Child somehow managed to write a beautifully balanced beef dish using ordinary stew meat: Boeuf Bourguignon. Known to Americans as beef burgundy, it's a stew prepared with beef braised in red wine — traditionally red burgundy — and beef broth.
This method of cooking really makes the beef fork-tender. Marbling in beef is the key to successful cooking. Marbling helps keep everything juicy and  is present in even the lower-priced premium beef brand cuts like chuck roasts and stew meat. This is the very reason I feel that even beginner cooks can master a fantastic beef stew with ease.
You can imagine my excitement when I budgeted out my dinner for the week and found that one pound of stew beef was still within my budget! That's the beauty behind one-pot meals. Beef, vegetables and sauce all finished and ready to rock and roll at the same time. The method and idea behind budgeting with beef applies to economical roasts, too.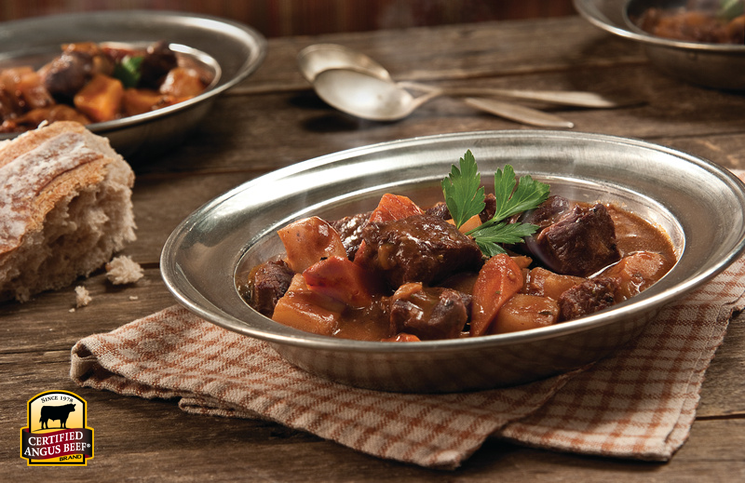 Throw a three-pound chuck roast in the crock pot with a little red wine and veggies, and bam! you have dinner plus leftovers for not very much money. Who wouldn't agree that leftovers are always a treasure, anyway? I knew all along these ideas weren't anything new, but in your twenties you start to really appreciate the French chefs who brought braising to America, and the home cooks who brought the slow cooker to our kitchens — at least  I do.
When my friends show up to my tiny apartment — cleaned and all half-eaten PopTarts out of sight, they will smell the lovely fragrance of comfort in the air. Suddenly, it's easy to be confident that you're about to impress your friends with this lavish meal. And hey, you'll be able to pay your rent on time!
The Certified Angus Beef ® brand's Classic Beef Stew is a crowd pleaser. You could serve this recipe to your guests on your nicest china, or in my case, my nicest matching set of bowls. Everyone will think you really 'cheffed' it up with this dish! Julia Child approved, perhaps PopTarts for dessert. This will really make your budget and taste buds happy.
For more recipes and cooking tips, visit certifiedangusbeef.com.