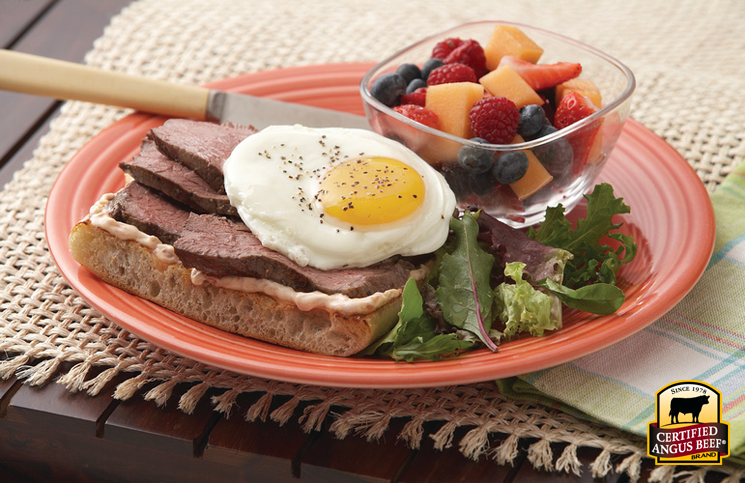 Sometimes you want or need a hearty breakfast — perhaps for a special occasion or weekend treat. This recipe is ideal — and delicious! Start with the steak, of course — flavorful sirloin, grilled to a nice medium-rare to medium, and sliced thin. You can grill the steak the evening before and refrigerate to save time in the morning. The chipotle mayo is a spicy combination that will help you rise and shine. Smear it on a slice of your favorite bread — a crusty focaccia, perhaps. Top it all with an egg cooked to your liking (I prefer scrambled). Serve it with fresh fruit and a steaming cup of coffee or tea.
What a way to start the day!
Grilled Sirloin Steak and Eggs
Ingredients
1 pound Certified Angus Beef ® sirloin steak
1 chipotle pepper, seeded and pureed
5 tablespoons mayonnaise
8 slices of your favorite bread, toasted
4 eggs
2 cups mixed greens
Salt and pepper to taste
Instructions
Season steak with salt and pepper and grill over medium-high heat to medium rare (145°F internal temperature) or desired doneness.
Remove steak from grill and allow rest 4 – 6 minutes; slice across the grain.
Puree chipotle peppers with mayonnaise and spread on toast.
Cook eggs to your liking (sunny-side up or scrambled).
Top toast with steak, eggs and greens.
Serve with fresh fruit.
For even more breakfast, lunch and dinner recipes, visit certifiedangusbeef.com.